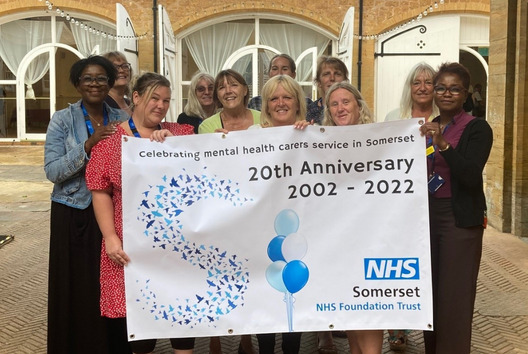 Spotlight
20 years of supporting unpaid mental health carers
We are proud to celebrate 20 years of supporting unpaid mental health carers in Somerset!
Our mental health carers assessment service is a specialist team that works with carers to develop a tailored plan to assess their health and wellbeing, and look at where they need support.
Over the last 10 years alone, colleagues in the team have helped around 16,000 carers with many different types of support - from carers breaks and emotional support, to advice on lifestyle choices, such as relaxation techniques, healthy eating, and self-esteem.
Caroline Mead, our carers development manager, has been part of the team since it began 20 years ago and has seen it grow considerably.
She said: "We started with a team of four and have now grown to 18 colleagues supporting mental health carers across Somerset – even including two of our original colleagues!
"When we first started out in 2002, there wasn't as much recognition for carers in society and the important work they do for the people they support. Today we have so many more resources and opportunities for carers, from peer support to practical advice like employment support.
"We support carers of all ages and backgrounds – from the parents of children and young people, carers of adults of working age, and carers of older people. Anyone can be a carer, so it's vital that we have a variety of support available – there is something for everyone.
"I'm so proud of our whole team for the hard work they've done over the last 20 years, and the amazing commitment they have to mental health carers across the county."
Some of the projects achieved over the years include a comprehensive local pack of organisations and resources which are given to carers, as well as a quick reference guide.
The team has also developed an emergency card, which a carer keeps in their wallet or purse, so should they experience an emergency and are unavailable at short notice then all details of the person they care for is available.
The Venerable Dick Acworth, Archdeacon Emeritus (Bath & Wells), has been a volunteer with the Carers Assessment Service for many years.
He explains: "I've been involved with the Carers Service since 2003 – I had recently retired and my son had been poorly so it made sense to get involved to see how I could help to improve the service.
"Over the years I feel that there have been distinct improvements and more professionals are coming to recognise and value the work that carers do for the people they support – but there's so much more we can do.
"Although the pandemic has had a huge impact on carers, we are working on building up support and continue to develop carers' groups which can be a lifeline for those who are isolated. The groups provide an opportunity for carers to meet up and exchange information, as well as discuss coping strategies. They also provide a relaxed and safe environment of mutual support and friendship.
"As unpaid carers we can sometimes be overlooked, but our role is critical – for example when a patient comes of out hospital, it's the carer who supports them day to day through their recovery.
"No-one plans to become a carer and when they find themselves in this role, often quite suddenly, they need the support and recognition from professionals to guide them through the maze of services and range of mixed emotions."
The team recently celebrated at its annual carers conference, which offers mental health carers an opportunity to come together and have a break from their caring role, as well as meet other carers and attend workshops.
Paul Townsend, our director of mental health and learning disability care, attended the conference and said:
"It was fantastic to meet so many people in person and celebrate 20 years of our carers' service, and I was lucky enough to talk to a carer and NHS colleague who offers support from one of our mental health teams.
"The amazing work, commitment and impact of our carers' service cannot be underestimated, but I also heard how hard it is for carers, particularly with the challenges and worries of the cost of fuel and general cost of living. It was fantastic to spend some time with these amazing people."
Carers can self refer into the service, or through community mental health services, GPs, and external agencies. The only requirement is that the person they care for must be under the care of, or known to, the Somerset FT mental health services. You can use the single point of contact: carers@somersetft.nhs.uk.