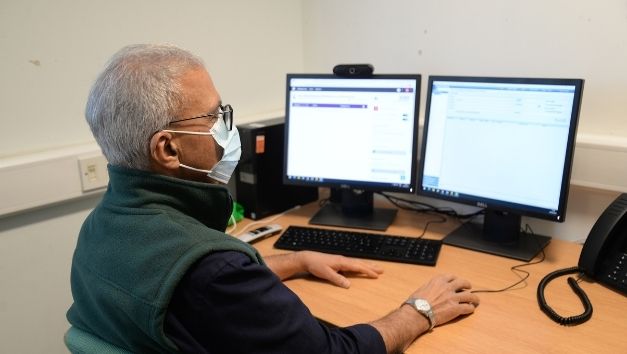 Spotlight
70,000 NHS outpatient appointments in Somerset go online in last year
Over the last few years the NHS in Somerset has been embracing digital ways of working, including patient appointments by telephone and video.
This innovative way of working has accelerated since community services, mental health and Musgrove Park Hospital came together to form Somerset NHS Foundation Trust a year ago this week.
And the digital developments have been timely given the difficulty in running outpatient appointments and consultations from our hospitals and units, due to the restrictions and infection prevention and control precautions brought about by the COVID-19 pandemic
By the end of February 2021 our clinical teams had run a total of 70,000 patient appointments using Attend Anywhere, a secure NHS video call service for patients with pre-arranged appointment, across a range of our different services.
Dr Luke Gompels, our consultant rheumatologist and chief clinical information officer, said:
"We are very proud of the hard work done by colleagues in our many community services, mental health and hospital services to introduce virtual outpatient appointments on such a large scale. Somerset FT was in the first wave of trusts in England to be named a Global Digital Exemplar, with an aim of using technology to deliver better patient care and help colleagues work as efficiently as possible.
"Over the last few years we have been moving towards safe and effective ways of working digitally and this has become the norm for so many areas of healthcare, including outpatient appointments and even some examinations. Our clinical teams caring for patients assess whether it is safe and appropriate to have a virtual appointment or whether a physical examination is needed and they need to see a clinician in person.
"We know that getting to an appointment at our hospitals or units can often be time consuming and worrying for people so being able to offer appointments online using our Attend Anywhere video platform is great news. Most of our community services and mental health service outpatient appointments are now available online, and we are working towards extending this more widely for appointments at Musgrove Park Hospital.
"We routinely collect feedback from patients to address any issues and to inform how we are rolling the software out across our services. We've had really great feedback so far. Many of our patients told us that they want to be cared for as close to home as possible and that they liked the flexibility of a video consultation or appointment from the comfort of your their home, local centre or workplace."
One of our patients, Trevor, said he had found using the Attend Anywhere video call really useful. "Attend Anywhere has meant I can see my consultant face-to-face, while avoiding the two and a half round trip to Musgrove Park Hospital and all the hassle that goes with it. This way I could just stay at home, have a cup of tea and just wait for the meeting – I love it."
Another patient, Rose, said: "I've used the Attend Anywhere online video appointment a few times and, although I didn't originally want to do it, it was a really good way of being as face to face as you can be during these times rather than just hearing someone down the phone. It's so important to keep our medical appointments at the moment and this is a really great way of helping people to do this."
Deborah Woolven, one of our specialist speech and language therapists, said she had found video appointments very helpful as they have helped so many people work more efficiently. "I have found that on the days I solely use the Attend Anywhere video platform I have saved up to three hours travelling out to patients, leaving more available time," she said. "Using video has also reduced some of the communication barriers created by wearing PPE face masks. For example I have been able to use visual mouth cues during apraxia therapy so my speech sounds less muffled and patients with hearing difficulties are able to lip read me."
Rosie Dhillon, an assistant psychologist in our community mental health team, said: "I have been using Attend Anywhere for one to one clinical psychology interventions since March and I've found this very effective. Building rapport with our patients is an important part of psychological therapy and where face to face sessions were paused for much of the pandemic, video consultations still allowed us to have those critical facial cues."
Dr Sathya Cherukuri, a consultant psychiatrist in our community mental health team, said:
"Face-to-face interaction is very important for our patients and healthcare professionals alike and I only have positive feedback from my team and patients about Attend Anywhere. It's very straightforward and patients can attend from the comfort of their own home, saving them travel time. It also allows patients to bring in family members to be part of the consultation which is really helpful with their recollection of conversations about their healthcare."
To find out more about Attend Anywhere virtual appointments, visit our website: https://www.somersetft.nhs.uk/video-consultations/