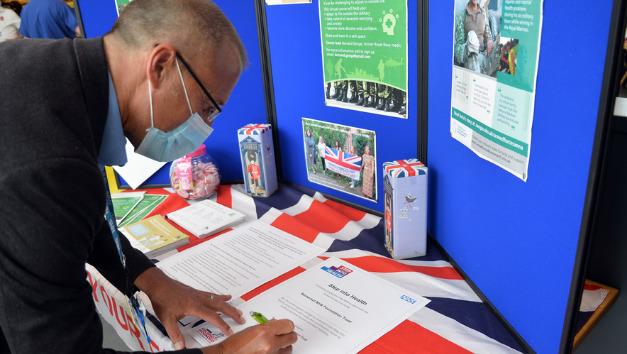 Spotlight
A pledge to help our armed forces community access careers in the NHS
Our trust has made a pledge to support people in our Armed Forces community to access career opportunities available in the NHS.
Today is Reserves Day and we marked the day by signing up to the Step into Health initiative, which provides a dedicated path into an NHS career for all service leavers, reservists, veterans, cadet force adult volunteers and their families.
Our chief medical officer Dr Dan Meron signed the pledge today and was joined by armed forces colleagues from the British Army Wessex 243 Field Hospital and Army Air Corps, who also spent time speaking to our NHS colleagues today.
The Step into Health programme gives members of the Armed Forces community that extra help to connect to NHS organisations where they can arrange training opportunities, clinical and general work placements, insight days. They also get support with job applications.
Dr Meron said:
"Our newly signed pledge formalises our deep belief in the value of the outstanding contribution made by military service leavers and their families to the NHS.
"We already have a strong armed forces and veteran colleague network within our NHS trust and this is taking a lead on improving the experience of our armed forces and veteran colleagues and patients, including helping them to access career opportunities."