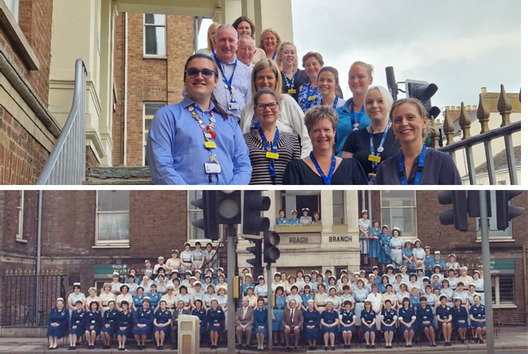 Spotlight
A year at the Community Families Hub
The old Taunton and Somerset hospital building on East Reach is celebrating a year since it began seeing patients again for the first time in a generation.
The building originally opened in 1812 where it was Taunton's only hospital 175 years, before it closed in 1987 as the NHS moved all services across to Musgrove Park Hospital.
We moved our Community Families Hub into the building in September 2021, which offers family healthcare services outside of the main district general hospital, bringing care closer to people's homes and into the Taunton community.
A 1987 photograph of all colleagues outside the hospital on its final day of operation pictures Kate White, who worked at the hospital and has fond memories. She also stayed in the hospital's living quarters at the start of her training.
Kate still works at Somerset FT today in the trauma and orthopaedics department at Musgrove.
She said: "We had such a lovely little community at the hospital, from the accident centre to the orthopaedic wards. Healthcare was very different then and so many advancements have been made in how we care for patients.
"If someone fractured their femur (thigh bone), they would be 'in traction', which involves using splints and pulleys to guide the bone back into place and hold it steady. We would have patients on bed rest for weeks at a time while they healed.
"Nowadays there is so much we can do with surgery and patients are able to recover much more quickly.
"It was a lovely place to work, and the memories of patients nipping down the fire escape to visit the pub or sweet shop still make me smile!"
Andy Heron, chief operating officer for neighbourhoods, mental health and families at Somerset FT, said:
"We are proud to commemorate the 210 years that building has been standing, and our teams are thrilled to be back at the site providing healthcare once again.
"Shifting more care out of hospital and into the community is one of the improvements outlined in the NHS Long Term Plan and will help ensure we meet the changing health needs of the country over the coming decade.
"In Somerset, our families hub is a great example of where moving services outside of the hospital setting has benefited patients and has been really helpful in connecting us to our broader communities."
Since opening a year ago in September 2021, the Community Families Hub has seen up to 250 patients every week across eight children's and young people services including neurodevelopment, therapy, paediatric outpatients, psychology, continence, children looked after, the children's community nursing team and the school aged immunisation nursing team.
Dr Wiebke Van Hensbergen, one of Somerset FT's community paediatricians based at the hub, said:
"It has been a real pleasure working with other community teams at the hub, as well as the opportunities for networking this has brought us. The facilities at the hub are lovely, and the clinic spaces are great – many families have told us that they find it easier to travel to than Musgrove Park – and it's less busy.
"A comparatively quiet waiting area is a lovely welcome for families, and our admin and healthcare support colleagues always go the extra mile to ensure families and children are supported throughout their appointments."
The Somerset Wide Integrated Sexual Health Services (SWISH) is also set to run a young person's sexual health clinic at the hub from next month. More details will be available on the SWISH website.