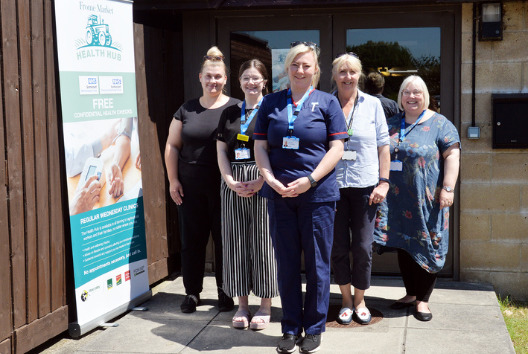 Spotlight
Additional health hubs launched in Somerset for farmers to access vital health checks
Farmers and agricultural workers who visit livestock markets in Somerset are now able to access health and emotional wellbeing support while they buy and sell their produce.
It follows the launch of two new health hubs in Somerset, operated by a team of NHS nurses with support from many different farming and community-based charities and local businesses.
The new health hub locations at Frome Livestock Market and Exmoor Farmers Livestock Auction have been set up following the success of the Derek Mead Health Room – the first health hub of this type that opened in 2018 at the Sedgemoor Auction Centre in Bridgwater.
Along with general health checks, farmers can get specialist advice from NHS professionals about lifestyle, as well as any concerns about their emotional wellbeing and mental health.
Jane Fitzgerald, our manager responsible for the health hubs, said:
"Many people who work in the farming community often put the health and welfare of their livestock above that of their own wellbeing and therefore tend to put off seeking help, when it could help to save their life.
"We know that farmers often live and work in isolated communities and we are proud that our teams are taking services to locations that are easy for them to access, and where there is no need to make an appointment, which can be a barrier to seeking advice.
"Feedback from the first hub – the Derek Mead Health Room in Bridgwater – shows that having nurses and volunteers who understand farming communities really helps farmers to connect and engage with health services where they may not otherwise have thought about doing so.
"Nursing staff for each of the three hubs were recruited specifically for their farming backgrounds and volunteers from the Farming Community Network (FCN) also have an important role at the three markets – encouraging farmers to visit the health clinics.
"Sometimes we see farmers who are looking for reassurance and in other cases we have noticed signs of something that could be more significant. In those cases, a referral letter to the patient's GP has, on occasion, provided early intervention in treatable illnesses, such as high blood pressure or signs of low mood."
Derek Mead Health Room
The Derek Mead Health Room is run from the Sedgemoor Auction Centre in Bridgwater and was officially opened by Her Royal Highness The Princess Royal in 2019.
It is open every second and fourth Saturday of each month where an NHS nurse is on hand to carry out essential health checks, such as blood pressure monitoring and blood sugar testing, while also offering support for emotional wellbeing concerns.
Farmers can pop into the clinic, which is conveniently located next to the auction ring, with no prior appointment, and speak to a nurse in confidence.
Katherine Hawke, director of Junction 24 and chairwoman of the Derek Mead Health Room committee, said: "We opened the Derek Mead Health Room in memory of my father. He was well known in the farming community and was a passionate advocate in the efforts to provide farmers with the care and support they need.
"He always believed that more could be done for the farming community and that health care, especially, needs to be more accessible."
Frome Market Health Hub
Frome Market Health Hub, which opened as soon as pandemic restrictions allowed on 13 October 2021, holds regular NHS clinics on the second Wednesday morning of every month – aligned with the livestock market's busiest auction days – find out more on the website: www.fromelivestock.com.
Alongside the NHS-run clinics at Frome, a podiatry clinic also operates twice a month. The podiatry service is independently funded by the charity and has proved to be a worthwhile and much appreciated additional service, available free of charge to farmers and aligning perfectly with the commitment to improve health care for rural patients.
Somerset's rural health hubs are excellent examples of collaboration between the NHS and their charity partners, backed by local businesses. Frome Market Health Hub is able to provide ideal treatment rooms using space in the auction offices that has been modified by Frome Livestock Auctioneers to the required NHS standard. Similarly, Mole Valley Farmers has designed and developed the charity's branding and produced signage and communications materials, the costs of which would have been otherwise unaffordable.
Lucy Nelson, DL and Trustee of Frome Market Health Hub said:
"Circumstances surrounding farming today have never been so challenging. Frome Market Health Hub has been set up to try to help in a very practical sense and we hope that other rural areas will follow suit.
"It is enormously gratifying to witness the collaborative approach that has brought about the expansion of these rural hubs, from a single, great initiative by Derek Mead's family to now seeing three centres in Somerset providing accessible health clinics for farmers, their families and agricultural employees.
"The health hubs are greatly aided by the volunteers who give their time to befriend farmers and their families and gently lead them towards seeking help.  Frome Health Connectors are a mainstay of the team at Frome as are Farming Community Network – again, a show of united desires to give practical help where it is needed."
Exmoor Rural Health Hub
The Exmoor Rural Health Hub charity was set up in March 2021 to address the physical and mental health needs of the farming and wider rural community of Greater Exmoor. A free drop-in clinic takes place at the Moorland Village Hall close to the Exmoor Farmers Livestock Market at Wheddon Cross to coincide with alternating cattle and sheep sales. This initiative is generously sponsored by Shearwell Data, Avon and Somerset Police and NFU Mutual, demonstrating the strength of support at a local level for rural farming communities in this part of Somerset
Olivia Winterton DL, Trustee of the Exmoor Rural Health Hub, said: "Rural communities are among the hardest to reach by traditional health services so we are pleased to be working with the NHS and other charities to offer free basic health screening to farmers who visit the Exmoor Farmers Market at Wheddon Cross, and it is to be hoped, in the future at Blackmoor Gate too.
"The nurses selected to run this service are highly-tuned to the needs of the farming communities they serve, particularly in recognising the signs of either physical or mental ill-health issues and giving them support before their conditions worsen.
"We know that in addition to the problems that farmers experience as a result of the physicality of their work; their emotional wellbeing and that of their families is also under extreme pressure".
More information about dates of forthcoming Exmoor Rural Health Hub clinics can be found by visiting www.erhh.co.uk, or by calling 03000 111 999.