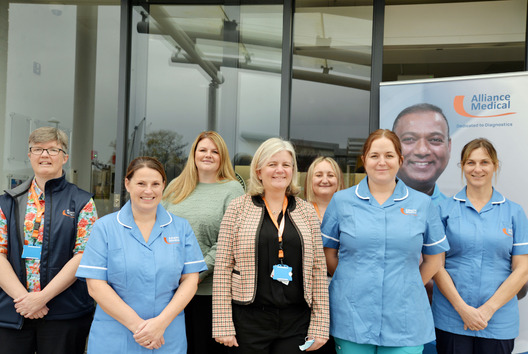 Spotlight
Alliance Medical Ltd begins running the Taunton Diagnostic Centre as result of partnership with the NHS
From today, 1 November, Alliance Medical Ltd has begun running the Taunton Diagnostic Centre.
This is as a result of a partnership between Somerset NHS Foundation Trust and Alliance Medical that will see Alliance Medical operating the centre - which provides diagnostic tests to NHS patients in Somerset - for the next 15 years.
The Taunton Diagnostic Centre opened in September 2021 and was the first community diagnostic centre in England run by the independent sector in partnership with the NHS. It provides Magnetic Resonance Imaging (MRI), Computed Tomography (CT), Ultrasound and X-Ray on equipment provided by Philips.
Since it opened, the percentage of Somerset NHS Foundation Trust patients waiting longer than the recommended 6-week standard for a diagnostic test has halved. In September 2021, 45.8% of Somerset NHS Foundation Trust's patients were waiting longer 6 weeks for a diagnostic test. At the end of September 2022, the percentage had dropped to 23%.
Peter Lewis, Chief Executive of Somerset NHS Foundation Trust, said: "The Taunton Diagnostic Centre is a real asset to the NHS in Somerset and has made a significant contribution to our ability to be able to diagnose and treat NHS patients as quickly as possible.
"When our previous partners, Rutherford Health, went into liquidation in June 2022, we stepped in to run the centre on a short-term basis. Now I am delighted that we have formed a strong partnership with Alliance Medical to run the centre and continue providing an excellent service to Somerset patients."
Richard Evans, Managing Director, Alliance Medical Ltd, said: "We are delighted to be partnering with the Trust to deliver the Taunton Diagnostic Centre. There is no doubt that the centre has made a big impact on improving access to diagnostics in the wider Taunton area and we look forward to taking this centre to the next stages of its development. We see great potential to marry Alliance Medical's wide experience on delivery of Community Diagnostic Centres across the UK and in Europe and making Taunton Diagnostic Centre an exemplar of how CDCs can really operate collaboratively, ultimately for the benefit of the end user - our patients"
Since it opened, the Taunton Diagnostic Centre has been very popular with patients as it gives them access to diagnostic tests in a modern stand-alone facility away from a busy NHS hospital.
This is part of the recommended way forward for the NHS as set out in the national report Diagnostics: Recovery and Renewal by Professor Sir Mike Richards CBE, former National Cancer Director in the Department of Health and author of the independent review of NHS diagnostics capacity. The approach taken in Somerset, working with the independent sector, is one that is being explored nationally to understand how the massive expansion required to meet increasing patient needs can be delivered in such partnerships.  
The stand-alone centre also provides real benefits for the NHS' radiology, radiographic and booking colleagues who work alongside Alliance Medical's staff in the centre, enabling them to work in more diverse environments and expand their experience.
"In addition, the centre also helps us to prioritise the capacity that we have available at Musgrove Park Hospital for emergency patients or those who are already in the hospital. This is not only good for our patients, but also the way we care for people across the whole Somerset healthcare system by enabling them to have imaging scans away from the acute hospital," said Peter Lewis.
About Alliance Medical
Alliance Medical is Europe's leading provider of diagnostic and molecular imaging services.  Established in 1989 in the UK, it has been delivering high-quality diagnostic solutions in partnership with public and private healthcare organisations for over 30 years. It has enjoyed rapid growth based on a proven, scalable business model, exceptional service, outstanding value for money and technical excellence.
Alliance Medical Limited is part of the Life Healthcare Group and Europe's leading independent provider of imaging services operating across the continent. Life Healthcare is a global healthcare organisation listed on the Johannesburg Stock Exchange.
Life Healthcare has over 33 years' experience in the South African private healthcare sector and currently operates 66 healthcare facilities in southern Africa.
Its diagnostic and molecular imaging services operate across 10 countries including the UK, Germany, Ireland, Italy, The Netherlands, Norway, and Spain, and we operate 35 Community Diagnostic Centres across Italy.
Alliance Medical is a trusted partner of the NHS and hold the National PET-CT contract; it leads the Molecular Imaging Collaborative Network and deliver NHS PET-CT services to 80% of England, with nearly £100m of investment over the last 10 years.
Its 1200+ staff currently serve 800,000 patients across 62 facilities and 60+ mobile scanners, delivering services to 224 locations and over 100 NHS Trusts across the UK.
It undertakes Alliance Medical c.800,000 scans per year, including over 100,000 PET-CT scans, and manufacture and distribute SPECT & PET radiopharmaceuticals through a network of 5 production units offering a fully integrated supply chain for molecular imaging. It currently has over 35 CDCs in Italy and 10 in England.