Spotlight
Ambitious programme to transform facilities and services at Musgrove Park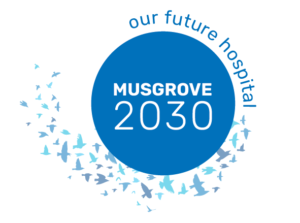 Work is underway at Musgrove Park Hospital in Taunton on an ambitious programme to transform the hospital's facilities.
Somerset NHS Foundation Trust, which runs the hospital, along with community and mental health services in Somerset, is one of 21 organisations expected to benefit from the Department of Health and Social Care's hospital building programme, with potential funding of £450m.
The next steps of the Trust's ambitious plan – called Musgrove 2030 – will include a new maternity and children's building and further development of its cancer and emergency services.
And this is in addition to a new surgical centre, acute assessment hub, therapies department and maternity refurbishments at the hospital, which are already underway.
Peter Lewis, chief executive of Somerset NHS Foundation Trust, said:
"Our focus is to provide the very best care that we can to the people of Somerset. For many people that means ensuring that we support people to stay as well as possible and have the right services in place to support them in the community.
"We have an exciting vision to transform healthcare for patients in the county and we want to develop state-of-the-art facilities that support our excellent clinical and non-clinical teams to further improve the outstanding care they provide to our patients.
"I'd like to thank our MP Rebecca Pow for all the support she has given to our Trust, in helping us to be in a position to develop these plans."
Musgrove Park Hospital was originally built during the Second World War as a temporary casualty evacuation hospital for the D-Day landings and other buildings were added later in the 1940s.
These oldest parts of the hospital still house services such as the critical care unit, caring for the county's sickest patients, as well as maternity and children's services.
The Trust aims to phase out these old parts of the hospital and instead develop state-of-the-art buildings that can offer patients modern, individual healthcare based on the most advanced treatments, technology, innovation and research.
Dr Matthew Hayman, Somerset NHS Foundation Trust's deputy chief medical officer, said:
"I am very proud of the quality of care that my colleagues provide to our patients at Musgrove Park Hospital but some of these hospital services are housed in facilities that were built in the 1940s and are simply not good enough.
"We are very excited by the improvements we can make to the care we provide and to our patients' experience by planning and building modern state-of-the-art facilities that are optimally configured and placed alongside one another, which will enable us to improve how we deliver care to our patients."
David Shannon, Somerset NHS Foundation Trust's director of strategic development, said: "We already have plans in place to replace parts of the 1940s buildings at Musgrove Park Hospital with modern facilities.
"This additional funding will give us the opportunity to look at our remaining outdated estate and create a state-of-the-art hospital in Taunton.
"We are talking to our clinicians to develop plans that will enable us to create further facilities that match the care that we provide and give us an opportunity to improve care further."
Local MP Rebecca Pow said: "I am delighted that work is underway at Musgrove Park Hospital to upgrade the hospital's facilities. I was pleased to have worked with stakeholders to secure the initial commitment for the upgrade – building on success with the new theatre complex.
"Those working at the Hospital should be proud of the high quality of care they already provide to patients but some of the hospital services, like the maternity unit (where I had my three children) are in facilities that were built in the 1940s.
"The improvements which include refurbishments to the maternity unit as well as a new surgical centre and an acute assessment hub will improve the experience and care for patients not just in Taunton Deane, but right across the region."
Preparations for building work has already started in a number of areas of the hospital, including: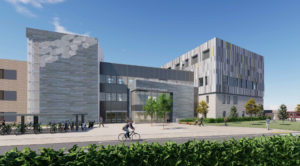 Surgical Centre
Plans are in place and on track to build a £80 million surgical centre at Musgrove Park Hospital that will include state-of-the-art operating theatres, a critical care unit and an endoscopy suite.
Enabling building works have already begun to clear the site so that building work can begin in 18 months' time.
In total the new surgical centre will provide:
Six endoscopy rooms, patient recovery and clinical support areas
Eight operating theatres (including two interventional radiology theatres), recovery areas and clinical support.
22 critical care beds, all specified for level 2 and 3 critical care patients
Acute Assessment Hub
Plans are also in place to develop a £11.5 million acute assessment hub adjacent to the hospital's emergency department (A&E) to support care for patients requiring emergency treatment.
It will include an admission hub for those patients who need to be admitted to hospital for additional care and a unit for those patients who require emergency treatment that can be delivered on the same day, without the need to be admitted to hospital overnight.
The current surgical admissions unit is located in World War II 'Nightingale' style ward accommodation that is unsuitable for modern standards of care and is some distance from the surgical operating theatres. In the future, it will be included in the acute assessment hub, adjacent to the emergency department.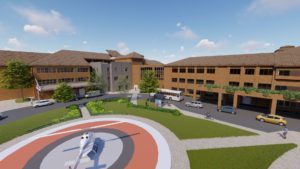 Therapies Department
A brand new purpose-built therapies department is being developed to house the hospital's physiotherapy, occupational therapy and orthotics teams, as well as an examination suite, rehabilitation kitchen and gym space.
Updating the maternity unit
While the Trust considers how it may redevelop the maternity unit at Musgrove Park Hospital for future generations, it is refurbishing the current maternity facilities, which are expected to reopen in autumn this year.
The Bracken Birthing Centre, where women who have a low risk of complications can give birth, has two brand new en-suite rooms, including an additional birthing pool with a modern feel, better lighting and temperature control.
The refurbishment was funded by Musgrove Park's League of Friends, which ran a successful Toad Trail campaign that caught the imagination of people from Taunton and beyond.
In addition the unit's labour ward, and the reception and waiting areas are also being refurbished. This has been funded by the hospital's official charity, Love Musgrove, through its Musgrove Babies appeal.
This includes building and equipping three new recovery bays for women who have given birth but have need high dependency care.
The main reception area, which is the central hub of the maternity unit, is being reconfigured to create a more welcoming and relaxed atmosphere and a single point of access.
Designed by global architecture and engineering practice BDP's South West team, the acute assessment hub, therapies building and surgical centre are game changers for the hospital.
Adrian Hitchcock, architect director at BDP, said: "We are always looking to raise the bar in terms of devising innovative healthcare design that meets the needs of future generations and this approach is certainly illustrated in the projects we are undertaking at Musgrove Park."