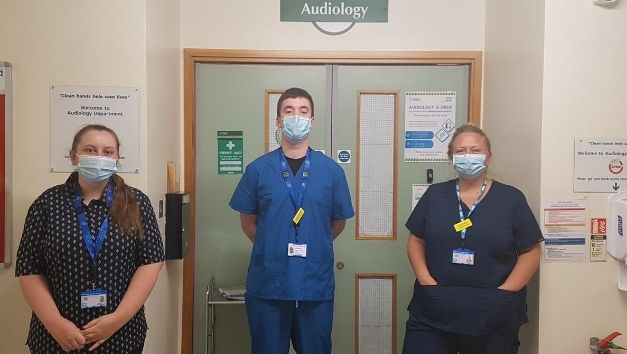 Spotlight
Apprenticeships programme success for our audiology team
For many years it has been very difficult to recruit colleagues into the audiology profession.
But a couple of years ago we began to look at ways of addressing this shortfall in staff by looking into apprenticeship programmes as a new way of creating local interest in audiology. We recruited three Level 2 healthcare science apprentices, who have recently passed the programme with flying colours.
Emma Ralph, our clinical manager for audiology, said: "Our team of apprentices play a huge part in the way our team gives excellent care to our audiology patients and we are incredibly proud of their achievements. They play a vital role in supporting patients with the ongoing care and repair of their hearing aids, as well as offering advice and support.
"The apprentices usually work at Musgrove Park Hospital and our community hospitals, but during the COVID-19 pandemic they have been essential in ensuring ongoing care could be provided via a postal repair service and offering support over the phone.
"One apprentice is even progressing their training further to a Foundation degree programme where they would become an associate audiologist. This would really help to support our diagnostic service.
"They will be following hot on the footsteps of Simon Crockford, who has worked in the department for six years as an assistant audiologist, and recently completed a Foundation Degree with Aston University.
"Simon is now an associate audiologist and plays a large part in the diagnostic and rehabilitative services for audiology patients across Somerset. He also has worked extremely hard in order to achieve this qualification and had a glowing report for his clinical practice."