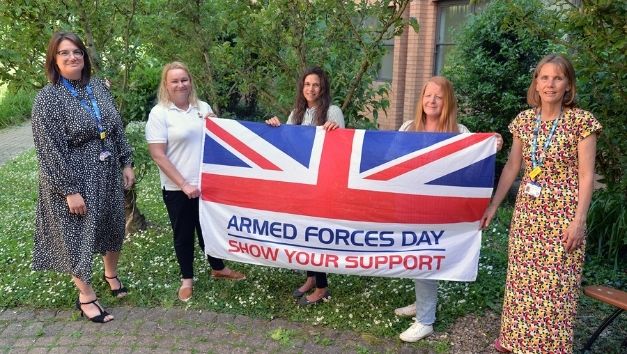 Spotlight
Armed Forces Week – 21 to 25 June
It's Armed Forces Week and we would like to take this opportunity to say a huge thank you to all our veteran and reserve colleagues. Thank you for your service in protecting our country. Thank you for your bravery in the face of adversity. And thank you for bringing your skills and dedication into the NHS. We are proud to work alongside you.
Dave Thomas, our interim director of nursing strategy and transformation, has worked in the NHS and military on and off for 32 years.
He explained how Armed Forces Week provides a great way to note the sacrifices that people in the armed forces and their families have made for us all, including times of separation, constantly moving around, and times of intense stress for those serving and their families.
"Over 55,000 veterans live in Somerset and we are really proud as an NHS trust to have signed up to the Armed Forces Covenant on behalf of our colleagues, patients and visitors," he said.
"The covenant is a promise by the nation to ensure that those who serve or who have served in the armed forces, and their families, are treated fairly. Part of this is recognising our armed forces family – serving personnel, veterans, reservists, or indeed their immediate families – and recognising that they do sometimes have a specific need that's different to the general population.
"We also follow the covenant's guidance that says armed forces personnel should not be disadvantaged if they have to move around the country. For example, if an armed forces member moved to Somerset from Yorkshire and had a two month wait for an operation that was related to their military service, we would try to honour that waiting time here where possible.
"Many armed forces personnel come with a different mentality as they have often seen and done things that civilian people will not have. We employ a defence medical welfare officer at the trust who provides them and their families with that extra support if they are experiencing mental health issues. We are also exploring whether we could also extend this role to physical health."
Our COVID-19 response
The military played a major part in our response to the COVID-19 pandemic second wave back in the winter.
"We were very proud to welcome a military team from Naval Air Squadron at RNAS Culdrose to the trust at the beginning of 2021, when we were in the middle of the second COVID-19 wave," said Dave.
"The Navy team provided us with support where it was of most benefit, allowing our nursing and allied health professional colleagues to focus on the vital role of caring for patients. Just some of the work they helped us with included welcoming people to the hospital and helping to ensure they have access to personal protective equipment (PPE) such as face masks, making beds, distributing stocks of PPE, assisting with cleaning routines, helping to prepare and distribute food, stocking up ward areas and other non-patient tasks."
Resilience course for veterans, reserves and their families
We're also proud to launch a new resilience course from our Somerset Recovery College. For veterans, reserves, and their families across the county. Led by Bernard Genge: trainer, consultant, coach, and ex Royal Navy medic. The virtual course aims to help you:
manage significant changes, like adjusting to life outside the military
take control of excessive worrying and anxiety
cope with pressure and stress
maximise a positive approach to life
control negative emotions and turn them into positive ones
respond in a controlled way to challenging situations and people
become more decisive and confident
understand more about PTSD whether you or a family member are living with the condition or think you might be or would just like to find out more.
You will share and learn in a safe space with people who have had similar experiences. The course will give you time and space to reflect and useful theory and tools for everyday life. Just as useful for the pandemic situation we have had to get through over the past 15 months as well. For more information, to register and receive an outline of the full programme available, please email: bernard.genge@gmail.com.
Click to download the resilience course poster.