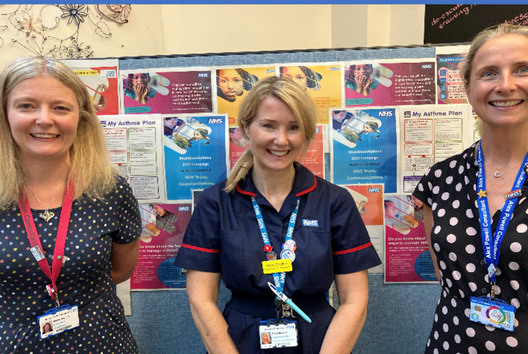 Spotlight
#AskAboutAsthma to support young people in Somerset
Every September, there's a rise in asthma attacks in children across the UK when they go back to school – commonly referred to in healthcare as the 'September Spike'. There are a few different reasons that children are at higher risk of asthma symptoms and asthma attacks after returning to school, but the important thing is knowing how to manage it, and what to do.
Last week was #AskAboutAsthma Week, falling specifically on those dates to prepare people for the September Spike, which commonly happens on 'week 38' (this week, starting Monday 26 September).
In Somerset we have two clinical leads for asthma, who hold a role at the Integrated Care Board (ICB) as well as at Somerset FT. Lead respiratory clinical nurse specialist, Dawn Bradley, and consultant paediatrician, Dr Nerys Beynon, have been leading the work to promote asthma services across the county.
The team then also includes Dr Alexandra Powell, consultant paediatrician at Somerset FT, and Dr Christopher Zaborowski, consultant lead at Yeovil Hospital (YDH). While the team is yet to officially come together in preparation for the merger of our two trusts, they have been working together to promote the importance of understanding asthma care, and what should be done to help children control asthma symptoms.
"Around 1 in 11 children have asthma, and while a lot of work has gone into promoting the importance of asthma care, there are some children who still unfortunately die following an asthma attack", explains Dawn. "There are multiple ways that a child is referred into the service, and this could be anything from a GP referral, to a child presenting to hospital multiple times with respiratory symptoms, who would then be automatically referred to the service.
"Our consultants will see children at the hospital, but the team is unique in also offering home visits. If we see children, or their families, who may need extra support, we'll go out to their homes to provide more guidance and make a further assessment of anything that could be triggering their asthma. There has some been some clear success stories since the team adopted this approach, and we've seen a number of children significantly improve – able to carry on with their lives in a manageable way."
While the team has been working hard to keep the service going throughout the pandemic and during the COVID-19 recovery, there are still a number of things that people can do to help ensure children with asthma symptoms get the best possible – and potentially life-saving – care.
There are four key aims of #AskAboutAsthma Week, which all young people, parents, and anyone involved in their care, should be aware of:
Get an asthma action plan in place- a written asthma action plan drawn up between a clinician and patient means people are four times less likely to have to go to hospital for their asthma
Understand how to use inhalers correctly- Less than three-quarters of children and young people have any form of instruction in how to use their inhaler. Poor inhaler technique means patients don't get the full benefit of their asthma medication
Schedule an asthma review – every year and after every attack - an asthma review by an appropriately trained clinician after every attack helps to work out what went wrong. An annual review ensures effective management of the condition
Consider air pollution and its impact on lung health - we want to ensure that every asthma conversation considers the impact of outdoor and indoor air pollution on children and young people's asthma.
To learn more about the #AskAboutAsthma campaign, visit www.healthylondon.org/ask-about-asthma.