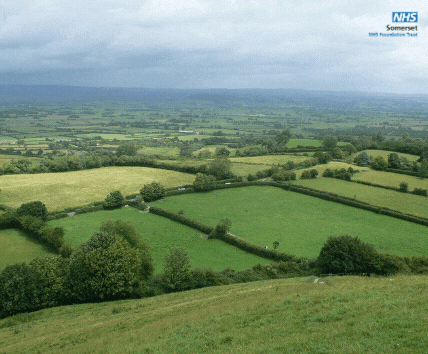 Spotlight
Be prepared this Easter and choose the right NHS service for your healthcare needs
Be prepared this Easter and choose the right NHS service for your healthcare needs
With the Easter weekend fast approaching, many of you will be busy planning on getting out and about, getting away, or spending time with your friends and family.
While we appreciate you want to be able to enjoy your Easter break without having to worry about how to access care if you need it, with health and care services still under pressure in Somerset, we are asking where possible and practical, you plan ahead to help reduce any extra demand on NHS during this busy time.
Help your loved one to return home from hospital in time for Easter
People tend to recover from illness and get back to their normal selves much quicker in the familiar surroundings of their own home.
This is why we're encouraging families and carers to look at what you can do to help get your loved home from hospital this Easter. It's the small things that count, such as giving them a lift home, stocking up on essentials, such as food, drink and medicines and making sure their home is warm enough for when they return.
Some patients will need extra care to be able to get home safely and our teams will work closely with the patient and their families to put this in place. If you are unsure how you can help your loved one to get home quicker, please speak to the ward team.
What to do if you have a healthcare need over the Easter break
To help you to access the healthcare you need, the NHS in Somerset has put together some advice to help you to understand what's open and to choose the right health services during the busy holiday period.
While some pharmacies and healthcare settings are opening as usual over Easter, most GP practices will be closed for four days from Friday 15 April to Monday 18 April, with normal opening hours resuming on Tuesday.
To avoid adding further pressure on already busy health and care services, it is important that you have enough of your repeat prescription to last over the Easter holiday and, if not, to order these in good time to avoid running out.
For those of you who take regular medicines, we are asking you to plan ahead and make sure you have an adequate supply.
Even if you don't take regular medication, it is worth checking you have a well-stocked medicine cabinet which covers minor ailments.
While it's best to be prepared, many community pharmacies will be open to support you across Somerset. As qualified healthcare professionals, pharmacists can help you and your family with a wide range of minor health conditions, offering clinical advice and over-the-counter medicines for a range of minor illnesses, such as hay fever, coughs and colds, tummy trouble, skin infections and aches and pains.
For those of you who may be away from home over the holidays and need to speak to a GP, please remember to contact your own GP practice during opening hours in the first instance. They will be able to offer an online consultation and advice. This advice also applies to visitors travelling to Somerset. All GP practices now offer remote consultations and can be contacted for advice.
The NHS is here for anyone who needs it. Visiting 111.nhs.uk or calling NHS 111 will help you to get the right medical advice or treatment more quickly and, if needed, they will be able to arrange for you to be seen safely by the service that best meets your healthcare needs.
For injuries which are not life-threatening there are also a number of Minor Injury Units in Somerset which can help with a wide range of conditions including broken bones, throat and chest infections, eye infections, urinary infections, emergency contraception, sprains, and strains, as well as wounds and bites.
For life-threatening emergencies, including:
loss of consciousness
acute confused state and fits that are not stopping
chest pain
breathing difficulties
severe bleeding that cannot be stopped
severe allergic reactions
severe burns or scalds
stroke
major trauma such as a road traffic accident.
…you should continue to call 999 or go to your nearest A&E. If in doubt call NHS 111 for advice, they can assess what level of care you need and arrange for you to be seen at a local emergency department, if suitable.
If you do need to visit a healthcare setting over the Easter break, please remember to follow the health and safety guidance in place, that includes being asked to wear a mask to help keep everyone safe. If you have symptoms of COVID-19, please stay at home and avoid passing it on to other people, particularly those who are more vulnerable.
Health advice and information is also available on the NHS website or from your local GP practice website which links to a range of online services and, in most cases, you can order repeat prescriptions online. For children's health advice download the HANDi App, available for Android phones on Google Play or on the App store for iPhone and iPad