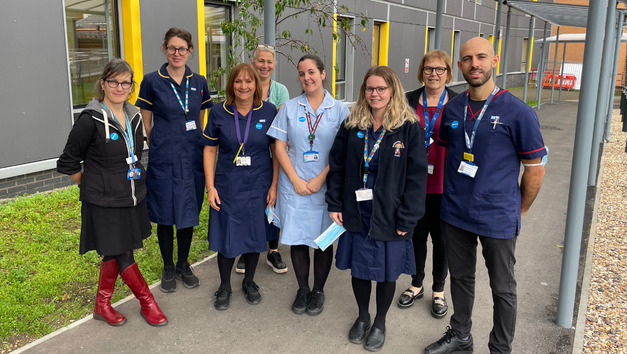 Spotlight
Bringing the fun back into healthcare for children with type 1 diabetes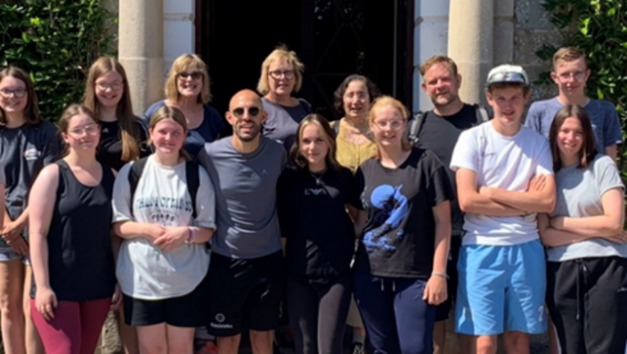 The team pictured with young people at summer camp.
Young people with diabetes have been getting extra support to manage their condition at a special summer camp run by our paediatric diabetes team at Musgrove Park Hospital.
The summer camp included a range of activities, such as archery, abseiling, paddle boarding, and grass sliding. Whilst having fun, the young people were also given the chance to learn all about how to manage their glucose levels whilst exercising.
The children's diabetes team supports children, young people and their families from diagnosis, sometimes as young as six months old, until reach adulthood.
The team cares for over 200 children and young people – who all have a key worker and named consultant throughout their childhood and adolescence.
As part of the summer camp, the team organised a variety of social events, funded by the Josh Evans Trust Fund – which helps children with diabetes and their families in Somerset – to meet the interests of different age groups.
It's routine for children with long term conditions such as diabetes to see their healthcare professionals at least four times a year to check in and help manage their condition.
Events such as the summer camp help children and young people to develop non-clinical relationships with healthcare professionals, while meeting others with the same condition – and have fun of course!
Giorgio Carrieri, our children's diabetes lead nurse, said:
"Our whole team is really passionate about enabling children to be children, and not let their diabetes hold them back from activities. On World Diabetes day, we want to raise awareness of the symptoms of diabetes, but also show people that our young people don't let it stop them having fun.
"We tend to find that most children's' parents have been managing their child's diabetes for the majority of their life, therefore it's so important that we help young people aged 16 to 18 to build their skills and confidence as they begin to move onto a new stage of life with university and moving away from home on the horizon."
"Running the summer camp was a great opportunity to practice these skills independently in a safe and fun environment. The young people have built long term friendships as well which is absolutely lovely to see."
Cookery sessions for young children
Summer 2022 also saw the team run a series of educational cookery sessions for some of the younger children with Type 1 diabetes and their families.
Giorgio adds: "When cooking or baking from scratch, it can be difficult to understand how many carbohydrates are in your meal and, therefore how much insulin you need to take.
"Understanding carbohydrates is a big part of managing diabetes and we've found children and their families love these interactive sessions, which help them to be more adventurous about the type of food they prepare."
The team has recently welcomed a healthcare assistant (HCA) to support children and young people and their families in accessing the most recent diabetes technologies, which frequently change at an advanced pace.
One of our patient's parents said they found the support from the HCA really helpful.
"For someone who is not very technology minded, it really did help having Sabrina (the HCA) there to talk us through it step by step," they said.
"Sabrina went into great detail and explained the app really well and even gave us a mini quiz at the end!"
Recognising the symptoms of Type 1 Diabetes
As part of World Diabetes Day, we want to share the most common symptoms of Type 1 diabetes – called the 4Ts.
Toilet — Going to the toilet a lot to pass urine, such as heavier nappies in babies, bed wetting by a previously dry child or getting up in the night to go to the toilet.
Thirsty — Being really thirsty and not being able to quench the thirst. Your child may ask for a drink more often, finish drinks very quickly or you may notice they generally drink more.
Tired — Feeling more tired than usual, having less energy than normal, not playing as often or having less energy for sports.
Thinner — If you child starts to lose weight or look thinner than usual.
You may also notice your child getting more infections than usual. The symptoms of type 1 diabetes tend to come on within a matter of days or weeks and you should get urgent medical help if you notice any of these symptoms.
If your child has any of the above signs or symptoms of diabetes, you should take them to your GP.
You can find further information on diabetes on the NHS website, or through specialist sites such as Diabetes UK.