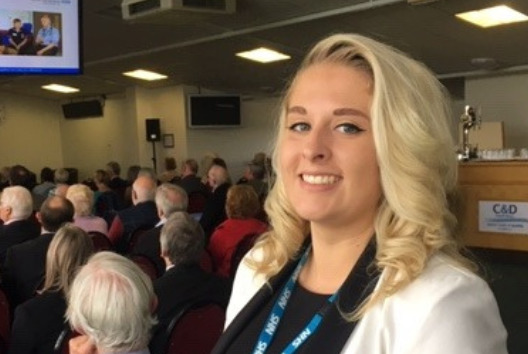 Spotlight
Careers through apprenticeships: Charlotte's story
You can find apprenticeships in many different teams, from clinical coding to trust management, which give you the skills to expand into many different roles - as we saw in Andy's progression to an improvement and evaluation data science lead.
Charlotte Pitman began her career at the trust ten years ago, starting as an apprentice. Below, she describes her journey, leading to her new role as personal assistant (PA) to our chief executive, and a team leader.
"When I look back at how far I've come in the last 10 years, I'm proud of how hard I've worked to get to where I am now, and proud to work at Somerset NHS Foundation Trust with such amazing colleagues. Doing an apprenticeship was the best decision I have ever made, and helped open so many doors for my future. I would recommend to anyone to do an apprenticeship to gain experience, knowledge, and learn about the working environment early on.
"I started my apprenticeship in the Ear Nose and Throat (ENT) department at Musgrove Park in 2012 after deciding that university was not for me. I thought it was a great way to gain experience and learn at the same time. The hospital was very much a maze to begin with, and the NHS really is different to anywhere you will ever work.
"I was very lucky to work in a great team, mentored by experienced and inspirational colleagues who are still my friends today. I was able to quickly complete my NVQ level 2 in Business and Administration. I used to go to college one day a week to complete my medical terminology course and text processing course, as well as completing coursework. An assessor would then come to visit me at work and see what I had done to meet the criteria in the NVQ.
"I then became a band 2 in the ENT department. Shortly after that I looked to progress my career, and moved to a band 3 medical secretary role in dermatology. Here I learnt so much about the trust and the speciality, and supported a trust doctor - this is when I started to look at the career direction of a PA. I helped to put together rotas and information for the department so others could access this easily and see where other consultants were. I really enjoyed my time working in dermatology but due to the service changing, I moved onto obstetrics and gynaecology where I developed into a band 4 medical PA. I worked with a fantastic team, and took on more of a leadership role here where I supported the apprentice with her work and mentoring.
"I decided to complete a NVQ Level 4 and Diploma in business and administration, involving evening classes for the diploma and writing assignments. After a long period working on this, and a change in personal circumstances, I decided to not continue with the diploma but to complete the NVQ Level 4, which was evidence based on my work. At this point I achieved a role in trust management on a secondment working for the director of finance. This was very much a step up in my career and a change from the operational side of the trust to the corporate and business side. I learnt so much working in this role and it really helped me understand my courses more. I was able to complete the NVQ and secured a permanent role.
"After 5 years in trust management, through a merger and a pandemic, I'm very proud of what I've learnt, achieved, and how I've grown as a person. I've had the opportunity to line manage, organise events such as the Our People Awards, deliver 10,000 Easter eggs, organise transport for colleagues stuck in the snow, and given the opportunity to mentor and help others too. I've met amazing people along the way who have encouraged and supported me. This year I'm proud to say that I got the job as PA to our chief executive and team leader, which I'm looking forward to starting in August.
"Some of the things that have also helped my career progression are joining the colleague networks. The Women's Network in particular has really helped me in my career, given me confidence in myself, great advice for career progression and allies. I would also recommended to look into having a mentor – someone to listen to you and share their experiences, to help you with yours."
For more information about apprenticeships in the NHS, go to the NHS Careers website.