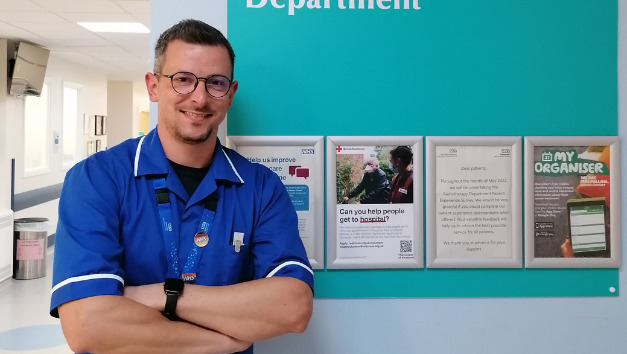 Spotlight
Celebrating Pride Month
We love to celebrate our colleagues, and during Pride Month we're sharing some profiles of members of our joint LGBT+ Network. The network is a wonderful mix of 66 colleagues from across Somerset FT, Yeovil District Hospital, Somerset Clinical Commissioning Group, and Somerset County Council. They welcome anyone who identifies as part of the LGBT+ community and also LGBT+ allies, working together to support their members and focus on improving the work environment for LGBT+ colleagues across the trust.
We asked Dairin Keating, our LGBT+ Colleague Network Chair and Electrical Craftsperson in Estates, to discuss what LGBT+ means to him as part of Pride Month.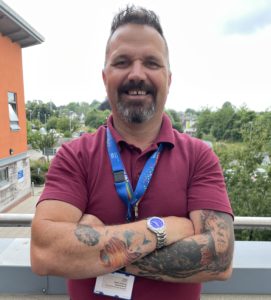 Have you faced any barriers and how did you overcome them?
I have faced the usual barriers of anyone in the LGBT+ community, whether they outwardly identify as LGBT+ or are silent. This can be from feeling you can't be yourself at work, where you spend more time that you do at home, or hearing "banter" that you almost feel compelled to laugh along with. I overcame these by joining the Network and looking for likeminded colleagues. I'm now lucky enough and honoured to be the Chair of the network, that grows in numbers every month as more people feel brave enough to stand up and be counted or to stand with us as allies.
Have you had any standout moments of celebration within the NHS as a member of the LGBTQ+ community?
In 2001, I enjoyed the support, celebration and camaraderie shared with the CCG and YDH at Yeovil PRIDE and this year's Taunton PRIDE will be the first time that we will see the LGBT+ community really celebrated internally in the NHS and externally with our partners in the CCG, Somerset County Council, Somerset Fire and Rescue, SWAST and many other key partners.
Do you have any advice to your colleagues across the country who may need support in this area? Or what advice would you give yourself when you were just starting out?
If you support inclusion, want to see hope rather than hate, are not worried about how someone else identifies, see the positives in how different we all are in looks, attitude and opinion, will challenge any derogatory comments you hear about people in the LGBT+ community as you would do with racism - then make yourself known to the LGBT+ Network at your trust. We'd love to see you join the network as an ally. Allies are key for us in the LGBT+ community as it shows that there is support for us in society.
If you are within the LGBT+ community and need support, reach out to the network in your trust or the multitude of LGBT+ organisations and charities. Membership of any colleague network can be anonymous if you want it to be, no-one gets "outed", so don't feel scared, instead be true to who you are and find your local group. If you're starting to come to terms with who you are, what you feel and how you see yourself, then talk to people. You'll be surprised at experiences that other people have had and many of us have travelled the same path you're on. Find the community in your trust and engage.
What does being a LGBTQ+ NHS staff member mean to you?
My full time role and my position as LGBT+ Network Chair are so different in many ways but also similar in others. In both roles I engage with colleagues from all levels and departments and being an LGBT+ NHS colleague means that I can share the vision of inclusion and diversity when it is appropriate to do so. It also means that I can see where we can do better for the patients in our care, with language, printed text and making facilities appropriate for all users.
I can also see and advise, where we can do better for our colleagues who are working with LGBT+ patients. These patients may be transitioning and could be worried or scared and as a LGBT+ Network we try to ensure that the trusts have the right systems in place to provide the best care possible and we can do this because we have lived experience. The LGBT+ community and how to talk to those within it can seem scary to some, but my message is just be honest. If you say the wrong thing, apologise, learn and move on.
Why is it important to recognise and celebrate pride month?
PRIDE month is important because it honours, celebrates and commemorates all of the LGBT+ individuals who have gone before us and enabled us to be where we are now. We owe everyone of those from the 1970s up to present day a huge debt of gratitude. It is also important because we still live in a world where it can be illegal to be in the LGBT+ community and we live in societies where being discriminatory to someone because of who they prefer to hold hands with is acceptable.
PRIDE is important because every night someone thinks they're better off dead than being gay, bisexual, transgender or any other sexuality or gender within the LGBT+ community. All the time we have hate towards another because of who they are, how they prefer to be referred to, how they dress or even what they do in their private life we will continue to need, recognise and celebrate PRIDE month. We wouldn't accept those attitudes to people of different race or religion and so we shouldn't accept it people who identify as LGBT+.
Stanislav's profile
My name is Stanislav and I am a therapeutic radiographer in the Beacon Centre in Musgrove Park Hospital. I was born in Serbia (at that time, part of Yugoslavia) as a Croatian minority. I spent most of my life in Croatia and Slovenia before moving to the United Kingdom.
Working as a therapeutic radiographer in the UK was a big challenge. Even though I had been working in this job for nearly 12 years abroad, I found some things to be significantly different in comparison to working environment in Slovenia or Croatia. On the other hand, working environment and relationships between colleagues are more supportive here, with emphasis on wellbeing. In the last two and a half years I have learned a lot, progressed and improved myself personally and professionally.
Spending most of my life in countries where LGBTQ+ population is not widely accepted and is mostly marginalised, it was a whole new experience for me in the UK to be free and accepted for being the person I am. It was not easy to overcome the barriers and open up to my colleagues. Once I gained their trust and felt they value me as a person it was much easier to come out. I was very well supported from the beginning, not only by my colleagues but also by the trust. After I joined our LGBTQ+ Network I felt welcomed and encouraged to be more proactive and involved in the network's activities. I definitely stepped out of my comfort zone when I took part in the #SomersetProud project, and became a face on the poster sharing my pride and my story. That was because I felt very well supported by the team and the trust. I received lots of nice comments and great reactions, which only helped to boost my self-confidence.
Getting all the support and love from people in the trust, I can only say that we are all equal and valued members of the team. Being a LGBTQ+ colleague doesn't mean I am treated differently or judged by my sexual orientation. The NHS puts a lot of effort for LGBTQ+ members to feel welcome and respected. That's why we are encouraged to celebrate Pride Month and make people aware that we are integral part of the society and the NHS. Everyone is welcome to celebrate with us and hopefully we will have great celebration this year so we can encourage other colleagues to be free and show them our support.