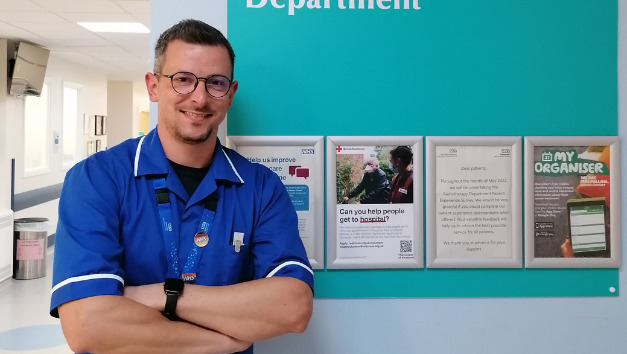 Spotlight
Celebrating Pride Month
We love to celebrate our colleagues, and during Pride Month we're looking forward to sharing some profiles of members of our joint LGBT+ Network. The network is a wonderful mix of 66 colleagues from across Somerset FT, Yeovil District Hospital, Somerset Clinical Commissioning Group, and Somerset County Council. They welcome anyone who identifies as part of the LGBT+ community and also LGBT+ allies, working together to support their members and focus on improving the work environment for LGBT+ colleagues across the trust.
Our first Pride Month profile comes from Stanislav, a therapeutic radiographer in the Beacon Centre in Musgrove Park Hospital...
Stanislav's profile
My name is Stanislav and I am a therapeutic radiographer. I was born in Serbia (at that time, part of Yugoslavia) as a Croatian minority. I spent most of my life in Croatia and Slovenia before moving to the United Kingdom.
Working as a therapeutic radiographer in the UK was a big challenge. Even though I had been working in this job for nearly 12 years abroad, I found some things to be significantly different in comparison to working environment in Slovenia or Croatia. On the other hand, working environment and relationships between colleagues are more supportive here, with emphasis on wellbeing. In the last two and a half years I have learned a lot, progressed and improved myself personally and professionally.
Spending most of my life in countries where LGBTQ+ population is not widely accepted and is mostly marginalised, it was a whole new experience for me in the UK to be free and accepted for being the person I am. It was not easy to overcome the barriers and open up to my colleagues. Once I gained their trust and felt they value me as a person it was much easier to come out. I was very well supported from the beginning, not only by my colleagues but also by the trust. After I joined our LGBTQ+ Network I felt welcomed and encouraged to be more proactive and involved in the network's activities. I definitely stepped out of my comfort zone when I took part in the #SomersetProud project, and became a face on the poster sharing my pride and my story. That was because I felt very well supported by the team and the trust. I received lots of nice comments and great reactions, which only helped to boost my self-confidence.
Getting all the support and love from people in the trust, I can only say that we are all equal and valued members of the team. Being a LGBTQ+ colleague doesn't mean I am treated differently or judged by my sexual orientation. The NHS puts a lot of effort for LGBTQ+ members to feel welcome and respected. That's why we are encouraged to celebrate Pride Month and make people aware that we are integral part of the society and the NHS. Everyone is welcome to celebrate with us and hopefully we will have great celebration this year so we can encourage other colleagues to be free and show them our support.