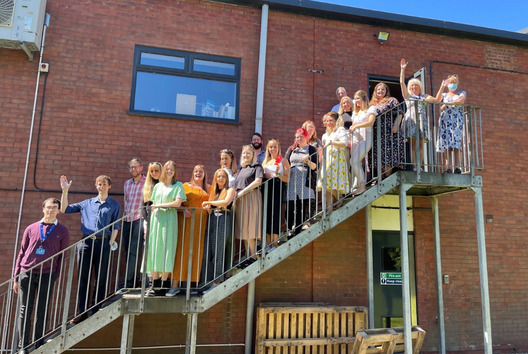 Spotlight
Celebrating Somerset's first clinical associate psychologists
Our very first cohort of clinical associate psychologists (CAPs) were celebrating last month, having successfully completed their 17-month Level 7 MSc Degree Apprenticeship with the University of Exeter.
CAPs were introduced as a new role in England in 2020, designed to provide greater access to psychologically informed services, and filling the gap between assistant psychologists and clinical psychologists.
Our group of trainee CAPs in Somerset were unique in covering adult community mental health, eating disorders, inpatient and urgent care, and learning disability services, each working within one team throughout the 17 months.
Jane Yeandle, our director of adult mental health and learning disability services, has been incredibly proud of the contribution the group has made since joining the trust. She said: "CAPs are a new type of workforce in Somerset, and this group have brought their enthusiasm and innovation into our teams. Their trauma-informed approach to assessment, formulation, and interventions will be a valuable asset – not just to our teams, but to the people in Somerset that we care for. This first group of CAPs, and their supervisors, are trailblazers for this role, and I want to thank them for the brilliant path they have carved for CAPs to come!"
One of the team managers in our child and adolescent mental health service (CAMHS) shared this feedback about having a trainee CAP on their team: "It has been a pleasure and such a privilege to have such a keen, enthusiastic, and willing member of the team, who offers such structured and timely interventions so effectively. They have had to cope with working with us in very challenging times, as well as learn and develop as clinicians, and they have proved themselves all the way. Such an asset to the team and feel very lucky to have them. Some of the work they have completed has been remarkable in terms of patient recovery. Would be great to have more!"
Charlotte Venables, one of our new CAPs based in urgent care west, reflects on her journey: "When I started the CAP programme, I had already been at the trust for seven years and saw it as a wonderful opportunity for career progression. Now that I'm qualified, I can see just how much the programme shaped my understanding, and how much I've grown professionally.
"Spending so much time with phenomenal teachers and incredible supervisors, meant we could really develop our work and role-play situations until we felt confident to do so in front of a client. I will be forever grateful to those clients, for giving permission for vulnerable moments to be observed or recorded, and for their stories to be shared for my own learning and development.
"The development of the CAP role will help to increase access to psychological assessment, formulation, and intervention for our clients, it will enhance the psychological perspectives of our colleagues, and will add to the evaluation of the service we, and the organisation, provide.
"Everyone on the course has supported each other, including our teachers and supervisors, as well as the organisation on the whole. I'm looking forward to seeing where the journey takes me next!"
Our fully-fledged CAPs will now join us permanently at Somerset FT, with some also gaining places to go on to complete a doctorate of clinical psychology.
You can find out more about the CAPs role on the NHS website.