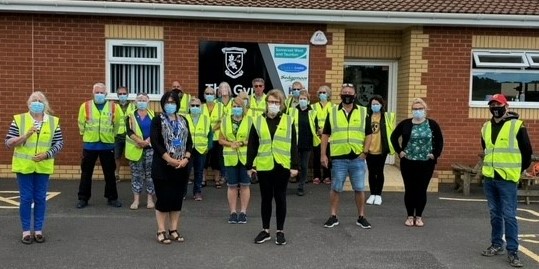 Spotlight
Celebrating their amazing contribution: Tracy Evans and the NPRFC
Since the COVID-19 vaccination programme began last December, hundreds of thousands of people in Somerset have received their vaccinations and many, many teams have worked tirelessly behind the scenes to make this happen. 
In May 2021, Tracy Evans, our primary care and neighbourhoods service director, was awarded the Somerset Medal by Somerset County Council for the role she played in setting up North Petherton Rugby Football Club (NPRFC) as a GP-led vaccination site and leading a team of volunteers that supported the vaccination hub.
This year, Tracy, who is on the Nye Bevan Leadership Programme, will have been in the NHS for 40 years. Behind the long service is a formidable life-force of a woman dedicated to serving the NHS and her wider community. A spokesman at Somerset County Council said: "Tracy Evans has devoted all her spare time and annual leave, from a very high-pressured job, to arrange and to coordinate, a huge team of volunteers to help at the vaccination centre in North Petherton as well as volunteering herself. She is an absolute hero to all who know her!"
Tracy organised approximately 50 volunteers who worked over 8,000 hours, and 18 colleagues, to help vaccinate thousands of people. As the first and only female life member in the rugby club's history, Tracy tells us how her beloved club became part of the vaccination effort and what it has meant to everyone involved.
"I am part of the Somerset NHS COVID-19 vaccination Programme Board and I wanted to find a way of helping with the vaccinations in any way that I could. After all, getting vaccines was the light at the end of the tunnel and when I offered the club as a vaccination site, I did it because it was a great honour for us to support the programme, but also to keep the club as a key community asset during lockdown.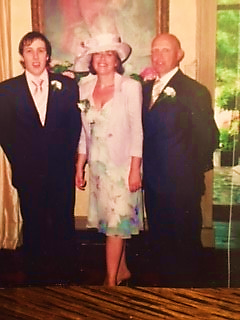 The Evans family, Josh, Tracy and John
"When we lost our son Josh 13 years ago, we had a choice. I could have gone to bed and not got up again. My son being my son, would have hated me for that, absolutely hated that. In a way, I feel like he is on my right shoulder every day telling me what to do, 'Go on mum you can do this, go on you can do that!' My role in the mass vaccination programme has been the most privileged thing I have done in my whole career. My role in my life, I believe, is to help as many people as I can.
Vaccinations started in December 2020
"I remember last Christmas when we started vaccinating; we met people who had not been out of their houses since March 2020 because they had been self-isolating. We were the first people they had seen, so their faces lit up and they wanted to tell us their news; how they had done their hair, or how they had travelled to their vaccination. One lady said: "It is my birthday and my present was a taxi to get my vaccination!"
"People turned up with gifts of cakes and chocolates, and they wanted to put some money in the charity box. We met all kinds of people, including old rugby players who had played for the club, and it was wonderful to know you were helping them.
"The vaccination effort at the club really built from there and by the end, we had approximately 50 volunteer marshals. I inherited some of these wonderful people from colleagues such as the practice manager Helen Stacey and others. The networking with Bridgwater Primary Care Network (PCN) has also reaped benefits for teamworking. The support from across the county has been phenomenal; we all try and help each other for the benefit of people in Somerset.
"Everyone wants to help; from young rugby players in their early 20s such as Leon and Mac to people from the Rotary Club, and supporters of our club. I have also called upon a lot of my friends, both old and new. I have grown to love and value them all, they are selfless people giving up their time to help us all.
Too many people to thank
"The rugby club's players had no hesitation in helping the community. There are others, who have pulled out all of the stops and helped us with the vaccination efforts too. Malcolm Pyne, of 'Pynes of Somerset', the farm shop on Junction 24, brought down trays of sausage rolls every weekend to say thank you to us, he wanted to do his bit. Simon Lee runs the gym in the club, he became a volunteer marshal and has been an invaluable role model during this time. I call him 'The Man of the Community' maintaining both people's health and mental wellbeing.
"Our volunteer marshals are really passionate about helping and being creative. If they are thrown out of their comfort zone, and if they have to do a different role, they will. I've got some people who have worked 50 or 60 shifts. They volunteered because it was something to do during the pandemic. I am just so impressed with all of them and in awe of the time they have given up. They are the unsung heroes of the pandemic because they worked through all weathers - rain, snow, and sunshine.
"My husband John has a long list of what the NHS should have done differently but he was the 'Car Park Man!" When he ran his car park, everybody said it was in ship-shape.
"A lady called Maxine baked cakes for us. She was shielding at home and started baking during the pandemic. So, I contacted her, and she made some cakes for us. When the NHS project managers were leaving, she baked them some special cakes. It's just little things that people did to help everyone.
"There is a what I call a "followship"; I ask one person and one person asks another person. A great example is of a friend who works for a local district council. She was doing a police commissioner's election, so she said: "Can I tap into your volunteers to see if they would help me?"
"Now we are about to decommission this site, our volunteers have asked where they can volunteer next? I advised them to go to Bath and West, Taunton, Bridgwater and Albion, but there are so many places where they are needed.
"Many of my volunteers have stepped in at the last minute and developed friendships over the time that we have spent together. We have these 'breadth and depth people' who have become a community asset, and this has sustained our club at a challenging time.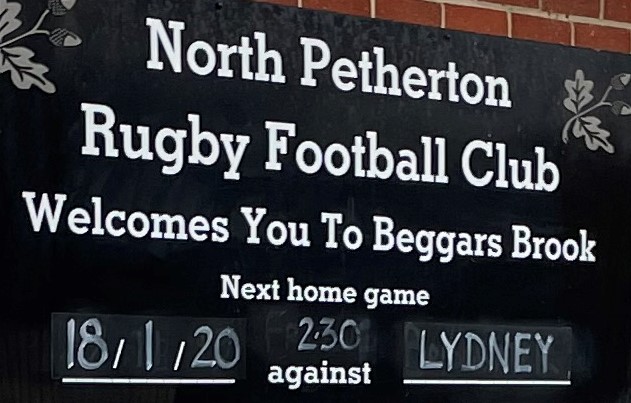 Helping others too
"Recently, the pharmacy opened in Bridgwater Albion Rugby Football Club (BARFC), our rival club, and I asked my volunteer marshals to help them. On the first day, we had a queue of 50 people waiting for vaccinations and I was really worried because we didn't have enough marshals, but people came to help us because I asked them to.
"We have built really great relationships with Bridgwater PCN too. Building and forging relationships which will help with projects in the future and benefit the population of Bridgwater. Sharon Sweet the general manager of the club, who has worked very closely with me to make everyone welcome and has always been there from day one; has strived to make sure everything is in place. We have gone the extra mile; we put tea and coffee out and Sharon organised the cleaning. We have resolved issues together and tried to look after everything and everybody. She is an amazing woman who wants to serve the community.
"This story is just a snapshot of the contribution made by many people who helped run this vaccination centre. I know they would do it all over again as they will tell you themselves!"
Here you can read stories from the volunteers at North Petherton Rugby Football Club in their own words.