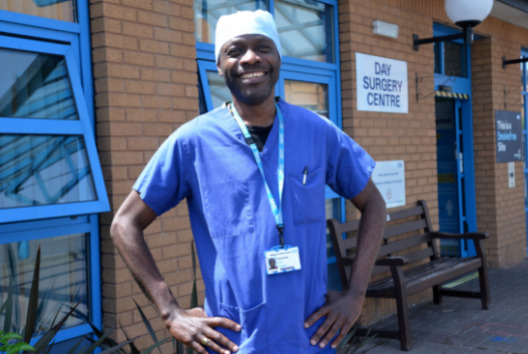 Spotlight
Celebrating Windrush Day in Somerset
Each year, the nation celebrates Windrush Day on 22 June, marking the arrival of Afro-Caribbean people to the shores of Britain 74 years ago on the SS Empire Windrush ship.
An estimated half a million people made their way to England after the Second World War, invited to the UK to fill labour shortages, and support the post war efforts to restore Britain.
This Windrush Day, we not only celebrate the enormous contribution of this generation, but we also recognise and give thanks to many of our colleagues who are descendants of this generation, and the contribution they make to our trust and the wider NHS today.
One of those colleagues is healthcare assistant, Paul Ennis, based in the Day Surgery Centre at Musgrove Park Hospital. Here, he shares his story:
"My granduncle came to England just after the war, when England was about to start to rebuild. They all came because England was the mother country at the time.
"When he arrived it was not like the world he was used to - this is a person who grew up in the country area of Jamaica. But the treatment wasn't good. He couldn't get a place to rent because black people weren't accepted in some places. There were signs in the windows saying 'no blacks allowed'. His brother - who is also my granduncle - was facing the same issue.
"So, they had to seek out an area where they could get a place to rent - south west London.
"When he finally got a place it was very basic. He could cope with that, but most of the issues came from the London transport and where he worked. On the bus he had to go at the back to sit down. Treatment at his work wasn't much better – the verbal abuse was so bad he started to think why he had even come to a place like this. He often had to listen to comments such as 'get back on the banana boat and go home'.
"He stuck it out for a number of years until he moved to America, where he remained until his death a few years ago.
"Windrush Day always reminds me of my dear granduncle and his story. Even if the generation has changed, there is still racism in current society. I believe that anti-racism and inclusion must be everyone's business. When we work towards the same goal of equality and diversity, I am sure that we can make a better place for everyone."