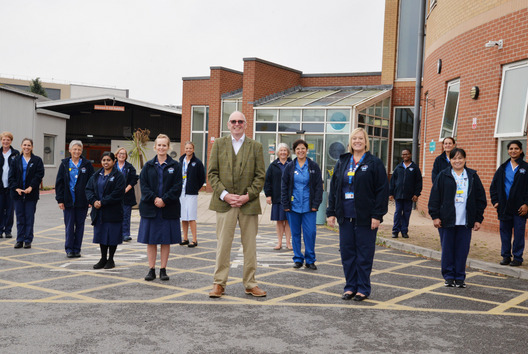 Spotlight
Chemotherapy sessions introduced closer to people's homes
People in large parts of Somerset are now able to have cancer treatment closer to their home without travelling to Musgrove Park Hospital in Taunton.
It follows the extension of our chemotherapy and supportive therapies service to community hospitals in Bridgwater and Wellington.
A similar service was previously run through a Bumble Bus, which was provided by the charity Hope for Tomorrow and visited locations in Somerset.
But during the pandemic, with social distancing and increased infection prevention and control procedures in place, the way these services were provided outside of Musgrove needed to change.
Emma Wells-Burr, our Beacon Day Unit sister, said she was really pleased to be able to use some of our community hospitals to run these type of vital services.
"Once the pandemic hit we needed to start thinking about how we could safely provide our chemotherapy service in line with social distancing," she said.
"We initially needed to consolidate the service in the more spacious Beacon Centre at Musgrove Park Hospital, but the experience of our patients is very important to us and we knew this meant many people would need to travel further than before.
"We therefore started to think about how we could provide these services differently to our local communities.
"Firstly, we set up a four-chair chemotherapy service at Wellington Hospital in July 2021 that operates twice a week – Tuesday and Thursday.
"And this was followed by another four-chair service at Bridgwater Hospital, which began in April 2022 – operating three times a week – Monday, Wednesday and Friday."
The chemotherapy services at both community hospitals are run by our colleagues at Musgrove's Beacon Centre, who rotate through the hospitals.
About 10 patients a day are seen at Wellington Hospital and about 13 patients a day at Bridgwater Hospital. The larger Beacon Day Unit at Musgrove Park Hospital sees up to 60 patients a day.
Every patient who uses our community hospital chemotherapy services must have had their first two treatments at the central hub at Musgrove Park Hospital first.
"By running services outside of Musgrove, we can provide vital chemotherapy and supportive therapies closer to people's homes," Emma continued.
"It means we have increased the number of patients we are able to treat by about 25% which is great news, particularly as the healthcare system recovers from the challenges brought about by the pandemic.
"It can be especially beneficial to patients who have long treatments as they can avoid that long journey into Musgrove, which can be even more daunting as many people can feel really tired after a spell of chemotherapy.
"We are able to offer free parking at Bridgwater Hospital and there's a really cheap council-run car park across the road from Wellington Hospital. With the clinic settings inevitably much smaller our colleagues tend to have that little extra time with patients too.
"We've had really positive feedback from patients who've used the two community hospitals, especially when it's for a venesection session, where a unit of blood is taken over 30 minutes, which could possibly mean a day off work if they need to come into Musgrove.
"We aren't stopping here either as we want to extend our chemotherapy service in the community further and are looking at how we could set up a service in West Somerset in the near future."
While the service has increased in size, colleagues and patients are also benefiting from those little extras that wouldn't normally be funded by the NHS.
Colleagues in our chemotherapy team have a smart new look thanks to a kind-hearted businessman. Trevor Phelps, from Milverton, who is also the husband of one of our staff nurses, reached out to local churches and businesses who kindly donated money so we could purchase smart personalised NHS-branded fleeces for colleagues to wear, giving the team an identity.
And patients are benefiting too. When the pandemic first started, we needed to stop scalp cooling, where patients were less likely to lose their hair during chemotherapy, because it took that little extra time, which was difficult during an already busy time.
But now this added extra is now back up and running at Musgrove and two new scalp cooling machines are coming soon to Bridgwater and Wellington hospitals thanks to charitable funds.