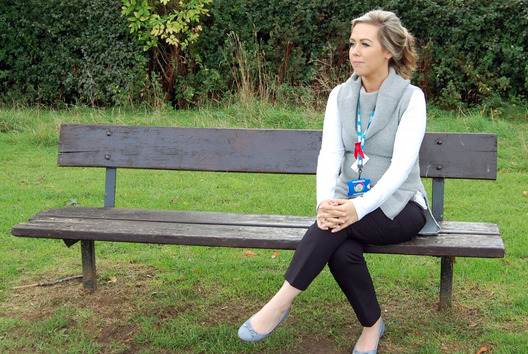 Spotlight
Colleague Laura tells of her own baby loss and encourages people to talk
This week is Baby Loss Awareness Week and the theme for this year is 'you are not alone'.
To mark this important week, Laura Courtenay-Stamp, one of our research facilitators, tells her experience of baby loss and how important it was to talk about it.
Laura began working at Musgrove Park Hospital as an apprentice when she was 18 and has been in various administrative roles during her career. She's currently part of our clinical research team.
Over the last couple of years Laura has sadly experienced four losses – which were classed as early losses as they were before eight weeks– and an ectopic pregnancy, which is when a fertilised egg implants itself outside of the womb, usually in one of the fallopian tubes.
"My partner George and I started trying for a family as soon as we got married as we felt it was the right time for us," said Laura.
"I had no problem getting pregnant and was really excited about what I hoped would follow, but something didn't feel right one day when I was at work. I didn't know what was happening, so I called my manager, who gave me the most incredible support through this traumatic time.
"It was so comforting to me that my work colleagues were understanding as a few of my losses began while I was at work.
"I also experienced my ectopic pregnancy at work and at first we were told it was a normal miscarriage, but it went on for a couple of weeks and eventually was found, but it was too late and I ended up losing my tube.
"There isn't much healthcare support available for early losses as normally this is managed by the person and their family so the only support I had was from my work colleagues, a few friends and family – but it was so comforting just to talk to someone about it.
"I confided a lot in my work team as I felt it was detached from home life. My manager was amazing and even came with me to the early pregnancy assessment clinic and sat outside waiting for me after my appointment. She even came to get me from the car park once as I had been crying so much.
"Many people think of baby loss as something that only happens after 12 weeks, but early loss really does affect so many people, both emotionally and physically.
"It's not really something that people tend to open up about and as we didn't know anyone at the time who was going through the same as us, it brought me and George a lot closer together because we felt so alone.
"In truth I was really struggling to cope and George felt that he needed to protect me and therefore put on a front, which masked his real feelings as he made out that he was feeling better than he actually was."
Laura said she found talking to others about her baby loss a relief and both her and George stopped feeling so alone.
"During the time we experienced our baby loss, we were at the age that many of our friends were expecting a baby, which we felt gave us added pressure," she said.
"We had been married for two years so we were constantly getting asked when we were planning to have a baby with so many people making light hearted jokes saying it was our time. It was so difficult to hear, but people had no idea what we were going through as we didn't know how to approach the subject.
"On one occasion I chose to drive to a function where I would normally have a glass or two of wine so people assumed I was pregnant, but I was actually miscarrying. I found it so tough and felt I just had to smile through events – it was a really lonely time.
"We didn't tell our friends to begin with and it was only a couple of years down the line, when I had my ectopic pregnancy, that I wrote an Instagram post to let everyone know what we had been going through. It took me five losses until I felt able to tell people.
"After my ectopic pregnancy I hit my lowest and realised I needed help to emotionally deal with everything so I paid to get some counselling as there wasn't anything else available."
Laura and George chose to pay for a series of private tests to check whether there were any issues that caused her miscarriages.
"The tests we had to check my fertility came back normal, which in a way frustrated me even more," Laura continued. "There seemed to be no reason why the miscarriages happened to me and there wasn't anything clearly wrong that doctors could fix.
"I remember crying about it as it had been going on for a number of years and we were no closer to having a child.
"The consultant I was under tried a technique that induces ovulation and I was given progesterone and clexane. Amazingly it worked first time and I had my first son William – my absolute bundle of joy, who's now two years old. And I'm now expecting again through the same treatment – 20 weeks into my pregnancy journey.
"My experience never goes away though. When I went for my scans for William and was asked whether it was my first baby, I didn't really know what to say and most of the time I used to say 'yes' even though William was baby number six to me.
"Every time I became pregnant, I'd look into the future and visualise what the baby might look like, even if I'd experienced loss in the past, so I just found it easier to avoid the conversation.
"Looking back, I'd definitely encourage others to be open about baby loss as once I'd posted on Instagram it was amazing to read the messages of support, as well as the stories that people would tell me about their own experiences – it was more common that I had ever thought."
Baby Loss Awareness Week 2022
Baby Loss Awareness Week, taking place this week, aims to bring together people across the baby loss community, finding ways to remember and commemorate our much-loved and missed babies, sharing experiences and supporting one another, and most importantly, breaking the silence.
There are a number of public events and national initiatives happening across this week, for anyone to get involved in – whether you support or care for people who have suffered a loss, if you know someone close to you that has, or if you have experienced loss yourself.
Visit the Baby Loss Awareness Week 2022 page for more information.