Spotlight
Creating hope through action on World Suicide Prevention Day (10 Sep)
The following article discusses sensitive issues as part of the World Suicide Prevention Day campaign 'creating hope through action'. If you experience any distress surrounding this issue, please contact Mindline Somerset on 01823 276892 or 0800 138 1692, 24 hours a day, 7 days a week or email support@openmentalhealth.org.uk.
Today (Friday 10 September) is World Suicide Prevention Day. The theme 'creating hope through action' is a reminder that our actions, no matter how big or small, may provide hope to people experiencing suicidal thoughts.
Marria Aslam, our assistant psychologist, Rosie Novak, our principal clinical psychologist, and Debbie Wint, our suicide prevention lead, have contributed to this article to debunk some common myths, and to offer guidance on how you can access support. 
Suicide refers to "the act of taking one's own life voluntarily and intentionally", and can affect every one of us, regardless of our age and background. It is estimated that 1 in every 100 deaths worldwide is the result of suicide and 1 in every 5 people experience thoughts of suicide. Men are twice as likely to die by suicide in comparison to women.
It is important to remember that suicidal thoughts are common and can develop following a range of life events, emotions, or trauma. To encourage effective conversation, it is vital to reduce the stigma surrounding suicide as this will help people to seek the support they need and deserve earlier. Being informed of effective ways to communicate and the common myths surrounding suicide will allow you to help yourself and others when they are experiencing suicidal thoughts and impulses.
Debunking the three top myths of suicide
There are numerous myths surrounding suicide which can make it harder for individuals to access the support they need. Here are three myths about suicide as highlighted by Samaritans:
Myth: Talking about suicide may give someone the idea to try it.
Fact: Suicide can be a taboo topic. Often, people who are feeling suicidal don't want to worry or burden anyone with how they feel and so they don't discuss it. But, by asking someone directly about suicide, you give them permission to tell you how they feel. People who have felt suicidal may say what a relief it was to be able to talk about what they were experiencing. Once someone starts talking, they've got a better chance of discovering options that aren't suicide. Evidence shows asking someone if they're suicidal can protect them. They feel listened to, and hopefully less trapped. Their feelings are validated, and they know that somebody cares about them. Reaching out can save a life.
Myth: If a person is serious about killing themselves then there's nothing you can do.
Fact: Often, feeling actively suicidal is temporary, even if someone has been feeling low, anxious, or struggling to cope for a long period of time. Therefore, getting the right kind of support at the right time is so important.
Myth: You must be mentally ill to think about suicide.
Fact: 1 in 5 people have thought about suicide at some time in their life. And not all people who die by suicide have mental health problems at the time they die. However, many people who kill themselves do suffer with their mental health, typically to a serious degree. Sometimes it's known about before the person's death and sometimes not.
How you can get involved and make every contact count  
Familiarise yourself with the Zero Suicide Alliance training so you can speak up and ask questions if you are worried, respond quickly in a crisis and encourage your colleagues and patients to reach out for relevant support. The Samaritans also provide in depth information for having a conversation about suicide.
Make sure you know about local services including Mindline and Crisis Safe Spaces and you can find more information about metal health crisis here.
A known effective way to support people in staying safe from suicide is through creating safety plans. You can download your own safety plan from stayingsafe.net or download the Stay Alive app to have your safety plan and other information available at your fingertips.
Sadly, people who have been bereaved by suicide in their personal or professional lives may need specialist support to work through their emotions. Somerset Suicide Bereavement Support Service  is one such organisation that supports people affected by suicide by providing information, resources and one to one support.
Letters of Hope
Read a selection of Letters of Hope from people who have been affected by suicide.
Hands of Hope
As part of World Suicide Prevention Day we have developed a campaign called 'Hands of Hope'. Follow this link and create your own Hand of Hope with your messages of hope and pledge for action and tweet it using #SomersetHope #WSPD #HandsofHope. You can download the template here: pdf or jpeg.
Here are a few examples: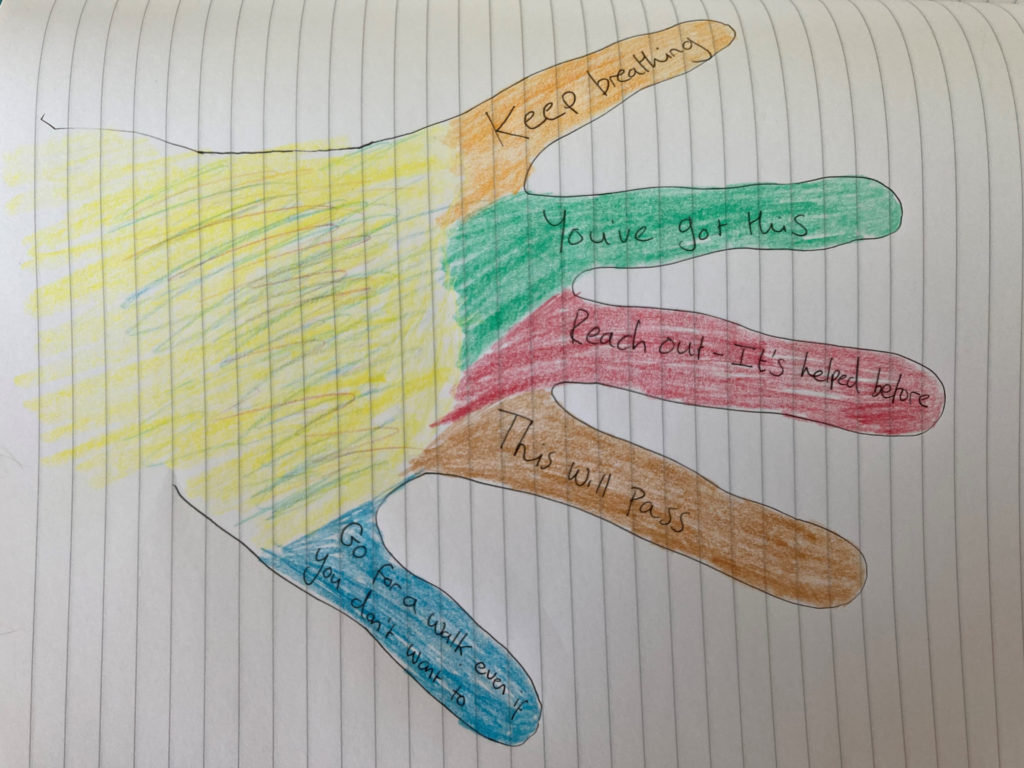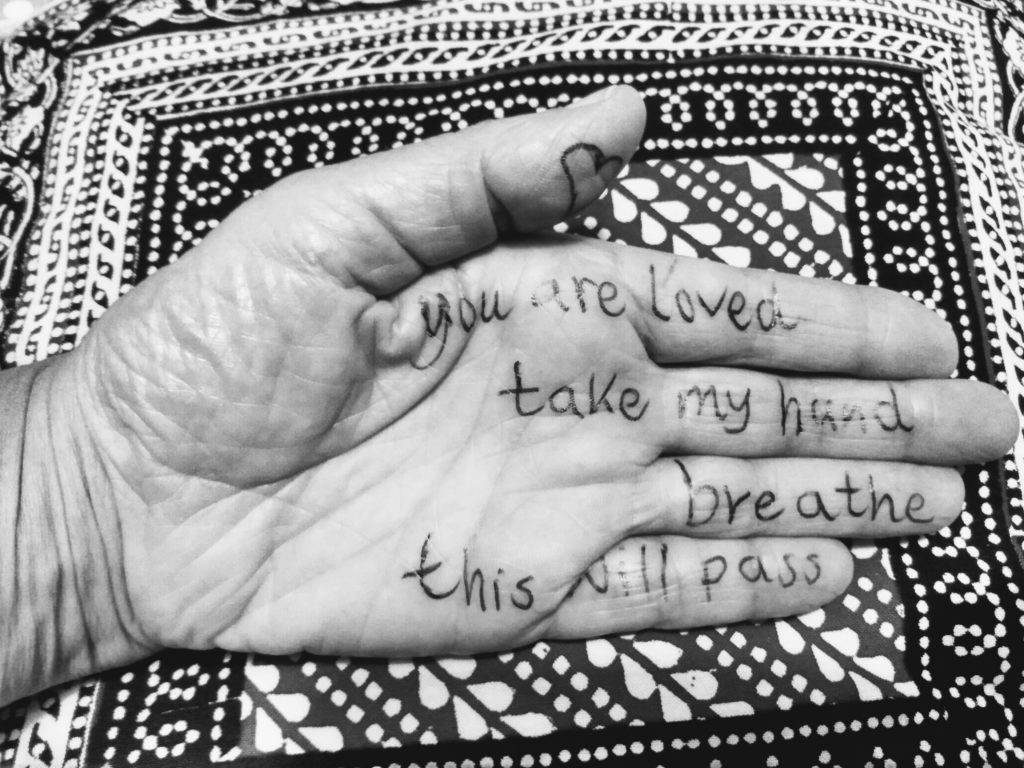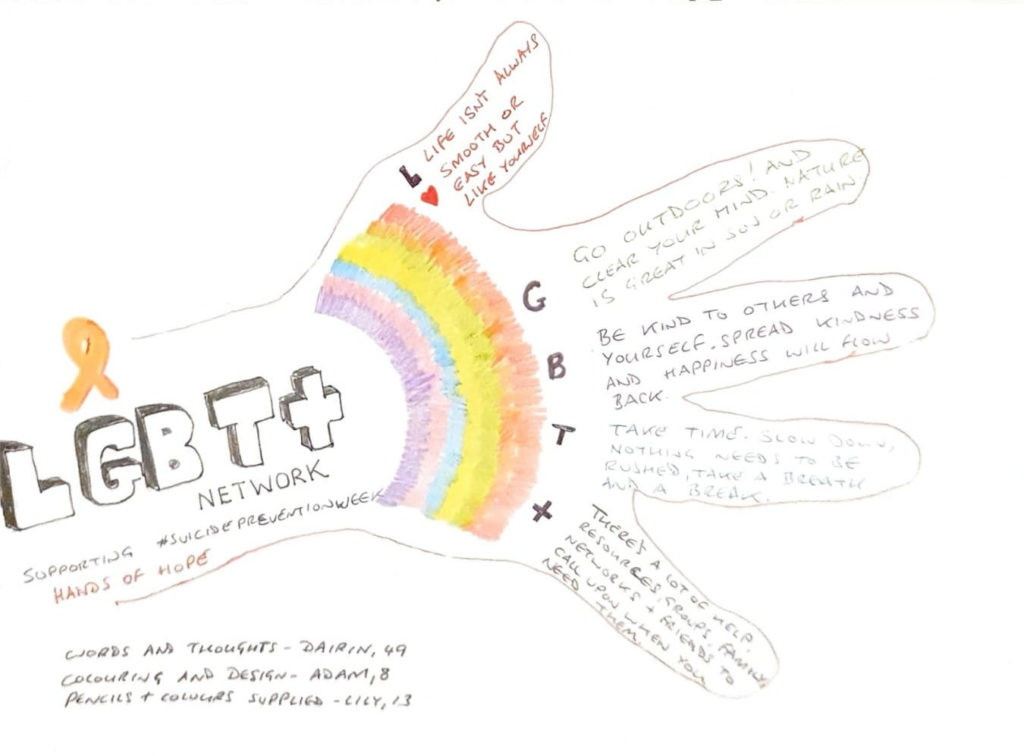 Support available for you
Remember to be mindful of our limitations and be aware how we can care for ourselves including our mental and physical health  whilst caring for others.
If you need support, please contact Mindline Somerset on 01823 276892 or 0800 138 1692, 24 hours a day, 7 days a week or email support@openmentalhealth.org.uk.
Other organisations that can help include: