Spotlight
Delivering a whole new bereavement service – September's Somerset Star
Our Somerset Star award recognises colleagues and teams that have truly embodied our trust values, and September's winner is great ambassador for those. She has made sure her team has felt supported during times of transition through the pandemic, while also putting patients and their families at the heart of their service.
Bereavement support officer, Helen Gilliland, was awarded the Somerset Star for being instrumental in the smooth introduction of a new medical examiner service, while continuing to lead the bereavement team through different challenges and changes.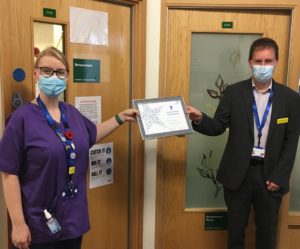 From September, new medical examiners were introduced at Musgrove Park Hospital as part of a national (and soon to be mandatory) process meaning all deaths that take place at the hospital are now scrutinised independently prior to completing the death certificate. For the bereavement service, this meant expanding their team and learning to work closer together – all the while operating differently to normal, as they are unable to meet families face-to-face during the pandemic.
Jeremy Smith, our associate director of medical service development, nominated Helen for the Somerset Star award. He said: "It has been a joy working with Helen. Multiple challenges have had to be overcome when introducing the medical examiner service and each time Helen's positive attitude, enthusiasm and commitment have been essential ingredients for finding a solution. I'm delighted that Helen's contribution has been recognised through this award."
The new ways of working between the bereavement team and the medical examiners has provided a much better approach for families. Having someone independently reviewing their loved one's death has meant families are able to discuss concerns or queries more openly, and the close link between the team means these concerns can be acted upon quickly and transparently.
On winning her award, Helen said it has been an incredible group effort by the whole team to get the service up and running so smoothly. She added: "It has been so important for us to maintain the positive influence we have on families, and while it has been a tricky time for our team, I wanted to do everything I could to make the transition as seamless as it could be.
"We've already had some lovely feedback from families who have had a positive experience using the service since the medical examiners have arrived, and that's a testament to everyone for working so hard to make sure we can deliver the best care for our bereaved families."