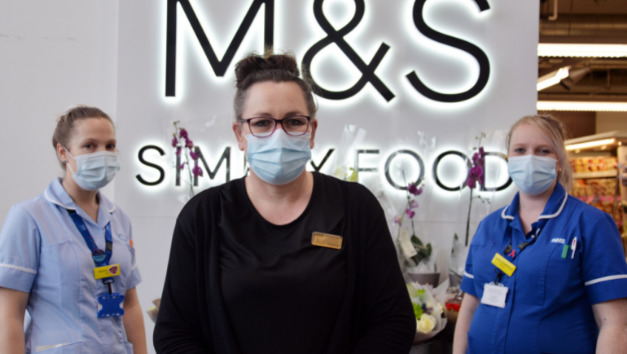 Spotlight
Delivering treats to patients across the hospital
From sweet treats and fizzy drinks, to something to read or wear, there are always little things that can help to put a smile on a patient's face, or help them to feel more comfortable during their stay in hospital.
Last month, visiting restrictions were put in place on our hospitals and units due to the rising cases of COVID-19, but that didn't stop the M&S shop at Musgrove Park from making sure patients received those pick-me-ups.
While visitors weren't able to come to the hospital, colleagues at the M&S shop set up a delivery service – allowing loved ones to place an order over the phone, that would then be delivered to the patient on their behalf.
Store manager, Heather Glanville-Greasley, explained why they wanted to set up the delivery service. She said: "Many of us working in the M&S shop and cafe at the hospital have been here for a number of years, and over that time have had our own loved ones admitted. We know how much of a comfort it can be to send bits and bobs to our loved ones in hospital, whether it's something they need or just something to cheer them up a little, even if we couldn't see them. With this in mind, we decided to set up the delivery service, so family members and friends could feel that comfort, knowing their loved one was receiving something that would hopefully help to put a smile on their face.
"Since we started the initiative in January, we have delivered to wards across the hospital, and it's been lovely to see how pleased colleagues on the wards are to accept goodies on their patient's behalf.
"We've had some lovely requests come in, including two deliveries that were for patients on their birthdays, so we wrote birthday cards on behalf of their families too. It's also been incredible to see the distance of the requests – our furthest customer so far was from Dallas, Texas in the United States!
"The initiative has been really well received, and it's been a pleasure to make the patient's stays in hospital that little bit easier."
Visiting restrictions have now been lifted, with visitors able to book appointments slots to come and visit their loved ones in hospital, but the M&S shop is going to continue the delivery service for anyone that isn't able to get to the hospital.
"We've seen how grateful people are that they're still able to send things to patients on the wards, even if they can't get there," continues Heather. "So, we're going to carry on the delivery service, in the hope that it'll give more people the chance to connect with their loved ones in a small way, without needing to come to the hospital."
Items that can be delivered include toiletries, flavoured squashes or treats such as biscuits - generally anything that the M&S shop stocks, that does not need to be kept in a fridge. The minimum value of the purchase is £5. The team delivers to ward reception areas once a day between 10am and 11am, and can be contacted on 01823 338632 to take orders, payment, and delivery details.
Anyone who has used the delivery service can provide feedback via www.makeyourmands.co.uk.