Spotlight
Developing Somerset's perinatal mental health service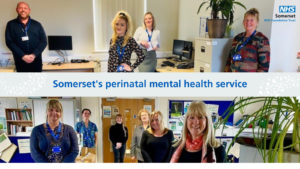 Somerset's perinatal mental health service works closely with maternity teams and health visitors across the county, providing advice and support to women with mental health needs before they conceive a baby, during their pregnancy, or in the 12 months after they have given birth.
This year marks the service's three-year anniversary, and the team has needed to adapt its ways of working to continue supporting women during this time of huge change. Many women and families were isolated during the pandemic, and the team continued to offer COVID-secure face-to-face appointments throughout, as well as setting up walk and talk sessions for those that preferred a different way of meeting.
The team continues to develop its service to provide various ways for women to get in touch, including offering video or telephone appointments, and also setting up a daily duty line for women to call when they need additional support.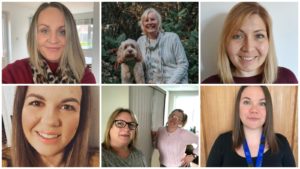 Colleagues in our perinatal mental health service
Debbie Bunce, our service lead for perinatal mental health, explains how the team has evolved since its launch: "The team has grown hugely over the past three years, forming a multidisciplinary approach that includes a pharmacist, consultant, speciality doctor, nurses, social workers, clinical psychologist, nursery nurses, occupational therapist, and secretaries.
"We also have three peer support workers, who have their own lived experience and can support women in different ways. Listening to their advice, and working closely with Somerset Maternity Voices to learn from the feedback provided from others with lived experience, means that we can continue to develop the service to make sure we're providing the best care possible.
"Our support expands wider than the women that come to us, and it's important that we support the other parents and wider family members too. We try to get out into the community as much as possible, and so each month a few colleagues from the team attend the mental health swim meets at Lyme Regis. The meets are year-round, and we often get to see women who use, or have used, our service, as well as their partners, families, friends and lots of others who join in.
"As our maternity teams at Somerset FT and Yeovil District Hospital have now come together, we're working closer than ever before to ensure women and families across Somerset get the support and advice they need throughout their maternity journey. In line with the NHS Long Term Plan, we're developing a maternal mental health service in Somerset, which will bring all of these services together to support women with their maternal mental health."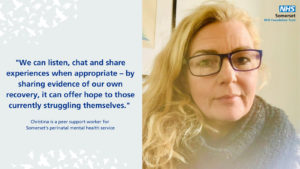 The three lived experience peer support workers have joined the perinatal mental health team as an extra intervention support, to help women recover from mental health issues. Christina is one of the support workers on the team, she said: "As a peer support worker, we reflect on our own lived experiences, and can empathise with what women are going through. This means that pregnant women, or mums with a newborn baby, get the support and understanding of someone who has been in a similar position to them.
"We don't have experience of all mental health issues, but between us we have experience of birth trauma, birth loss, postnatal depression, isolation, and single motherhood. We can listen, chat and share experiences when appropriate – by sharing evidence of our own recovery, it can offer hope to those currently struggling themselves.
"While we don't provide clinical support, we can support in the day-to-day things – going out for a walk, having a sling fitted, attending a baby group or helping with support and finances. We're often a good link between midwives, health visitors, and care co-ordinators, and can signpost to helpful services.
"The women we work with allow us into their homes when they are at their most vulnerable, so being a peer support worker is a real privilege. As people with lived experience, our recovery journeys are still ongoing ourselves, but being able to support our colleagues and the women we work with, helps us in our own journeys."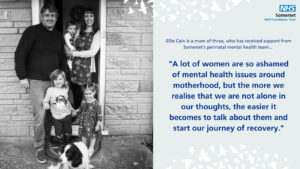 Ellie Cain is a mum-of-3, who received support initially from the Yeovil-based midwifery team, before being referred to the perinatal team. She shares her story, and describes how the perinatal mental health team has helped her: "I had my first baby in 2017, after a successful round of IVF. He was five weeks early, breech, and spent a month in the NICU. This was a very traumatic time for my husband and me, which seemed to ignite my anxiety.
"When I naturally fell pregnant with my second baby that same year, I started to struggle even more with anxiety and depression. At the time, the perinatal mental health team wasn't formed, so a midwife with mental health speciality supported me. In 2019, I naturally fell pregnant again with my third baby, who was due in May 2020.
"In February 2020 I was transferred across to the perinatal mental health team, right at the beginning of the pandemic. My perinatal nurse, Debbie, continued to see me face to face for appointments – an incredibly selfless act on her behalf given the uncertainty around COVID-19 at the time, but something that was vital for me.
"I gave birth in May as planned, and was fine for the first month, but then I started to struggle. With the uncertainty of COVID-19 and further lockdowns, mixed with the anxieties of looking after a newborn and my two other children, I became really depressed. I was admitted to the mother and baby unit in Exeter in October 2020 and stayed there until February 2021. Debbie attended all of my weekly review meetings via Teams – her support meant so much during my time in the unit.
"I continued to have support from Debbie following my discharge from the unit, and I still regularly catch up with her at the monthly mental health swim meets which I now co-host. I wanted to give something back to the service that supported me so much, so as well as co-hosting the swim meets, I also play an active part in Somerset Maternity Voice Partnership and the development of the new maternal mental health service, and I've helped to create a virtual tour for the MBU.
"I am in awe of the professionals I've met through the maternity teams, the perinatal mental health team and the MBU. They bring families back together and help so many people through some really tough times.
"For me, having someone to talk to about the things I'm struggling with is key to my recovery. A lot of women are so ashamed of mental health issues around motherhood, but the more we realise that we are not alone in our thoughts, the easier it becomes to talk about them and start our journey of recovery."