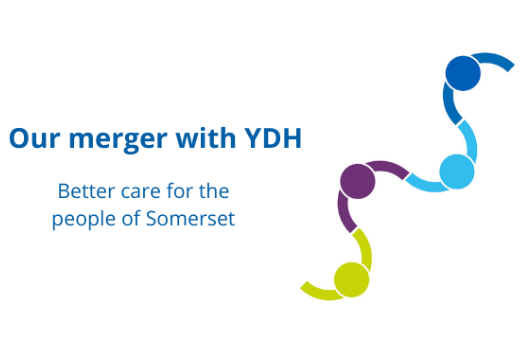 Spotlight
Get involved – help us to name our new organisation
Somerset NHS Foundation Trust and Yeovil District Hospital NHS Foundation Trust are preparing to come together to create a merged organisation that will care for more than half-a-million people living in Somerset and beyond, and employ around 12,000 colleagues. As part of our preparation to merge, we need to decide on a name for our new organisation – and we need your help.
Together we will provide community-based services and mental health and learning disability services across Somerset; run both Yeovil District Hospital and Musgrove Park Hospital and manage a proportion of the GP practices in Somerset.
This is about finding a name for our new trust. Our individual buildings will retain their own names. For example, Yeovil Hospital will continue to be known by its name, the same as Musgrove Park Hospital, our community hospitals including Bridgwater Community Hospital and Frome Community Hospital, and our mental health sites such the Wellsprings Hospital site.
We have a shortlist of three names which fit the naming conventions for NHS provider trusts. Please help us by giving us your views on the shortlist via this survey  before Sunday 20 March.
The shortlist is:
Somerset Healthcare NHS Foundation Trust
Somerset County NHS Foundation Trust
Somerset NHS Foundation Trust.