Spotlight
Gold standard for third year as we're re-accredited as top baby-friendly trust
It's Breastfeeding Month in Somerset and we are delighted that the global humanitarian charity UNICEF has awarded our NHS trust with gold standard 'Baby Friendly Accreditation' for the third year in a row.
Baby Friendly accreditation is a nationally recognised mark of quality care for babies and mothers. We are the only trust in the South West that has consistently achieved the gold standard, which is awarded to organisations that can show evidence that they provide the best possible care for new families.
The accreditation is revolutionising healthcare for babies, their mothers and families, in the UK, as part of a wider global partnership between the World Health Organization (WHO) and UNICEF. Somerset FT's accreditation means that we are consistently supporting new families at the highest recognised standard.
Anne Woods, deputy director of the UNICEF Baby Friendly Initiative, commended the trust's leadership team and colleagues involved in the work to support mothers and babies for continuing to prioritise infant feeding and for developing innovative solutions to the challenges presented by the COVID-19 pandemic.
She said: "We are delighted to see the quality of work that is being implemented by the service and the positive outcomes being achieved as a result, including increasing breastfeeding rates. The last 12 months has been a particularly challenging time because of the COVID-19 pandemic, however in spite of that, it is excellent to note the ongoing commitment to maintaining and progressing the Baby Friendly Initiative within the unit.
"It is clear that the service has seen COVID-19 not just as a threat, but also as an opportunity and has adapted services to meet the needs of babies, mothers and families, at this time, for example via the initiation of virtual antenatal sessions. Leadership of the project remains robust. We look forward to continuing to work with you as you maintain your gold status."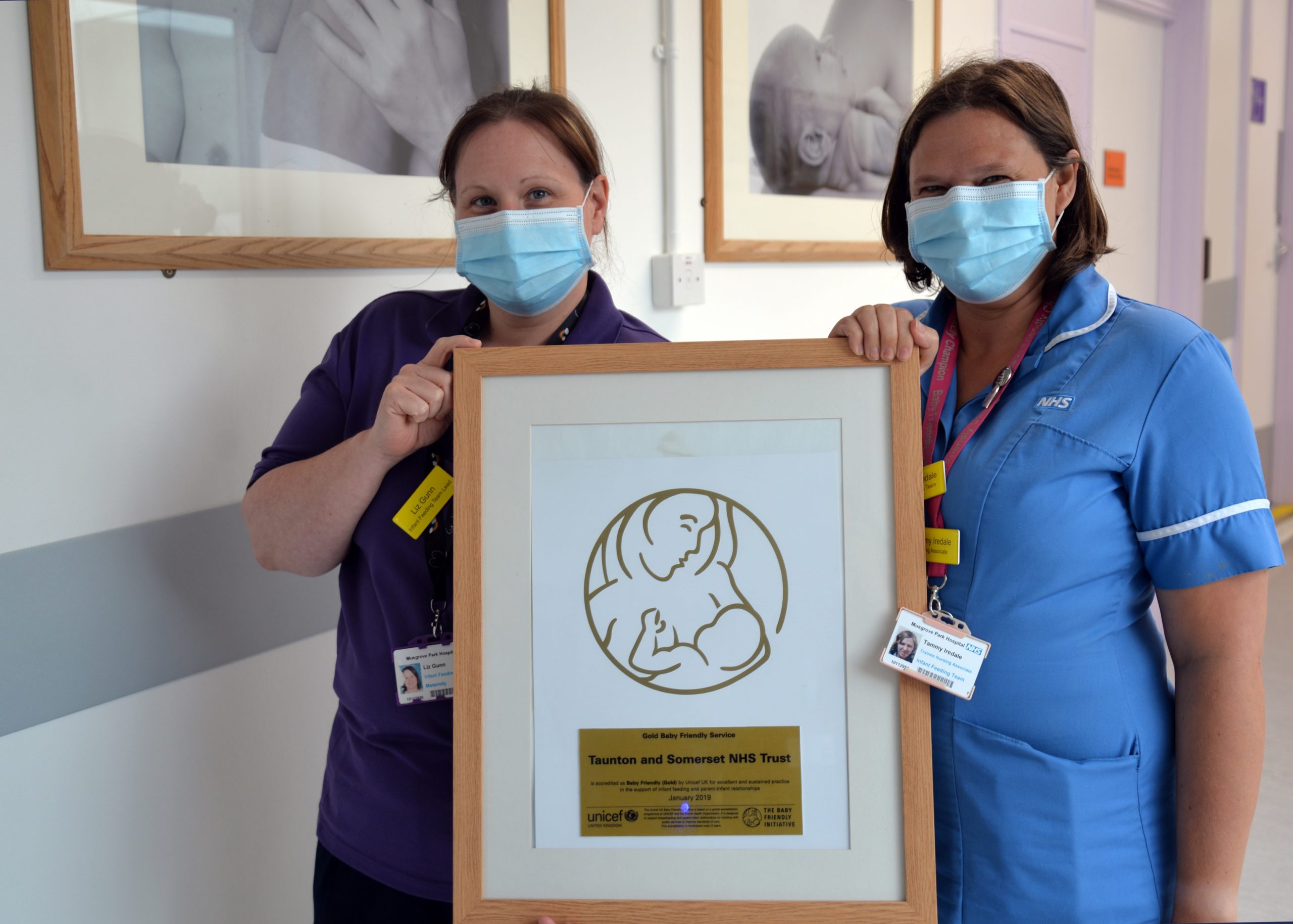 Pictured (left to right): Liz Gunn - Infant Feeding Lead Midwife, Tammy Iredale - Senior Maternity Care Assistant.
Liz Gunn, our infant feeding lead midwife, says the gold award is about achieving sustainability and always looking for further ways to improve.
"Part of achieving gold accreditation is about having a robust leadership structure in place. This includes having a really positive culture that supports families, together with robust monitoring. This means that you are able to spot when women and families may need additional support and put support in place quickly. It's also about progression, innovation, and new projects that you can grow and develop.
Liz explains that the COVID-19 pandemic could have affected our gold standard accreditation but colleagues in our maternity unit remained focused on maintaining gold standards.
"It was extremely important for us to continue working as an infant-feeding team throughout the pandemic and to continue seeing women face-to-face and helping mothers establish breastfeeding.
"We put a system in place so that we could continue to provide great postnatal care to mothers and families including running our clinics face-to-face with correct PPE.
"In other areas we had to adapt. For example we started doing Facetime video calls with women, to support them at home, so that they didn't have to come into the clinics. We did virtual ante-natal classes and added a Facebook page with a number of videos to support latch, expressing, responsive feeding and even self-weighing babies.
"For the first year of the pandemic we also made it easier for women to self-refer for feeding support via our Facebook page by messaging directly and now the health visitors are back to giving face-to-face support.
"I would like to thank everyone who has supported us to continue our gold standard work – our infant feeding team, community midwives, postnatal wards and our fantastic leadership team that enables our work to continue."