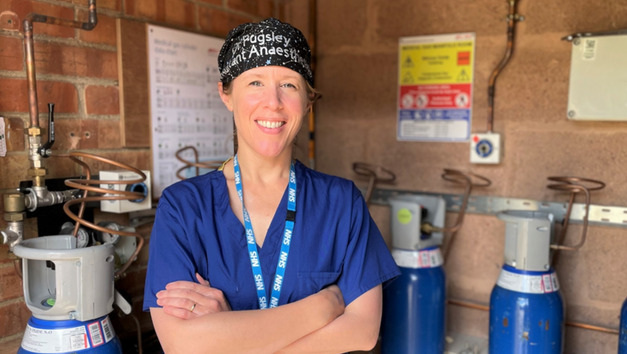 Spotlight
Greener gases for patients at Somerset hospitals
Along with Yeovil District Hospital (YDH), we are tackling the use of medical gases which are harmful to the environment as part of a Green Plan commitment.
Richard Harper, head of sustainability, energy, and carbon at Somerset FT and YDH, has been leading the work on sustainability for the trusts.
"Climate change and poor air quality can affect our long term health," he said. "Any action local organisations can take to improve air quality could mean fewer patients get unwell with long term conditions such as asthma, heart disease, and cancer.
"In the long term it will also reduce the chance of disruption to the care provided by the NHS, from climate-related events."
Together we are taking action to reduce their emissions of gases that cause harm to the atmosphere – with benefits for both the environment and the health of the county's population.
The trusts are preparing to come together to create a merged organisation that will care for over half-a-million people living in Somerset and beyond in April next year.
Richard explains what we are doing. "Across the NHS in Somerset, we are committing to stopping all use of the anaesthetic gas Desflurane, which is 20 times more environmentally harmful than alternative anaesthetic gases," he said.
Dr Rebecca Pugsley, an anaesthetic consultant at Somerset FT, signed up as an environmental champion with the Association of Anaesthetists and was inspired to make changes in her role.
She said: "Anaesthetists have been reducing the use of nitrous due to newer, safer, greener alternatives for patients, but the NHS trust was still purchasing large quantities so I started talking to my colleagues about what we could do to make improvements.
"Instead of Desflurane we are using an alternative that's better for patients as it is less irritating to their lungs, and also less polluting for the environment."
Alongside working to cut out Desflurane, she has successfully championed new ways of working to benefit the environment.
New research by Alifia Chakera, lead pharmacist at NHS Lothian, found that nitrous manifolds, a series of pipes which carries nitrous oxide (N2O) – an anaesthetic gas – throughout the hospital, are hugely wasteful.
At NHS Lothian, the amount of gas which was actually being used for patient care was minimal compared to the amount wasted through the manifolds. In fact, as much as 98% of nitrous oxide was found to be wasted through leaks and long pipe systems.
The manifolds at Musgrove Park Hospital have rigorous checks to keep them running smoothly, but using the information from NHS Lothian, Becky calculated that it could be possible to save the equivalent CO2 of 867 people cycling to work instead of using a petrol car every year.
Becky continued: "I'm concerned about the climate crisis and was frustrated that the changes I've made at home were being dwarfed by aspects out of my control.
"I then realised the huge potential CO2 saving to be made by making small improvements to the way we work in the NHS.
"Working in such a supportive department has allowed me to investigate and introduce these improvements, which I hope will have an impact on the environment for years to come."
Instead of using the nitrous manifolds, anaesthetists will connect the anaesthetic machine to small portable nitrous cylinders or use greener alternatives such as intravenous drugs.
Work has started to turn off the nitrous oxide manifolds to theatres at Yeovil District Hospital as well, and both hospitals have made sure that new surgical areas do not include any nitrous oxide manifolds. This includes the new developments as part of the Musgrove 2030 and Yeovil 2030 programmes – which involves a series of new buildings fit for modern healthcare.