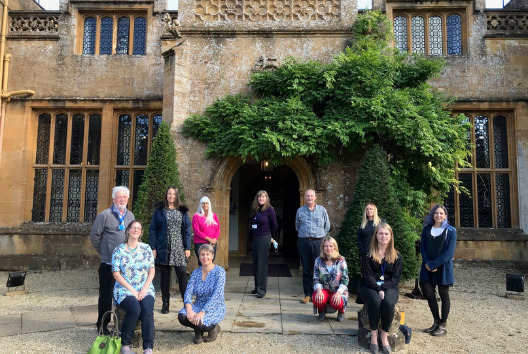 Spotlight
Helping people with mental health needs get back into paid employment
People in Somerset being cared for by community mental health teams are getting additional support to get back into paid work.
Somerset NHS Foundation Trust's (FT) employment support service follows an individual placement and support (IPS) model – an evidence-based programme that aims to help people with severe mental health conditions find and retain paid employment.
Jo Moore, Somerset FT's clinical lead for the service, said that employment should be seen as part of the process of getting better, rather than as a result of getting better.
"There are so many benefits for people with severe mental health conditions finding paid employment," she said.
"These include improved confidence and self-esteem, having a valued role, meeting people, improved physical health, improved motivation and energy, a sense of achievement and financial stability.
"And the impact on their mental health and local health and social care community is also really positive as research shows that when people are employed, they will be less likely to need to access GP or hospital treatment regarding their mental health.
"There is sometimes an assumption that people are 'better off on benefits than working' but this is often not the case on closer examination. We support our clients to access financial and benefits information including a 'Better Off In Work Calculation' so they can make informed decisions about potential work-life balance.
"Our service isn't about forcing or persuading people to consider paid work as those who we help must want to work. Even if the person isn't 'job ready' yet we will help them by working alongside their care and therapy teams as part of their recovery.
Sue Newell, Somerset FT's employment support service manager, added that it's not just people who are looking for work who are supporting by the service. "We also have a small team of job retention specialists within the service," she said.
"They support people who currently have a job but are experiencing severe mental health conditions that may be impacting their employment or their mental health may be affected by their particular job situation.
"Our team has had great feedback from clients who have benefited from the service, as well as from employers themselves."
Michael*, age 37, worked with our individual placement and support (IPS) scheme for over a year and completed a vocational assessment to help him identify his hopes and concerns about returning to work after a two year absence.
Our IPS job coach provided advice and guidance on matters relating to disclosure of his mental health. We linked with ten employers on Michael's behalf and helped him to secure work at an IT recycling firm.
Michael said: "My IPS job coach has helped me go from being unemployed to landing a really great job.
"The advice and support I had from the team was very helpful. They helped me with updating my CV and even took me to the interview.
"I'm really enjoying the work and I've found that it has helped my confidence and given me a sense of purpose."
The service worked closely with the Job Centre Plus to complete a 'Better Off in Work' calculation to help him make an informed decision about working. An in-work support plan was shared with his employer to help them understand his needs and we have provided on-going support to ease him into this new role.
The chief operating officer at the firm that now employs Michael said: "We very much value the proactive relationship that we have with the employment support service at Somerset FT.
"It's so great to be able to support people with mental health difficulties into work. This has been possible through the professionalism and carefully considered approach that has ensured the needs and objectives of everyone involved have been met."