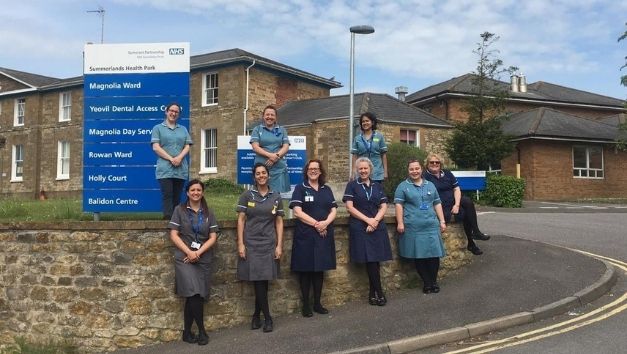 Spotlight
How our neighbourhood teams have changed the way we care for patients in the community
In the year leading up to the merger that formed Somerset NHS Foundation Trust (FT), we worked closely with the county council and voluntary sector to develop a new approach to the way we coordinate health and social care services for people in Somerset.
This new approach saw the creation of 12 'neighbourhoods' in Somerset – covering the Taunton and West Somerset, South Somerset, North Sedgemoor and Bridgwater, and Mendip areas.
The neighbourhoods are made up of a large virtual multidisciplinary team of healthcare professionals, including GPs, therapists, district nurses, mental health clinicians, hospital teams and more, and work in close partnership with primary care, the voluntary sector and adult social care
They act as a single point of access in local communities for health and social care professionals to assess each individual patient on the support they may need to help keep them safe, well and happy in their own homes.
Colleagues from our neighbourhoods reflected on the changes since the merger, and how they have benefited our patients and colleagues.
Mandy Shiel, Neighbourhood Development Manager in the Taunton and West Somerset area, said:
"The neighbourhoods have allowed us to bring together many health, social care and voluntary sector services into one place by using the benefit of the digital platforms that we are all now able to use.
"This gives our colleagues the opportunity to share information for the benefit of our patients and contributes to a single point of information sharing across our many partners, including primary care teams. It also means our patients don't have to repeat their story multiple times to every healthcare professional they see, which we know can be very frustrating for them.
"We have definitely noticed that many boundaries have been broken since we merged our trusts. We are able to access the acute hospital care via the elderly care physicians and discharge teams, which is vital in planning the care of patients who are due to leave hospital."
Gillian Cook, who also works in the Taunton and West Somerset area as a neighbourhood service lead, said:
"While the integration of mental health, community and acute hospital services has been a key part of the development of neighbourhoods, our GP practice, social care and voluntary sector colleagues also play a vital role.
"Our community services and mental health teams have found that working closely with our hospital colleagues has benefited our patients in so many ways.
"One great example is the joint access we now have to patient record systems through the multidisciplinary team conversations, which gives us an up-to-date real time understanding of a patient's health and social care needs so they don't need to keep repeating their story to different healthcare professionals.
"The merger has meant that our integrated rehabilitation team therapists have been able to assist with our discharge to assess and rapid response services during the pandemic, when these services were developing and expanding to manage the increasing number of patients being managed out of hospital."
Emma Blake, Neighbourhood Development Manager in the South Somerset area, said:
"In South Somerset we have introduced virtual multidisciplinary meetings for our local care homes, where we have representation from the care home, primary care, community services and adult social care.
"We also invite one of our care of the elderly consultants at Musgrove Park Hospital for their expert opinion on individual patients to support the team and give their perspective. It's a really great example of everyone coming together for the benefit of the patient, who gets a more coordinated approach to their care.
"Another benefit of this new way working is that we now have a team approach to medication management of the more complex patients. We have found that the care home multidisciplinary team meetings have led to significant de-prescription of medication which results in benefits to the patient and for the wider healthcare system.
"The merger and our neighbourhoods have also brought great opportunities to look at how we can plan our workforce in a more collaborative way across the whole health and social care community in Somerset rather than just within individual teams. This has led to exciting roles and career progressions for colleagues in our teams."
Jane Fitzgerald, neighbourhood service lead in the North Sedgemoor and Bridgwater area, said:
"We run a daily multidisciplinary meeting that includes our district nurses, rehab teams, older people's mental health team, hospice colleagues, adult social care, consultant psychiatrist, care home teams and village agents. Our acute hospital colleagues have also joined our calls and GP colleagues will be joining in April.
"It means that everyone involved in a patient's care can meet at the same time to discuss and plan personalised care – something that was never possible before – and it has so many advantages for our patients and time saved for our colleagues.
"Our community teams also work very closely with hospice consultants and community palliative care nurse specialists to ensure that patients who wish to be cared for at home or in the community can do so.
"Patients with very complex needs are now looked after by our district nursing team and training provided by the hospice has reduced the need for hospital admissions, allowing patients to receive treatments and end of life care in their chosen environment."
Patient Julie (name changed for confidentiality)
Julie was an inpatient on a medical ward at Musgrove Park Hospital. She was known to many of our services, including adult mental health. She also had a long term condition, was not always compliant with her medication and was wary of clinicians that she did not know.
Julie was fit to be discharged home, but it was on a Bank Holiday weekend and we knew a number of services in the community would be patchy.
Our neighbourhood team invited the inpatient ward sister to join the multidisciplinary team meeting where they talked about all the potential issues that could occur if she was discharged over the weekend. A decision was made to keep Julie in hospital until the Tuesday.
One of our district nurses went into Musgrove Park Hospital at the weekend to meet Julie and built up a rapport with her. They made daily visits to Julie's home once she was discharged to administer her medication, while involving her GP and our community mental health team in her care too.
The long term condition specialist nurses at Musgrove Park also liaised with the district nurses who care for Julie to discuss her ongoing care and, as a result, she no longer needs a high level of medication and doesn't need a daily home visit from our teams. Her mental health needs are also now addressed with a weekly visit to a centre to receive ongoing medication.
Julia Holman, Neighbourhood Development Manager in the Mendip area, said:
"Our integrated rehabilitation team in Frome works closely with the Royal United Hospitals Bath consultant geriatrician to look at ways to help elderly and frail patients avoid falling, which usually leads to a hospital admission.
"Since October 2020 the teams have come together in a monthly clinic at Frome Medical Centre to provide a comprehensive multidisciplinary assessment and review of all patients who are at risk of, or have experienced a fall.
"We are looking to build on this work, with our well-established complex care meetings now exploring ways where we can identify patients who may need an enhanced multidisciplinary approach to help them to life safely and independently at home.
"We are continuing to build relationships with partners, including our primary care networks and adult social care, to improve the way the pathway of care for our patients."