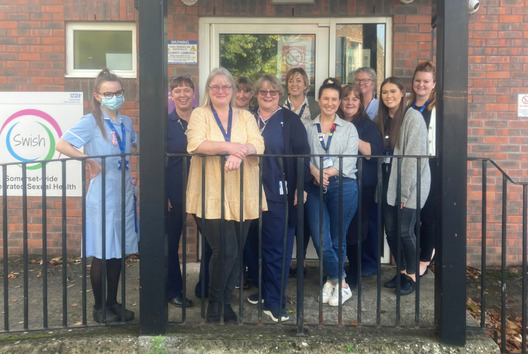 Spotlight
How our sexual health services are making a difference across our communities
"Everyone should be able to access sexual health and wellbeing services in ways that best suit them" – that was the theme of this year's national Sexual Health Week, which took place in late summer.
The reality is that too many people face barriers when it comes to finding evidence-based, inclusive and non-judgmental support – particularly those from vulnerable groups in our community.
But that's where our specialist targeted outreach team – part of our Somerset-Wide Integrated Sexual Health (also known as SWISH) – is on hand to help.
The team offers improved access to testing and contraception, as well as support to those who may not otherwise engage with services.
It's made up of two healthcare assistants, an assistant practitioner and four nurses, who work with many groups, such as rough sleepers, exploited young people, probation service users, Somerset Drug and Alcohol Service clients, sex workers, the LGBTQ+ community, people with learning disabilities and travellers.
Our assistant practitioner Kat Briggs explains how our outreach team is working with agencies to make a real difference to the lives of people in these groups.
"One of the main groups we work with is the rough sleeping community, whose sexual health is often overlooked and stigmatised," she said.
"We regularly attend temporary accommodation facilities across the county and link in with our trust's homeless nursing team.
"We often provide education around the importance of testing and discuss the different contraceptive methods available to those who are at risk of unintended pregnancies. Sexual health is understandably not always high on the list of priorities for people who are homeless, so every conversation we have is vital.
"A March 2022 report by the National Institute of Clinical Effectiveness (NICE) highlighted that the fear of engaging with services, or mistrust of medical services and dependencies, makes attending services difficult. Therefore, there is a need for outreach services to meet people in a familiar location where they can get a one stop service, without the fear of being penalised for not attending.
"We also work closely with the PAUSE project, which is run by the Nelson Trust – a specialist service for women who have experienced trauma or abuse, which is often masked with substance dependency.
"PAUSE allows women who have experienced the trauma of having multiple children removed from their care to have a break from the cycle by working with us to provide long-acting reversible contraception (LARC).
"For younger people we visit the various YMCA centres across Somerset where we offer very casual and flexible drop-ins every few months where people can come and chat about sexual health, their worries and get tested with our postal test kits.
"We have also run some group sexual health tutorials for some of the younger YMCAs, which has helped with knowledge around things like STIs and consent.
"We visit the probation and drug and alcohol services once a month in both Taunton and Yeovil, where we assist with contraception, vaccinations and STI testing, sometimes from drug-related concerns.
"We know that sharing equipment when snorting drugs and sharing needles can lead to an increased risk for viruses like Hepatitis C and HIV, so we help to educate people around keeping themselves as safe as possible.
"Another patient group we see around the county in our outreach work are sex workers. There is harmful stigma attached to sex working which can make workers vulnerable to violence and discrimination.
"We provide support to sex workers who don't want to or can't access our clinics and we give them access to vaccinations, contraception and testing in their community. We also work with services like the Nelson Trust to provide support for those in abusive relationships or being exploited.
"By offering contraceptive methods, we can help prevent any unintended pregnancy, and with our supply of Pre-Exposure Prophylaxis (PrEP), they can be protected against HIV while working.
"We also help people who have a learning disability. There are common misconceptions around people with disabilities that they lack the need for sexual health input. Sadly, many people with a learning disability are not given the appropriate support needed to engage in loving and sexual relationships with others.
"Our team has visited the Foxes Academy School in Minehead to provide relationship and sex education sessions to their pupils. Staff at the school told us that most knowledge that students had around sex came from porn, as parents and teachers can be reluctant to discuss these topics with them.
"We had some great conversations and signed students up to the C-Card scheme, for access to free condoms. We always take along our box of contraception and cuddly STI toys, to sit and have open and honest conversations with the young people.
"We also have a specialist young people's nurse called Marina, who runs specific clinics around the county for young people, where she offers a full range of SWISH services.
"Marina works with specific groups, such as refugees, to improve their health and wellbeing, as well as providing training for other professionals, such as pharmacists, to spot the signs of exploitation so they know what to do if they feel a child is at risk. Marina was recently awarded with an NHS Trust Safeguarding Star and we are very lucky to have her!
"At SWISH we also have pathways for direct referrals into us for some services, such as WREN – our complex care midwifery team, and BPAS – the termination service, to support access to contraception and testing for their patients."
Find out more about the work of SWISH by going to its website or follow the service on social media: Instagram and Twitter.