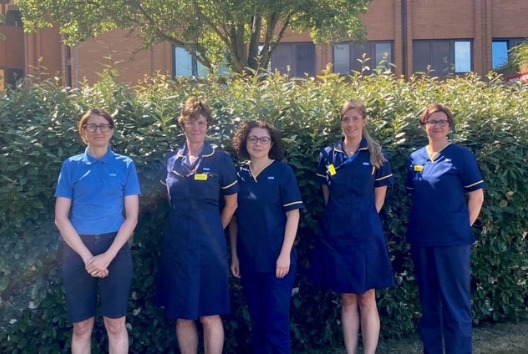 Spotlight
How to safely enjoy the sun this summer
The heatwave may be behind us, but the effects of the sun are very much still present. As summer gets fully underway and schools break up for summer holidays, here's a reminder from our skin cancer team about the things to look out for – even on the cloudy days…
Spending time in the shade
From March to October, the sun is at its strongest between the hours of 11am to 3pm. During this time, it's a good idea to avoid the sun and seek the shade. The sun moves throughout the day, so it's worth remembering that the shady spots will move with it.
Even on cloudy or foggy days, you can still get caught out by the sun, and even get sunburnt.
Covering up
The more skin that is covered by clothing, the more protection you have. Clothes that protect your shoulders and have long sleeves are best, and wearing a wide-brimmed hat and UV protection sunglasses (look for 'CE Mark' and British Standard Mark) will also provide that protection.
How to – properly – use sun protection
It's recommended to use Sun Protection Factor (SPF) of at least 30 (UVB protection) with a high star rating of 4/5 (UVA protection). The best way to use suncream/spray is to apply it 30 minutes before you go out – use two teaspoons for your head, arms, and neck, and two tablespoons to cover your entire body. Don't forget to cover your ears, feet, and the back of your hands!
You should re-apply every two hours, especially after swimming, towel rubbing, or sweating. It's also really common to keep suncream/spray in the cupboard and bring it out each year – but suncream/spray does actually have a sell by date! Make sure it's still in date, otherwise it won't offer the protection you need.
Suncream/spray alone doesn't protect from sun damage, but it does help to protect the parts of skin we can't cover up. No matter how high the factor, no suncream/spray can provide 100% protection, and shouldn't be used to extend your time in the sun. It also doesn't make tanning safe.
Make sure to protect your children
Sun safety is important for all ages, and we should be encouraging children to spend time in the shade between 11am to 3pm, when the sun is strongest. Children under six months should always be kept out of direct sunlight.
Our skin cancer team shares some information about why the above is so important: "Most skin cancers are caused by exposure to the sun – either long-term exposure or short periods of intense sun exposure. Getting sunburnt frequently is not only unpleasant, but hugely increases your risk of skin cancer, so you should try to follow the steps above to avoid it as much as you can.
"Sun exposure can also be in the form of sunbeds, and these are often more dangerous than sun exposure due to the high levels of artificial UV radiation.
"Of course we want everyone to enjoy themselves this summer, but we also want everyone to understand the impacts of spending too much time in the sun."
You can find out more information and guidance on sun awareness and sun safety on the NHS website