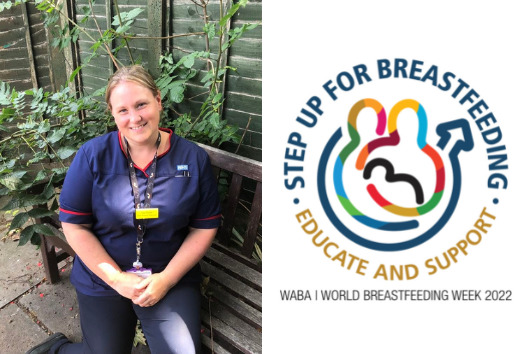 Spotlight
How we can all play our part to support breastfeeding
This week is World Breastfeeding Week, and the focus for this year is on the importance of everyone taking responsibility for breastfeeding. As a baby friendly gold trust, we uphold the highest standards of care for supporting mothers to feed and ensuring both mum and baby are getting the very best out of their feeding journey. Our infant feeding midwife, Liz Gunn, has written the article below to explain how we can all play our part:
There are many roles to play in ensuring that women are supported and encouraged to feed, and it starts before baby is even born! The 'Warm Chain of Support for Breastfeeding', developed by the World Alliance for Breastfeeding Action (WABA), dives into how each 'link' can help to build a better environment for mothers.
Within my role as an infant feeding midwife, and across our maternity service, we have a huge influence on the success of someone's breastfeeding journey. Sharing the value of breastfeeding, connecting with their unborn baby, and discussing their individual questions or concerns is always a lovely way to introduce mums-to-be to their parenting journey, and having those conversations prior to baby being born is a great way of starting that supportive journey.
Once baby is born, we can ensure skin-to-skin contact is in place, as well as helping mums to establish their favourite feeding positions and different techniques to make the journey much smoother. Of course, it's not an easy journey for everyone, and where some mums may struggle to feed for many reasons, our maternity colleagues in the hospital and community, as well as our specialist team, are on hand to support them.
The links then start to expand to wider circles. Partners and fathers are another crucial part of the breastfeeding journey, as their support will be the backbone. By working together as a family, they can ensure baby is thriving, as well as building those crucial baby-parent relationships. Before baby is born, some partners worry they will feel left out when mum is breastfeeding, but they can still actively care for their baby and have one-on-one time and skin-to-skin, while also supporting the mother-baby dyad.
Our local communities are the next link, and this one is really important. Breastfeeding might work well when you're sat on the sofa in the comfort of your own home – but when it's time to go out and about, spend time out in the community, or even when you return to the workplace, if the support isn't in place for you to breastfeed safely and comfortably, it can be a whole other story.
For National Breastfeeding Week back in June, we shared our colleague Zoe's story about how she managed to carry on feeding upon returning to work. Of course, it's more common to see women expressing in a maternity environment than it would be for other wards and departments, but there are simple things we can all do to make it easier.
Zoe explains it really well, here: "Most important is privacy, so a room or space with a lockable door or screen is best. The space or room itself can be quite basic – having a comfy chair, a table for any equipment, and a nearby plug socket is all that is needed. Of course, if there could be a window for some light and ventilation, a sink for hand hygiene or a drink, and storage space for any equipment, that would be an added bonus!
"Lots of people think a fridge is needed, and while it would be wonderful to have, it's not a necessity. Milk, if labelled, can go in any fridge within the department."
At Somerset FT, we know there is a lot of work to be done to ensure we have safe spaces for our colleagues returning to work, but there are some spaces already available. Our teams at Chard and Minehead Community hospitals have dedicated 'baby feeding' rooms, which have all the things a woman would need. The room at Minehead Hospital also has extra facilities for baby changing and some toys to keep any young siblings entertained while mum is trying to feed.
If there is one take-away I would encourage you to have this World Breastfeeding Week, it's that even the smallest of actions could make a huge difference to someone who is breastfeeding. By making them feel supported and accepted to feed as and when they need to, you are playing your part.