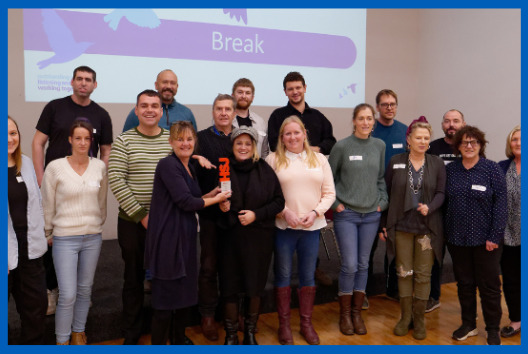 Spotlight
How we're developing mental health services with lived experience
Mental health and learning disabilities services in Somerset are developed by a team of clinicians and managers in partnership with patients and those with lived experience themselves.
This model – also known as co-production – is one of the reasons that our NHS trust was named as 2021 'Mental Health Trust of the Year' by the widely-acclaimed Health Service Journal.
Georgina Boon (pictured right), who is our lead mental health pharmacist, also has lived experience of mental health after suffering from stress and a breakdown eight years ago.
"When I first became unwell I was actually admitted to a physical health hospital as clinicians initially thought the pain I had was my appendix," she said.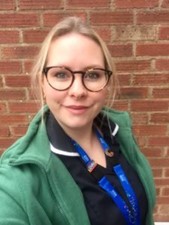 "But they discovered the pain was an inflammatory condition caused by stress and I was off work for several months. In the past year I've had support from my GP for stress and have needed time off work and psychotropic medication to support my mental health.
"It has been a huge learning curve for me around managing my own mental health and medication. It has given me a new perspective and made me even more determined to use my experience to help others.
"In my previous pharmacy roles at other trusts, I've always worked very closely with patients and carers as I'm very passionate about making sure we get things right. I will admit that I haven't always been good at co-production – I've learnt along the way though and now know that it's an absolute keystone of getting a service right.
"My first real experience of co-production was when I worked on an inpatient rehabilitation ward at a mental health hospital. I worked with my patients on the ward to develop a ten-week course around different aspects of medication, such as side effects, smoking and sleep.
"I began by sitting down with my patients and asking them to tell me what they would like to learn and discuss about medicines. From this we came up with a list of topics and held a group session every week."
When Georgina moved to her role at Somerset FT in 2020, she wanted to replicate this type of co-production.
"We have a small mental health pharmacy team for the size of the population, and I knew that supporting a large number of people would be a challenge," Georgina continued.
"I spoke to a group of ten recovery partners (sometimes known as expert patients), patients on our mental health inpatient wards, as well as carers, and we concluded that the idea of a forum to discuss different topics around medication would be helpful and allow us to support more people. That's how the course began.
"Our recovery partners shaped how long the sessions would be, as well as the format. We had to run the course virtually over Microsoft Teams, which although was difficult to begin with, it at least allowed people from across the county to attend without the need for travel and in a COVID-safe manner."
Dr Michael Hope, who was a doctor for 35 years before he retired, was diagnosed with acute PTSD several years ago. He is now a leading figure in the co-production of services in Somerset.
"Healthcare professionals rarely like to talk about their own mental health as we want to create those boundaries and show that we're there for our patients without any stigma," said Michael.
"But I felt that having my lived experience of a mental health condition gave me valuable insight and I wanted to use my experience to help others.
"It really is possible to flick the negative side of having an episode in your life into a positive, which is why I wanted to link up with the NHS to see how I could contribute to making services better for others.
"I wanted to use my extensive medical knowledge and lived experience of anxiety, so I linked up with mental health pharmacist Georgina to help her develop a pharmacy course.
"Even the smallest of change can make a huge difference. We recently helped a person involved in our group to get a good night sleep for the first time in a while by changing the time that they took their medication. We introduced them to sleep therapy, and this meant they were able to spend more time with their children, which greatly helped their mood.
"Most people will have some kind of mental health episode in their lifetime and the more we listen to them and co-produce services with them, the more likely we are to find a solution that best meets their needs."
The 'Bitesize Medication Sessions' are a great opportunity to discuss and learn about medication and related topics in a friendly, open forum facilitated by two tutors – an expert by experience and a pharmacist. The course is open to all and is available through the Somerset Recovery College. Sign up here to receive information about upcoming courses: https://somersetrecoverycollege.co.uk/
It's not just in Somerset where co-production is championed, but across the whole of the NHS.
Paul Milverton, our co-production services team manager, said:
"The central parts of the NHS Constitution include improving outcomes for patients, improving patient experience and efficiency of resources. Co-production of our services addresses each of these aims as we can constructively make things better together.
"The idea of having received care from an organisation and then putting something back in to make things better feels a really important part of making co-production a success."