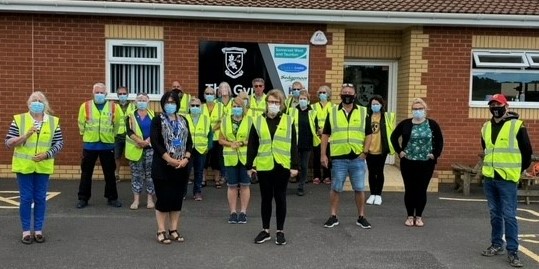 Spotlight
In their own words: the wonderful volunteers from NPRFC
Thousands of volunteers across the county have helped to run Somerset's COVID-19 vaccination programme. Here we hear from the incredible volunteers from North Petherton Rugby Club about their volunteer role and what it has meant to them: 
Sharon Sweet – general manager and director of NPRFC and volunteer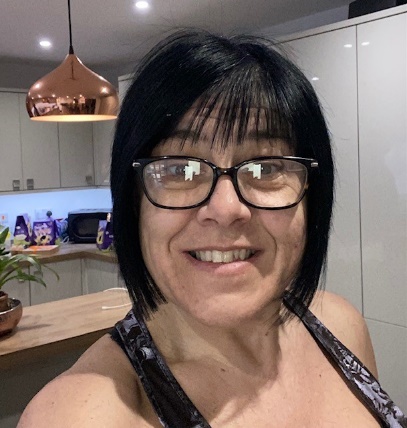 "I was involved with the vaccination project from the start and helped with the setup of the site. I advised the guys from Somerset County Council about the running of our club. This led me to join the NHS staff bank and I became an administrator for clinicians who run vaccinations. It meant so much to know that our club and its volunteers have made a difference and helped in the vaccination program. When people returned back to work in April, I became the project manager and helped run the vaccine programme."
Volunteer Chris Facey aka the face of the marquee
"My role was to check on the people in their 15-minutes of 'detention'. The apprehension of having the vaccination had passed by the time the patients got to me and there were a lot of smiling faces, who all expected tea and biscuits. I have never cleaned so many chairs in my entire life!
"Covid has been a sea storm that we were all stuck in. Some of us had boats, and some of us learnt to swim, but most of us were close to drowning. The staff and volunteers at the vaccination centre just manned the lifeboats and rescued as many people as possible. There was no self-gratification, just a great bunch of people who wanted to help out. It was a pleasure to help out such a professional, slick, and fun, group of people. It's something the community will never forget. Well done to all at the club but especially to the lads in the car park who worked on in all weathers!"
Pat Williams volunteered on the door
"I went up to the club on the first day of the vaccinations and I didn't know what I was doing but I soon became the fixtures and fittings. It was so rewarding to see the elderly generation getting their jabs. During Mother's Day and Easter, people gave us lots of cakes. On Mother's Day, we had a very long day, and we did the most amount of vaccinations - 900 in total!
"I'll never forget, an elderly gentleman came in with bunches of red roses for the women and cakes for the men. He said: "I'd like to thank you for all that you do, and I'd like to give you some roses and cakes." Volunteering has been really rewarding, it has been good for me, it was getting me out of the house and helped my mental health!"
Louise Potter and her husband were volunteer marshals
"It gave me a wonderful sense of achievement to volunteer. I did a volunteer shift to vaccinate younger people with AstraZeneca (AZ), and they were so grateful. When you see the Covid numbers coming down and realise that you have helped to do that, it is fantastic. I was glad that we were part of the vaccination. Volunteering is not just for old and retired people. Quite a few young people came to help!"
Peter Woolacott chairman of NPRFC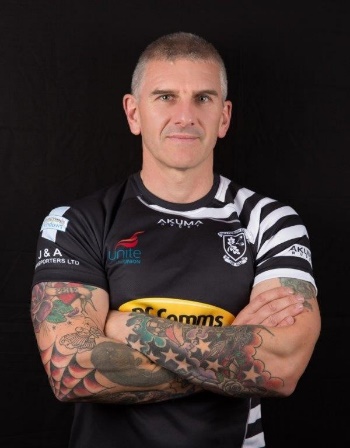 One lady who was vaccinated said to me, "you are angels!" In the face of adversity, hundreds of ordinary individuals became exactly that. I now understand why the NHS staff do what they do, despite the challenges they face.
"This country's resolve was epitomised by thousands of vaccination volunteers, not only at the rugby club, but across the country. The sense of pride has been overwhelming! I can honestly say that I have never been involved in something that has given so many people hope and optimism. This was etched on the faces of everyone that passed through the centre and evident by their comments.
"The clinics were carried out with military precision; both volunteers and patients echoed this sentiment. There were of course fears and concerns, especially, from the older members of our community, but the comforting and reassuring words; the smiles, and the arms to lean on, did wonders to lessen everyone's worries.
"Tracy Evans and her team did something very unique; the rugby club gave up their time to offer hope and a potential way out of this awful pandemic. Well done, to all involved and I hope that once this is all over, we can celebrate together, not just with a drink, but a safe hug and a handshake!"
Simon Lee, 33, is a British Heavyweight boxing title holder who runs the gym at NPRFC and volunteered through the pandemic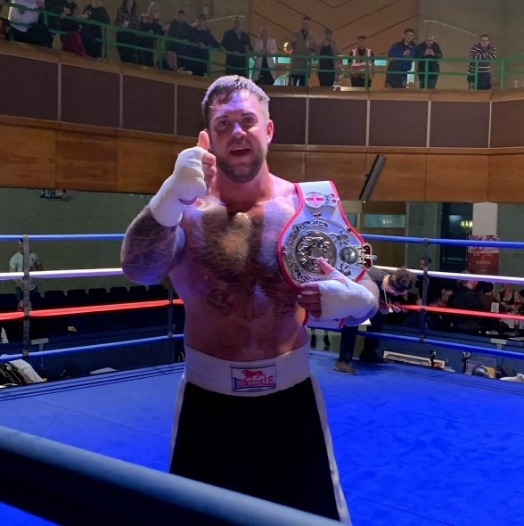 "I moved down to the area when Covid happened. I am the face of the gym and the vaccines were here, so people knew me and asked for help with their fitness.
"A lot of people in the gym rely on me, I get on with everyone on the site as I am very much into sport. As we started vaccinating and there was an end in sight, I realised that I had suffered mentally in lockdown and I know that if I was suffering, then our gym members were going through the same thing.
"I have diabetes type 1 and I have to manage my condition. However, last year I was really ill, and I was in hospital for months. Illness really affects your mental health, so if I can help anyone, I will.
"I started to help everyone by doing online workouts. It was really hard because people were struggling. My phone was constantly going off. I could see people were being affected by the pandemic. I once came to use the gym by myself, to help myself, but it was an awful atmosphere. People are now coming back in and my phone is being bombarded again, which is great!"
Maxine Dyer's cakes kept everyone going during the pandemic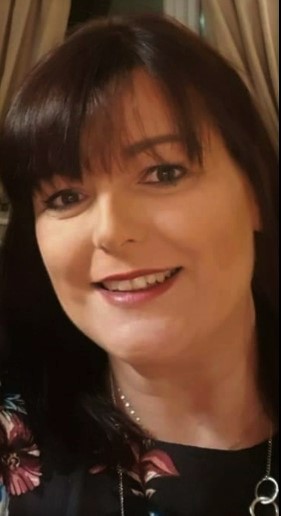 "I'm waiting for a hip replace, I have arthritis and hip-dysplasia and baking is the only way that I can help the NHS because I cannot volunteer. I had never baked before, but during lockdown I decided to learn. My family said you have to stop because I had made so many cakes.
"Then I thought, I know, I'll make cakes for the NHS. I baked for the vaccination centre, the NHS staff, Musgrove Park Hospital, and others. I made three massive traybakes; lemon drizzle, salted caramel, and double choc-chip for the nurses on National Theatre Nurse Day. I normally bake lemon drizzle cakes, eclairs, brownies, Belgian buns, blondies - white chocolate brownies. My baking has been a way of thanking the NHS for all that they do for us!
"Tracy is amazing, instead of sitting there in loss in grief, she has turned it around. Everyone in a ten-mile radius knows her, she is a wonderful woman and so is her husband John. It has been hugely busy and stressful time, but everyone put a smile on their faces as they vaccinated people."
Volunteer father and son team - Mark and Mac Taylor (first team player)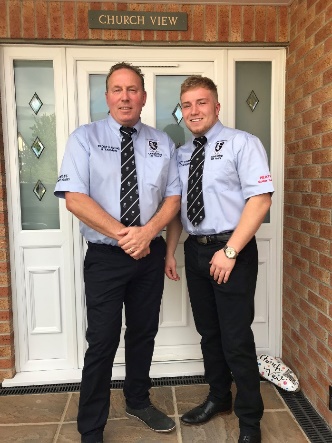 "My dad and I joined the mass vaccination team as volunteers to help out my club but also to give back to the community. We started volunteering on New Year's Day and we helped every Saturday in January and February and have helped as much as we could.
"We enjoyed the feeling that we were helping others and supporting our club. Without the club, we would have struggled getting back into things this year. We have enjoyed working as a team with other volunteers and knowing that every shift we worked has meant that more people got vaccinated. I would like to make a special mention to Tracy Evans she has been a true hero through all of this!"
John Evans – Tracy's husband is a volunteer marshal who has been at the rugby club for 45-years as a player, coach, and now is a kit-manager
"I just did my bit really - when we started on the first day of vaccinations, it felt so uplifting because you had so many older people coming in; they had been stuck indoors for a year. They were so thankful, and I could see that they were nervous, so I gave them a bit of banter to relax them. I'd help patients from the carpark and into the door. I found wheelchairs and helped patients to walk. Remember, people had not driven their cars for over a year, so some needed a break-down service to restart them up again from home. Then, after they had had their vaccinations, their cars would not restart in the centre carpark. Some people had to phone the breakdown services twice on the same day.
"I support Tracy with whatever she does and we both help the club. Tracy is the only woman life member in its history and the first woman on the committee too. Our son Josh played for the club, he was a leader, a real character, and he worked for the NHS. Now that our son has gone, we keep as busy as we can because he loved his rugby, his club, and his community. We keep ourselves busy and our club means the world to us!"
Leon Kearle, coach to the minis and juniors at NPRFC, and volunteer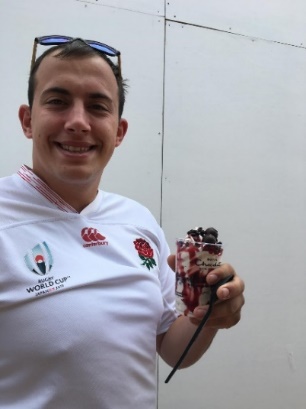 "I helped on the weekends, Friday to Sunday, doing day-long shifts, helping the elderly park their cars. I remember having some funny moments with all the parking and having a laugh with patients. Then I just progressed into helping out elsewhere in the vaccination programme. I feel that I have done my part in this pandemic and I will do anything I can, to help it go faster with the vaccination programme."
Elaine Councill – volunteer
"I didn't have a specific role I just helped wherever needed. I feel so uplifted to be part of the vaccination rollout, what a joy to know we have made such a difference to people's lives. I have had the privilege to work alongside a wonderful team of volunteers who made me feel so welcome. It's like being part of a large family who work together for our community, so, thank you NPRFC you are amazing."
Alison Cawley at her check-in desk at the club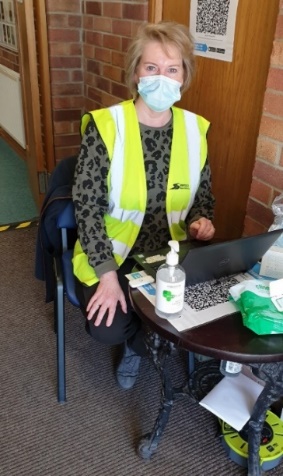 Alison Cawley says volunteering was rewarding and heartening!
"I was usually on the check-in desk at the front door, logging people onto the spreadsheet as they arrived. I soon learned to wrap up warm, whatever the forecast - that corridor was a wind tunnel!
"We all had the sense that we were helping our community and our country and playing a small part in something that will benefit us all. Volunteering for a couple of days each week was really helpful for my own mental wellbeing. The shifts at the club gave my weeks some structure and helped me to feel a sense of purpose in those weird lockdown months. The camaraderie and spirit of teamwork was so rewarding and heartening.
"As a piece of social history, it was interesting watching the first names change as we headed down through the generations. When we first began vaccinations, we had the over-80s - people named John, Leslie, Vincent, Vera, Alma, and Doris. Then we moved to Shirley, Maureen, Sidney, and Anthony. When we got to people in their 50s and 60s, there was suddenly a crop of the name Alison, sometimes four-or-five a day. Later we got to Kevin, Lisa, and Wayne, and so it went on.
"One lovely older gentleman was telling me about his experiences of being vaccinated as a National Serviceman as he was shipped off to Suez I 1956. He said the medics just lined everyone all up on the dockside and went along the line jabbing them through their shirt sleeves!
"I have met three people aged 100-years-old, and that was amazing. One had turned 100 during lockdown and told me she was planning a huge party for when things got back to normal; I hope she's managed to do that by now."
Claire Rudd - volunteer
"Being there in the beginning and seeing all of the very frail and elderly people being brought in by their families with hope in their eyes, believing that this was the beginning of better times to come, was wonderful to witness."
Lizzy Twose and husband - volunteers
"My husband, Andy, and I, commenced volunteering at the club on New Year's Eve. We have both done every job, at one time or another. I remember working with Tracey Evans one day as a healthcare assistant in the tent. I was suffering with mild vertigo and my job was to sanitise each seat as the person left...sounds easy but when six-people all go at the same time, it becomes difficult, especially when your head is spinning and you are wobbling all over the place. I hope they did not think I had been drinking! I have such great memories and I have made good friends, but I also persuaded six of our friends from the village to volunteer and that is a great success story."
Rachel Lewis – volunteer
"I started volunteering as a steward at the beginning of January. I work full-time, but I was keen to do something to help with the vaccine rollout, realising that the national task of vaccinating everyone would need a massive effort, and I didn't want to benefit without contributing.
"I have found volunteering very rewarding, as I was able to do just a tiny bit to help. I've really looked forward to coming in every week or so. Especially, at the beginning we saw lots of very elderly folk, some who hadn't left their homes for months and who were so pleased and grateful to be out and getting their jabs. It's been such a great experience."