Spotlight
International Women's Day 2021: Alison Wootton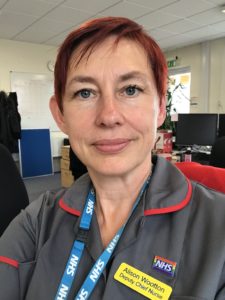 Alison Wootton – Joint senior responsible offer, Somerset COVID-19 vaccination programme 
Usual role:
Deputy chief nurse for Somerset NHS Foundation Trust, having worked for the NHS for over 35 years.
Current role in the vaccination programme:
My role has been about supporting all parts of the system to come together and deliver the vaccination programme for Somerset. I started this role at the end of October 2020, but thought it would be well into spring 2021 before any vaccine was licensed let alone ready to be given. We gave our first dose in Somerset in December and have now given nearly 250,000 doses – an amazing achievement that has been supported by many hundreds of people.
What brought you to Somerset, and what makes you proud to work here:
The role as deputy chief nurse brought me to Somerset from Devon. I wanted to go on developing myself but also find a role where I could make a real difference. There is a phrase that we use at the trust: 'we want to offer you an exciting opportunity' - this usually means that it's something that is very challenging, that no one quite knows how to do. I've been given many of these opportunities since being in my role, and while challenging they all bring enormous rewards when I can help make things better either for individuals or the population as a whole, as with this programme. The vaccination programme is a great advert for how local communities work together to support each other. I don't think I've received a negative response to anything I've asked for support with – people have been really keen to help.
What advice would you give to colleagues working in similar roles, or aspiring to be:
Never be afraid to try. Many of the things that I've had to do within this programme I've thought 'I don't know how to do this!' but I've had to remind myself that no one has delivered a programme like this before – and you don't get anywhere if you don't try. If you give things a go, you should not be afraid to fail or get things wrong, you should just be afraid if you don't learn from the things that don't go to plan.
What's been your most defining moment on the vaccination programme:
Working on this programme has been the hardest thing I've ever had to do. I'm not alone in this, and know that across the country there are many people like me who have felt out of their depth, and have struggled to work out how to do something so massive and so quickly – but this programme is already a story of success. As a registered nurse I've been able to assist with vaccinating in our large vaccination centres, and it's been lovely to hear the positive stories from people getting their vaccines. On the day we opened the vaccination centre at the racecourse, I met a very elderly lady who hadn't been out of her house since March 2020. She had dressed up for the occasion, couldn't remember her date of birth, but she could remember that she will be 100 this year and wanted her vaccine so she could get out and about again. Each story like this is the validation that this is worthwhile.