Spotlight
International Women's Day 2021: Tracy Evans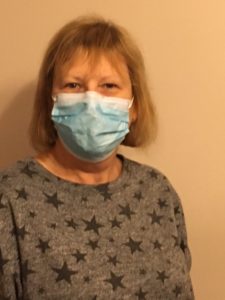 Tracy Evans – Community services director
In honour of International Women's Day, Tracy Evans, community services director and a member of our operational management team, shares her reflections on a 40 year career:
"I joined the NHS in July 1981 as a student nurse. I'd strived through school and college to gain a place studying nursing as I saw this as my vocation. My grandmother lived with us when I was growing up and she had instilled in me the importance and value of looking after and caring for others. I had also volunteered with St John's Ambulance and the Red Cross and knew this was the career I would thrive in.
At 18 years old, I arrived at Musgrove Park Hospital to begin my nursing training. I worked alongside some great professionals and made lifelong friends – including meeting a colleague on my first day who remains to this day, one of my closest friends.
I qualified in 1984, taking my finals just 6 weeks after I got married. My first role was as a staff nurse on the gynaecology ward and I progressed to senior staff nurse and then sister, before I left to have my son in 1987. I returned to work 11 weeks after he was born, as I was able to work part time. I stayed working in gyneacology and paediatrics, reaching the role of matron for women's services, until moving on in 2005, to join what was then the local primary care trust (PCT) at Taunton Deane. I first worked as a therapy services manager at Dene Barton and progressed onto further roles in the community, including sexual health. Somerset community health then merged with Sompar, so this was my first experience of working in mental health. I leant a lot, and met many inspirational people who were very passionate about joining up physical and mental health services. When Sompar merged with Taunton and Somerset NHS Trust last year, I returned to Musgrove Park Hospital and it felt like coming back home again, to the place where I had started my career and working with some of the same faces I'd met all those years ago. It felt like a jigsaw coming together.
I lost my son tragically in 2008. This inspired me to start my charity, supporting people in Somerset with diabetes and their families.  I wanted to find something positive out of such terrible loss and honour my son's memory through being able to support others, raise money and awareness and help people and their families. It means a lot to us.
Over the years I have seen lots of changes, including the PCT becoming a clinical commissioning group (CCG). I have held various leadership roles, focused on working within community hospitals and teams. What I've been inspired by is the leaders I've met along the way and female colleagues who have broken the glass ceiling. Things were very different in the 1980s when I started working; there weren't as many roles and jobs for women and women didn't sit on boards or hold senior roles. When I was training, there was also only one male nurse, to 22 female nurses, so nursing was a very female dominated environment. It's been wonderful to watch this progress and change over the years and for inclusion and diversity to become an integral part of our organisation. I'm really inspired by the work that Sunny Sander-Jackson has done across the trust and I'm inspired daily by our colleague networks, as they champion and support people across the organisation. I'm passionate about mentoring and recognising talent and want to inspire women to take leadership roles.
Outside of work, I support my local community, read a lot and am active on Twitter so I can network and pass on learning to other people. My husband is passionate about rugby and so I've been involved in the rugby board at our local club and have been the only female life member, in its 125 year history. I have also been a school governor and so had a voice in leadership but in a totally different environment. You have to learn to challenge and make difficult decisions, but as a volunteer rather than employee, as governors are volunteers as well as leaders. I'm driven by wanting to improve education and opportunities for young people.
I'd say to all my colleagues to develop as a coach and mentor for others and especially for young people. Looking back, the biggest change has been recognition of equality on the workplace. Women can progress through the glass ceiling. What we're also seeing now is that people have been inspired by the hard work and dedication of colleagues through the pandemic and people want to join the NHS and student nurse numbers have gone up significantly. There are so many wider opportunities now in nursing. I'm in awe of the people I work with, with everyone working so hard to make a difference. I'm so proud to be a woman in the NHS."