Spotlight
Junior doctors and medical students embrace innovative VR training
Medical students and junior doctors at Somerset NHS Foundation Trust have been getting to grips with a cutting-edge new training innovation to help them with their studies.
By using a virtual reality (VR) headset and hand-held controllers, the students can immerse themselves in real-life operations without needing to be physically in the operating theatre.
The new technology gives our medical students and juniors an opportunity to learn how to explain diagnoses and treatment plans, deal with challenging situations, as well as engage with patients and their families.
By using the VR technology, they can take part in this training without attending in-person sessions – something that has been difficult during the pandemic. They can also repeat training as often as is necessary until they feel confident in a skill.
Dr Alex Aquilina, one of our ST3 registrars in trauma and orthopaedics, has been collaborating with a company called Virti to deliver the immersive VR learning content in an accessible format.
"Last year I was awarded a Health Education England simulation fellowship to collaborate with Virti to create immersive learning content," he said. "As part of this, I have been developing simulations of surgical procedures using 360-degree cameras.
"And more recently, we have been delivering VR simulations of surgical procedures to trauma and orthopaedic registrars across the Severn network as part of our weekly remote teaching, alongside traditional lecture-based presentations.
"This process does not substitute real-life training, but enhances it, as well as enabling our junior doctors to learn without necessarily coming into hospital during the pandemic, reducing the risk of infection to themselves and to our colleagues and patients.
"The virtual simulations allow teaching to be delivered to trainees providing an overview of the whole surgical process, from setting up equipment and prothesis, to briefing colleagues and positioning the patient correctly."
For all these scenarios, 360-degree video simulations can be more effective than reading manuals or looking at photos. This is because VR simulations are scalable, repeatable and completely immersive, so help students remember skills for longer.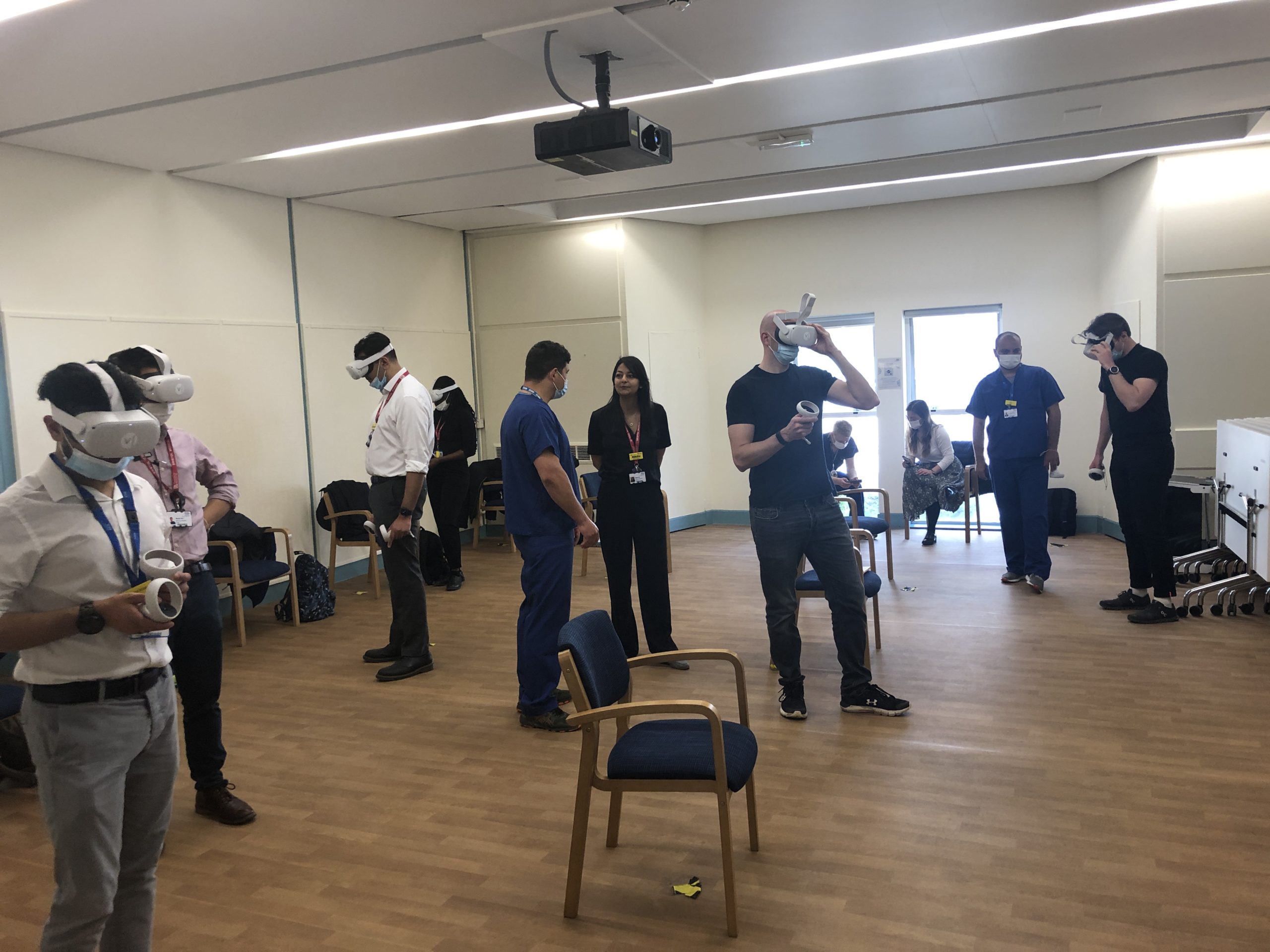 "In the future, we are planning to embed augmented reality (AR) elements into the simulations - such as close-up footage of laparoscopic (keyhole) procedures, infographics, and questions - where the learner would be led down different filmed routes based on their answers.
"The training is still a work in progress as we know there are some technical challenges, such as mitigating camera glare from the theatre's bright lights, but it does a great job in demystifying the operating theatre for our students and trainees.
"I'm hoping increasing accessibility to what surgeons do can enhance recovery and help prevent future disease in our elective surgical patients by providing an immersive and engaging patient education programme that can be delivered pre-op."
Mr Richard Bamford, our colorectal consultant, said: "We are very pleased to team up with Virti to provide VR surgical training for our medical students and junior doctors. It gives them an opportunity to see real-life operations taking place, as well as clinical scenarios that they can work through to develop the skills they need for when they are in real-life situations.
"The advantage of VR is that by using the 360-degree cameras, you get to see the whole picture during an operation and not just one area. It's as realistic as it can be for our students and trainees, which has been particularly important during the pandemic when training has understandably been limited.
"The sky really is the limit with this type of technology. We're currently working with Virti on the human factors and soft skills side of things to get a better understanding of how people interact with each other, including teamwork and leadership in a theatre setting.
"We are looking at how we can follow a patient journey and what influences the decisions we make. That's not just about our knowledge and skill level but also how we interact with our colleagues around us in the theatre environment.
"One example of how this technology may work well is in teaching medical professionals how to better break bad news to families by enhancing good communication skills.
"We've had great feedback on the VR training from colleagues, particularly our trauma and orthopaedics team who have fully embraced it, from senior consultants to first year junior doctors."