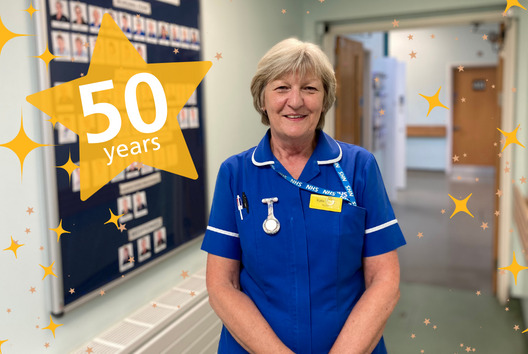 Spotlight
Kate White celebrates 50 years in Somerset's NHS
Kate White began her career in 1972 as a cadet nurse at East Reach Hospital in Taunton. Fast forward to September this year, when she celebrated an incredible half a century of continuous service with the trust.
Kate said: "Back when I started, we weren't allowed to work on the wards until we were 17 years old, so when I began as a cadet nurse at the tender age of 16, I began to see how a nurse worked in the department.
"I completed my training across different areas of the hospital, such as medicine and general surgery, but there was something about trauma and orthopaedics that I really loved and that's where I've spent the majority of my career in the NHS.
"Care in the hospital has changed so much since I began in the NHS. If someone fractured their femur (thigh bone) back then, they would be 'tractioned' which involves using splints and pulleys to guide the bone back into place and hold it steady. We would have patients on bed rest for weeks at a time while they healed – nowadays there is so much we can do with surgery, and patients are able to recover much quicker."
Jacqueline Howse, sister in the orthopaedic outpatient department at Musgrove Park Hospital, and a long-time colleague and friend of Kate, said:
"I've had the privilege of working with Kate for the past 10 years and congratulate her on such an outstanding achievement!
"Kate is an excellent nurse who is dedicated to providing the best care possible. She is always ready to learn new skills and gain knowledge, while being an exceptional role model for other nursing colleagues.
"I would like to thank Kate for her hard work, professionalism, sense of humour and the positive affect she has had on the many patients she has cared for during her career."
Over the years, Kate has working in many departments at Musgrove, and is most proud of becoming a junior sister on Gould ward.
Kate continues to put the care of her patients first, and recently started a new role working as a staff nurse in orthopaedic outpatients. Fifty years on she is now helping patients with all manner of injuries, from fractures to supporting hip replacements.
Congratulations Kate – we are lucky to have you!