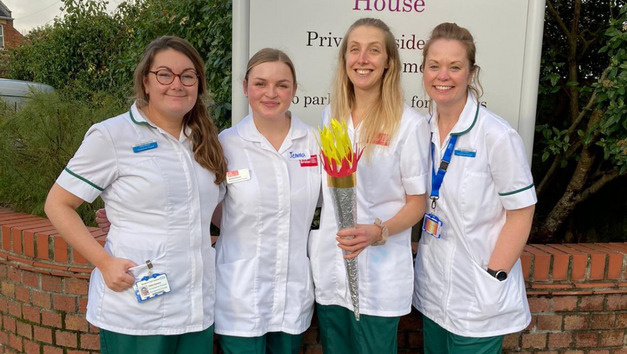 Spotlight
Care home residents get moving with NHS staff this winter
Occupational therapy students working in GP practices have been getting care home residents in North Sedgemoor moving as part of a national campaign to 're-condition the nation'.
Nine care and nursing homes across Burnham-on-Sea, Cheddar and Berrow have joined in their local 'Moving and Improving Games', based on the national re-conditioning games which was first hosted in the East of England last year and is being promoted across the country this winter.
It aims to prevent 'deconditioning', which is when people's physical and mental health can decline after a period of reduced activity, such as bed rest, and can happen when people are not getting up, moving and using their muscles.
Occupational therapist students, Jemma Parrott and Milly Dent, have been planning and organising the event, having joined our primary care network team in North Sedgemoor as part of their placement at the University of West of England.
Jemma said: "Research shows that for someone in their 80's, just ten days in bed can age their muscles by 10 years, which can really affect what someone is able to do for themselves. This is why reconditioning is so important and why we want these games to encourage residents and colleagues to get up and moving.
"We were really excited to help create new ways to apply the principles of keeping people moving in our care homes, but also think of how we can use the community spirit and benefits this brings in the long term as well."
Colleagues in the team have been working with the Somerset Activity and Sports Partnership (SASP) and were successful in receiving funding from Sport England's Together Fund, which has enabled them to purchase equipment for residents to use, both as part of the games and in the future.
Residents have been going on virtual bike rides using six seated pedal exercise machines and iPads, making use of SASP's 'Love to pedal' bike rides, which are short virtual bike rides around Somerset displayed on the iPads.
They were able to choose from shorter rides around the Barrington Court National Trust site, or longer rides on Minehead promenade, which evoked fond memories.
The students have been working with each care home to personalise the activities they run as part of the two weeklong games, create activities that cater to sight and hearing impairments, sensory loss, different movement capabilities, residents with dementia and adults with learning difficulties.
This had translated to a variety of games, such as seated table ping pong, adapted curling, target practice and using tactile equipment for a range of sensory inputs.
Milly said: "We've found residents have responded really well to the activities we've been running.
"We got a group of residents set with the pedal machines and in minutes they were laughing with each other and reminiscing about cycling. Many want to continue to pedal which is a great example of how meaningful activities are key to boosting motivation and reducing deconditioning.
"One gentleman didn't previously want to join in with any group activities but was so excited by this that he got his joggers ready the night before in anticipation – he thrived with the exercise."
Becky Keating, our head of occupational therapy, said:
"I'm so proud of the whole team for going above and beyond to find new ways to benefit the community and health of care home residents.
"By supporting homes to use the resources that are available to them, along with a bit of fun, residents can stay active for longer which we know in turn benefits their physical and mental health."
Together with SASP, the team is working on a plan to train colleagues from the care homes involved, so they can use the equipment independently after the games. They also aspire to begin an 'equipment library' for other NHS trust services and care homes to borrow so their residents and patients can continue to benefit from the initiative.
The games concluded on Friday 2 December, with the final certificates handed to residents and the winner announced as Kathleen Chambers House in Burnham-on-sea.
The activities coordinator at the winning care home, Lynn, said "We are all very competitive – staff as well as residents - so are over the moon about winning! Sessions like these help keep the residents healthy, happy and active and they would all love to do it again! The occupational therapy students did a splendid job and we would welcome them back."