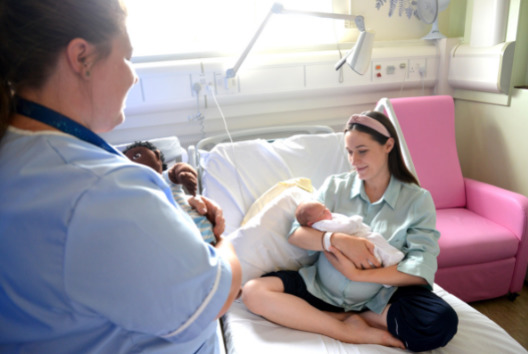 Spotlight
Keeping up the gold standard for baby-friendly maternity care
Our maternity team at Somerset FT is always going above and beyond to create a positive culture for new families who come through our service, and this brilliant work has been recognised on a national scale with the extension of our UNICEF gold standard baby-friendly accreditation for another year!
Baby Friendly accreditation is a nationally recognised mark of quality care for babies and mothers, awarded to organisations that can show evidence that they provide the best possible care for new families. Our team is the only NHS trust maternity service in the South West to have the accreditation, and to consistently keep one too – this will the fourth year that the team has had gold standard.
Liz Gunn, our infant feeding lead midwife, explains that being a 'gold standard' trust is about encouraging a positive culture, with regular progression through innovation and close monitoring.
"Being 'baby friendly' is only achievable by having a positive culture throughout the trust, supporting families when they come to us and spotting the signs when they may need extra support or guidance.
"Within the infant feeding team, and across our maternity teams at both Musgrove Park and out in the community, there are a number of initiatives in place to help us provide that support in different ways. We have increased the number of breastfeeding clinics and introduced online workshops, offer slings to help promote feeding on the postnatal ward, and championed a standard of immediate skin-to-skin in the theatre when a baby is born via c-section."
Hayley Poulsom, one of our infant feeding midwives, explains how the trust has also introduced maternity support workers: "We now have two new maternity support workers to the team, who see families before going home to talk specifically about feeding and what to expect in those early days. They currently see the majority of high-risk women before they leave, and call within 48 hours of getting home to ensure they are getting the support they need."
"Getting the gold standard for the fourth year running is such a huge achievement," Liz continues. "It's a credit to all the teams that work together to provide support to new families in Somerset."