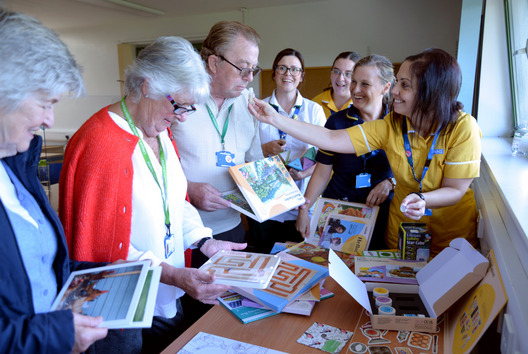 Spotlight
Kind Friends' donation helps patients find memories from the past
People with dementia who are being cared for at Musgrove Park Hospital are getting a little extra help to find happy memories from their past.
It's all thanks to a kind donation by the hospital's League of Friends for our new dementia and delirium team to buy a set of interactive games and puzzles designed to unlock memories.
Becky Furzer, our dementia and delirium nurse specialist, said colleagues in the team were learning all the time about the type of activities that are most helpful for people with memory loss.
"We're thrilled with this kind donation from our League of Friends," she said. "From the very early stage that we set up our dementia and delirium team, it was clear to us that our patients would benefit from activities to keep them engaged on the ward, and to provoke memories from the past.
"Being in hospital can be particularly difficult, and often frightening, for people with dementia, so we wanted to provide them with some meaningful interaction to avoid them feeling lost on the ward.
"All of the patients we see have some sort of cognitive impairment. This could mean they are living with a dementia or experiencing a delirium. Often our patients have both, which can lead them to be disorientated and uncertain of what is happening.
"While we always have conversations with our patients, we felt some patients respond better to activities that are a bit more interactive, such as puzzles and cards that they'd need to physically hold, encouraging their mobility and use of their senses – it's more tactile."
Emily Hitchens, one of our dementia and delirium support workers, explained how the interactive games and puzzles made a huge difference to a patient she recently cared for on the ward.
"I sat and spoke to our patient, who was hypoactive, and together with a nursing colleague we filled out a 'what matters to me' form, which helped us to identify that she used to be an art teacher.
"We therefore started off by giving her a paintbrush to hold, and over the time I spent with her, she began to engage even more with her memories and was even able to complete some simple water paints – a huge improvement in her ability.
"I quickly found that she really benefited from the sensory touch associated with painting and she clearly enjoyed holding the brush. Over the time we spent with her, she engaged really well in activities.
"Overall, we've had some really positive feedback from families – mainly on how we've been able to educate them on dementia, and also delirium, which many people don't know much about.
"Sometimes, families wonder why their loved ones seem so sleepy and don't seem to be getting better, so we will bring over our activities and explain why we are using them."
Amy Baldwin, also a dementia and delirium support worker, said the new activities have had a positive reaction from patients she cares for.
She said: "One of the patients I recently saw had a delirium, so she was getting easily confused on the ward. Her family told me that she really loved completing a jigsaw so I brought out some easy-to-follow jigsaw puzzles that she was able to slowly get to grips with, helping her to feel less confused.
"Another patient used to be a baker, so we brought him a magnetic food display where we picked up each piece of food, drink or kitchen equipment, talked about it together, and then helped him to identify where on the board it needed to go. It had old style packaging too so our elderly patients could identify more with them.
"One of the other activities that came as part of the League of Friends' donation was a set of 'home sweet home' scents where patients can smell a little pot of scented polish, fruitcake or similar memories from their past so they could identify with a past memory.
"It gives them something to talk about for as long or little as they are able to – for some people, it takes them back to that safe space and comfort of home."
Donna Moore, an occupational therapist and dementia education facilitator, said many patients with dementia respond well to music as it brings back old memories.
"We bought a musical bingo game with the League of Friends' donation, which plays music and sounds," she said.
"It's very much like a game of bingo, but you can change the difficulty setting so it works with the different levels of functioning we see with this patient group.
"Music is for everybody though, and we can make a connection with someone with any level of dementia, so even if they don't take part in the bingo game itself, the music may be of comfort to them."
A huge thank you to the League of Friends at Musgrove Park and its donors for their continued support. Donations such as this range of interactive activities can make a huge difference to the experience of our patients.