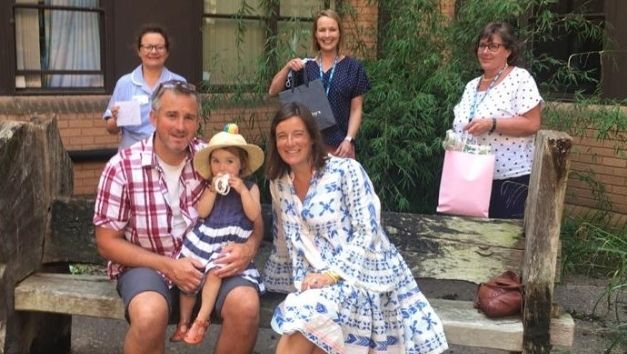 Spotlight
Kind hearted family give special gift to babies needing hip treatment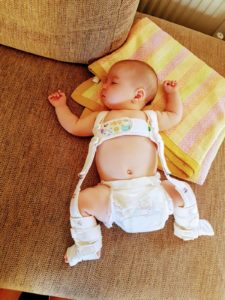 Colleagues in our paediatric orthopaedic team were delighted to receive a wonderful gift that will help babies who need specialist hip treatment.
A range of specialist baby wear was donated by Lucy and Tom Chambers, the parents of Charley, a baby who was cared for by the team after she was diagnosed at birth with developmental dysplasia of the hip (DDH).
The nature of Charley's condition meant that she needed to wear a Pavlik Harness for the first 10 weeks of her life. Charley is pictured, above, wearing the harness.
Miss Emily Mounsey, our consultant paediatric orthopaedic surgeon, said:
"DDH is a condition that babies are born with and, although it isn't painful, it can cause hip problems later in life if left untreated.
"One part of the regular checks for newborn babies is an examination of their hips and if any risks are identified they'll have an ultrasound. While it can sometimes require surgery, DDH can usually be treated with a harness.
"We know it can often be overwhelming and emotional for parents who bring their very newly born baby to our clinic as they generally need to be placed into a harness.
"We had a family in our clinic, Lucy, Tom and baby Charley, who were finding the situation difficult, but just by luck their appointment took place at the same time that we had another family here who had gone through the same thing.
"They very kindly offered to talk to Lucy and Tom about the condition from a first-hand perspective and even gave them some specialist baby wear for them to take Charley home in."
As it turned out, Charley's mum, Lucy, is actually a nurse at the Trust and the family's reassuring words really helped her and her husband on the day of their appointment.
Charley is now two years old and her parents recently visited the department to surprise colleagues with the donation, which was made possible thanks to her family and friends, who donated that went towards buying the specialist baby wear instead of giving Charley birthday presents.
It means that whenever a new born baby is diagnosed with DDH and has to go into a harness, the team is now able to give the family specialist baby wear to help with the beginning of their infant's treatment.
"We were really touched when they came to visit us armed with a huge selection of specialist baby wear for other parents to benefit from in the future," said Emily.
"Babies often used to leave the clinic wrapped in just a blanket as their clothes didn't fit over the harness, we are so pleased to be able to give parents a little goodie pack that includes the baby wear and a card.
"Just to be able to do these little things is very nice and it feels quite touching that we've made such a big difference to the experience of parents and their babies.
"We are so grateful to Lucy, Tom and Charley for their amazing generosity and we are now looking at ways in which we can sustain this in the future."
Lucy, who is currently on maternity leave from her nursing role at the trust, said:
"When Charley was born they assessed her hips as part of the usual newborn checks and she was only a few hours old when they took her for an ultrasound scan to confirm her hip dysphasia.
"We took Charley home for a week and had her skin-to-skin before we came in to meet Miss Mounsey and the amazing team who gave us nothing but absolute kindness.
"Charley was fitted with a Pavlik Harness brace on the day and wore it for 10 weeks non-stop. It was really tough on the first day and we came away wondering how we would deal with the harness, as well as being new parents to a newborn.
"But Emily and one of the nurses organised for a mum who was in clinic on the day, and had just gone through it with her daughter, to speak to us.
"She put us at ease and even gave us a couple of baby grows, which meant the absolute world to us and allowed us to deal with what we were facing a little easier.
"Charley has now totally healed and her second birthday came during lockdown. Charley has all that she needs in the world so we asked people to donate money instead of buying gifts so it could go towards helping other parents who will go through the same experience as we did."
Pictured (back, left to right): Barbara Fasciani – staff nurse, Emily Mounsey, Cilla Fewings, secretary to Miss Mounsey. (Front, left to right): Dad Tom, Charley, mum Lucy.