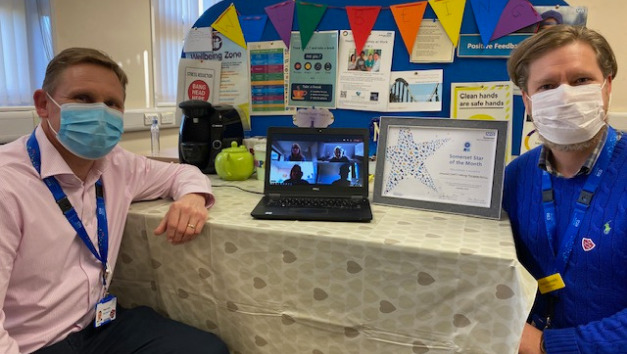 Spotlight
Leading the way in remote care – October's Somerset Star
October's Somerset Star celebrates the achievements of a whole service. They adapted at the drop of a hat at the beginning of the pandemic, delivering care in a whole different way for patients across the county – and they have continued to develop this offering in the following months since.
Our Talking Therapies service was nominated by the Taunton and Minehead team leader, Paul Kennedy, for their incredible flexibility in time of change and uncertainty. The whole service moved to remote working within one week, delivering psychological therapies to patients across Somerset, as well as standing up a rapid response to support colleagues.
In his nomination, Paul discusses how the service is also now leading on a trust-wide review of the experience of patients and colleagues on receiving care, as well as providing it, remotely: "The survey of remote working of patients and staff will no doubt help guide services during this second lockdown and shape how we work remotely in the future. Working remotely, it seems, is here to stay and I'm confident we can help make it fit for purpose for all."
On receiving the award, service lead Marc McDonagh also reflected on how the teams have supported each other: "For me the outstanding aspect has been how teams and individuals have listened to and supported each other online with drop-ins, buddy systems and social get-togethers. This cohesive team working will carry people through the difficulties to continue offering outstanding care to patients, and I've been really impressed and even inspired by all my colleagues."
Congratulations to the whole talking therapies service for all your hard work.