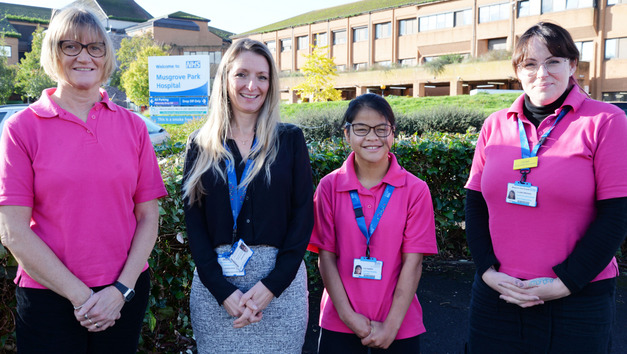 Spotlight
Meet Lily – our wonderful new volunteer who's making a difference
It can be difficult for patients with a communication difficulty when they need a stay in hospital, away from their familiar comforts and surroundings.
The loud and busy nature of a ward can often be frightening and confusing, especially for those who are deaf, hard of hearing, or have learning disabilities.
Our specialist learning disabilities nursing team helps patients with a learning disability being cared for at Musgrove Park by assessing the reasonable adjustments that could be made to improve their experience while under our care.
The support ranges from assistance with best interest decisions, capacity and understanding, to the patient's eating and drinking needs, mobility, and sensory issues. The team can also help to arrange appointments and act as a communicator with the patient's family and carers.
Our team of nurses tend to support up to 12 people with learning disabilities who are inpatients at Musgrove at any one time, and also help with the planning of their admission – this makes up a large caseload of around 30 referrals every month.
The nurses sometimes get calls from our emergency department colleagues if they are caring for a patient with learning disabilities, and they can help to develop a plan for if they need to be admitted to a ward.
While the team does an outstanding job in helping patients with communication difficulties, they don't necessarily have the same lived experience, so are unable to visualise what it's like to walk in their shoes.
That's where our new volunteer Lily steps in.
Lily has a hearing impairment and uses British Sign Language to communicate, but since she was a little girl, she's had the dream to work for the NHS at a hospital.
She had her first taste of healthcare when studying at The Deaf Academy. "I was lucky at the Academy to be able to work alongside the college nurse in a first aid post," said Lily. "This included a lot of walking around the college, using a checklist to fill up the first aid boxes – I even had a uniform, which was so fantastic and made me feel part of the team."
It was at the Academy that Lily learnt British Sign Language, as well as many other skills needed to secure a job in the future.
Lily's time at Musgrove Park began when she visited for an audiology appointment, and her family was approached by our learning disabilities nursing team to find out whether she needed any additional support at the hospital.
"While we didn't need any help for the actual appointment, my parents told the team that I'd love to come and meet them and possibly volunteer if there was anything going at the hospital," Lily continued.
"It all happened so quickly. We had a meeting in the hospital café where we talked through my CV and all my certificates, and my mum and dad explained how my dream was to work at a hospital – we went from there.
"I've been at the hospital for about three months now, and I even have a uniform and lanyard that shows I work for the NHS. I'm so very proud of this!"
Lily's volunteer role includes supporting patients with learning disabilities by helping to improve their communication through signing or using the Somerset Total Communication – a language support system which is the locally preferred form of communication for people with a learning disability.
"I have a great app on my iPad that I've been using on the wards that has different pictures that are linked to emotions," said Lily. "It's a really clever app, as you can look at so many different words to make sentences that we can use to communicate with people on the wards.
"I can show a patient the pictures and get an understanding of whether they are feeling happy or sad. In fact, one of our recent patients who has needed a hospital stay for many weeks uses signs, so I've built up a real rapport with him both by using the app and signing to him.
"Other colleagues on the ward, such as the activities facilitator, have also been signing to him, which has helped him to feel more relaxed.
"I've been asking him whether he's OK and how he's feeling, and he is able to communicate back to me with information on the pictures.
"In the first week I used the app, I found out that a patient was thirsty and that his favourite drink was Coca Cola. This meant that colleagues on the ward were able to get him a can of coke, which he really loved – giving him a much better experience."
Louise Atkinson, one of our acute learning disability nurses, said:
"Lily has made a real difference to the experience of the patients she has visited on our wards so far. She just seems to make everyone smile and it's so uplifting for people on the ward – you can see the lift in mood of people when she walks onto the ward.
"Just being able to talk to somebody who can empathise with them is so beneficial for our patients as, although our team of nurses can do this to a certain extent, we obviously can't put ourselves in their shoes, so it's really helpful."
Sonia Sansom, our operational service manager for psychiatric liaison, said:
"People with a learning disability can struggle when in hospital so it's really important that we do everything we can to improve their experience.
"Giving our colleagues that little extra confidence to care for patients with a learning disability is important too, as if they can meet someone when they are not unwell – like Lily – it becomes a lot less daunting, especially with the communication barrier.
"When people meet Lily, they'll see that positive body language, such as pointing directions and gestures, can go a long way to helping people to understand and communicate.
"She's also bashing down those preconceived ideas around people with a learning disability and their quality of life and ambition. All of those things that Lily has told us – about wanting a job and working in a hospital – have come true. There's no reason people can't achieve those ambitions.
"I love how Lily champions improvements in the service we provide – she's such an inspiration to us all!"