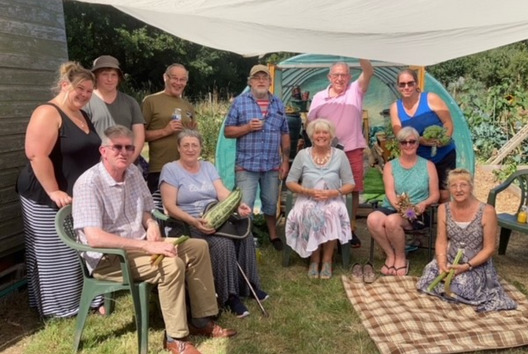 Spotlight
Mental health carers get green with local community allotment
Carers of people with mental health conditions are benefiting from a new community allotment that has been introduced in Norton Fitzwarren, Taunton.
The allotment, which officially opened on 10 August 2022, helps to give carers a quiet green space where they can relax and take some much-needed time for themselves – and meet others, socialise and develop gardening skills.
It has been set up by the Carers Assessment Service at Somerset NHS Foundation Trust (FT), which supports carers of people who have mental health conditions.
The service develops a support plan to assess carers' health and wellbeing, as well as looking at where they might need support. This could include emotional support, breaks, dealing with practical issues and lifestyle choices, such as relaxation techniques, healthy eating, exercise and self-esteem.
Although the allotment project originally began in 2019, due to the pandemic it has only now been possible to hold a celebration to share the wonderful produce and flowers that have been nurtured, as well as to thank local businesses for their kind donations, such as timber and seeds.
John Relins, who is a carer, has especially enjoyed using the allotment. "I find that the allotment gives me that really valuable time out from being a carer, a bit of calm and peace and quiet and a space to refresh and focus," he said.
"Being able to grow fresh fruit and veg for me and my family is a bonus and I've since applied for my own allotment and now tend to the patch next door, which gives me even more freedom!"
The allotment was jointly funded by Norton Fitzwarren Parish Council and the Friends of Somerset Carers Network (FOSCN) – which was founded in 2012 by the Carers Assessment Service. The FOSCN is run as an independent charity and provides funding for mental health carers groups outings, Christmas meals and equipment to benefit their wellbeing.
Carers Assessment Service
The Carers Assessment Service provides carers with education courses, including understanding mental health challenges and self-care.
It can support with:
Carers break scheme
Employment support
Facilitating peer support groups
Advocating for carers
Signposting to other support available.
Carers can self-refer into the service by emailing carers@somersetft.nhs.uk, or through their health or social care professionals, such as community mental health services or GP practice.
The only requirement is that the person they care for must be under the care of Somerset NHS Foundation Trust's mental health services.