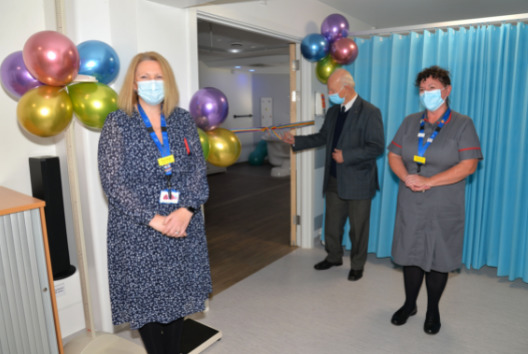 Spotlight
Musgrove Park's Bracken birthing centre declared officially open
The League of Friends at Musgrove Park joined with hospitals midwives on Friday 5 November to declare the new Bracken Birthing Centre officially open.
During the COVID-19 pandemic the centre underwent a £300k upgrade, funded by the League of Friends, to give parents-to-be in Taunton and Somerset access to modern, state-of-the-art birthing facilities.
It was thanks to a unique Toad Trail fundraising campaign run by the hospital's League of Friends in the summer of 2019 that captured the imagination of people in Taunton and the surrounding area.
The Toad Trail raised £50,000 with a further £250,000 coming from legacy donations left to the League of Friends for the benefit of patients.
Since the upgraded centre reopened in October 2020, midwives have welcomed over 530 babies into the world – three in five of who were born in one of the two new birthing pools. And many other women also chose to use the pools for support and comfort during their labour.
The birthing centre upgrade is one of the first parts of Musgrove 2030 – the ambitious programme to transform the hospital's facilities and ensure people are cared for in the right place to meet their health needs – to be completed.
Over the last year colleagues in Musgrove's maternity team have received very positive feedback from families about the centre in its first year since the major refurbishment.
One new mum said: "Thank you to the Bracken midwives for my second amazing birth experience at the centre. Our midwife was incredible and so caring and accommodating, making the birth experience amazing. Alongside my husband, she was best support ever, listening to my every word and keeping everything exactly how I wanted it. I would 100% recommend Bracken and waterbirth to any lady – thank you a million times over."
Another family who used the centre said: "Thank you to the amazing team at Bracken for the safe birth of my second little boy – he was born in one of the beautiful pools. I always wanted a water birth but sadly didn't get one with my first. We enjoyed wonderful uninterrupted time after the birth to relax and bond while the midwives supported us. Despite the current COVID climate I couldn't fault the team at Bracken Birthing Centre and their care."
And another mum said: "My experience in Bracken Birth Centre was above and beyond my expectations. I don't have enough words to describe the amazing treatment I had from everyone and how confident they made me feel walking into the birth centre. In such difficult and uncertain moments for a woman and her family, this is definitely what you want to find."
Philippa Quinn, sister responsible for Bracken Birthing Centre, said:
"A year on from re-opening during the pandemic we are delighted to have cut the ribbon to officially open the new Bracken Birthing Centre.
"We are delighted to have supported over 500 births in our modernised birth centre since we have reopened. We look forward to many more wonderful births in the future.
"Many women tell us that they love the experience of a water birth, so we listened to this feedback and set out to create more choice for women in the area by adding another birthing pool. We didn't stop there as thanks to the amazing support from our League of Friends and its donors, we were able to completely refurbish Bracken Birthing Centre, giving women and their families a better experience in a more homely environment.
"Women in Somerset now have access to six birthing pools – two on Bracken, two at our Mary Stanley birthing unit in Bridgwater and one on each of the labour wards at Musgrove Park and Yeovil hospitals.
"We wanted to create a 'home from home' feel at Bracken so we now have two birthing rooms, complete with a pool, active birth couches, en suite shower rooms, temperature control and mood lighting.
"We also have a dedicated Woodlands assessment room where women can be seen for appointments before and after the birth.
"We want to again extend a huge thank you to our League of Friends for the amazing Toad Trail fundraising campaign, which proved a real hit a couple of years ago. Without the League's support we wouldn't have been able to achieve this upgrade so soon."
Peter Renshaw, Chairman of the League of Friends, said: "I'm delighted that the League was able to fully fund the refurbishment of the Bracken Birthing Centre as part of our 60th Anniversary. The League of Friends Musgrove Park Hospital are grateful for the continued support from the public through donations and legacies."
To watch a clip of Philippa Quinn giving a short tour of Bracken Birthing Centre before it opened to families, click here.
[embed]https://youtu.be/lZv7nKZOEAk[/embed]