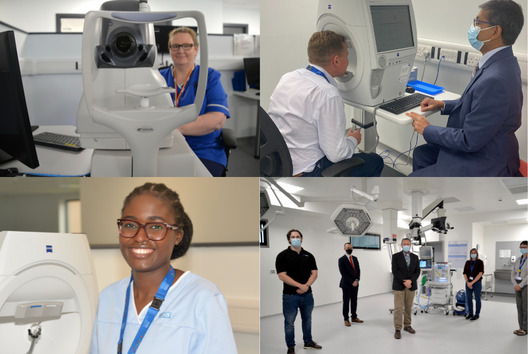 Spotlight
National Eye Health Week: All Eyes on Somerset
This week is National Eye Health Week (NEHW), which aims to promote the importance of good eye health and the need for regular eye tests for all.
The theme for this year's awareness campaign is "Vision Really Matters" – sight is the sense people fear losing the most, yet many of us don't know how to look after our eyes.
According to the campaign, two million people in the UK are living with sight loss that's severe enough to have a significant impact on their daily lives. Half of this sight loss is avoidable.
A sight test can detect early signs of conditions like glaucoma, which can be treated if found soon enough. During a sight test, other health conditions such as diabetes or high blood pressure may also be detected.
Ophthalmology is the highest volume specialty in the NHS and demand for the treatment of eye care, such as glaucoma, cataract, retina and urgent care, is predicted to rise by 60% in medical retina and 44% in glaucoma overt the next 20 years.
Major developments in Somerset
In Somerset we've been working hard to improve eye care for people across Somerset and over the last year we have developed a number of exciting new services – they're already having a positive impact on patient care.
In December 2021 we fully opened a new ophthalmic theatre suite at Musgrove Park Hospital as part of a £4.4 million eye care unit.
It has meant that eye surgery has been able to continue even when the hospital is at its busiest – which previously could have led to the postponement of planned surgery.
Patient experience has also improved greatly – the new unit has dedicated changing rooms and private waiting areas, as well as areas where anaesthetists and surgeons can speak confidentially to, and examine, patients before their operation.
And, patients can access the unit direct from the car park without needing to walk through the main hospital buildings and, of course, it has been designed to meet the needs of people with impaired vision.
The diagnosis of eye conditions is now easier than ever for patients too thanks to the development of two ophthalmology diagnostic centres. In most cases patients no longer need to travel into the busy Musgrove Park or Yeovil District hospitals for most tests.
In May this year a new ophthalmology diagnostic centre opened at Harrison House – a convenient location just off junction 25 of the M5.
And a similar diagnostic centre for ophthalmology, set up in the former Monsoon shop in Yeovil Town Centre's Quedam Centre, saw its first patients in July 2022.
The centres build on the NHS' aim to develop a series of community diagnostic centres away from district general hospital sites – a key recommendation in renowned cancer specialist Professor Sir Mike Richards' review of NHS diagnostics capacity.
Already the centres are helping to address the growing waiting lists following the pandemic, as well as meeting the challenge of expected future demand on the service.
Both centres have a purpose-built environment where patients enter in one entrance and naturally move between different diagnostic stations during their appointment, before leaving through a separate exit – altogether a much better experience all round.
Views from our colleagues
Mr Ed Herbert, one of our consultant ophthalmologists, said:
"Our new eye care unit has a much more pleasant waiting area for patients, has given us a greater degree of protection from winter bed pressures, and helped to restore inpatient operating capacity to other surgical specialties. It also means our whole ophthalmology team at Musgrove Park Hospital is back in one place so we can work together more efficiently for the benefit of our patients."
Rachel Adams, one of our ophthalmology nurse practitioners and the nurse project lead for the diagnostic centre at Harrison House in Taunton, said:
"The facilities at the centre are state-of-the-art and our patients have told us they've found coming here to be a much-improved experience, particularly with the free parking.
"Our colleagues at both the Taunton and Yeovil centres have also told us that they are pleased to be able to work in multiple clinical areas as has given them many more career development opportunities."
Mr Paritosh Shah, a consultant ophthalmologist at Yeovil District Hospital, said: "Running our diagnostic centres off site means our patients get numerous tests and images in one appointment and may avoid having to attend the hospital clinic.
"This step will help us catch up with the backlog from the pandemic and meet the future rising demand."
Views from our patients
We've collected feedback from patients who've used the three centres and here's just a selection:
Ophthalmic Theatre Suite at Musgrove Park Hospital
"I had a brilliant experience, from admission to discharge, with such kind staff. Everything being in one area really helped to relieve a lot of my stress and anxiety."
"I had a really quick day case procedure in a lovely, modern part of the hospital – thank you all!"
"I was so nervous, but the staff who welcomed me were kind and it was so well organised – I was home before I knew it! The knowledge of the staff was exemplary."
Harrison House, Taunton
"It felt like I was entering a private hospital and the free parking was great too."
"Staff at the centre were kind and the whole appointment took just 20 minutes. The whole experience took much less time than when I used to travel to the busy hospital."
"I'm disabled and the facilities at Harrison House were really disability friendly. My daughter was able to park just outside the front doors and wheel me in. The staff were very kind to me and knowledgeable."
More information on the NEHW national campaign is here.