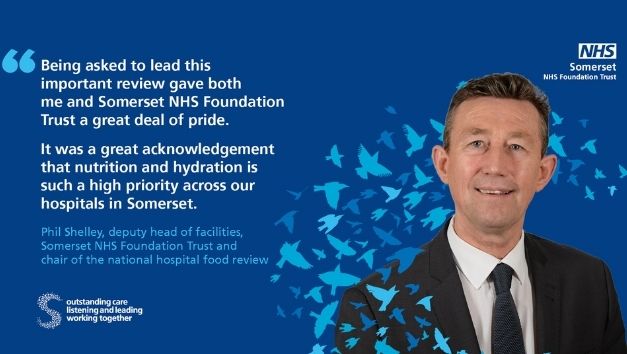 Spotlight
National review led by Somerset's Phil Shelley informs blueprint for better hospital food
Millions of NHS patients and colleagues are set to benefit from tastier, healthier and better-quality meals following an independent review of hospital food, led by a panel of advisors, including our deputy head of facilities Phil Shelley and restaurateur Prue Leith.
Published today (26 October), the review makes recommendations on how NHS trusts can prioritise food safety and provide more nutritious meals to both staff and patients.
The Government has today announced it will establish an expert group of NHS caterers, dietitians and nurses to take forward implementation of the review's findings. These recommendations include:
Upgrading hospital kitchens so a 24/7 service can be provided to everyone; from a hot drink and a snack in the middle of the night to a hot meal for new mums in a maternity ward or for patients hungry after a long fast due to surgery, plus facilities for colleagues to store, prepare and eat food at any time during the day or night.
Agreeing national professional standards for NHS chefs with mandatory continuing, career-long professional development, including appropriate compulsory food hygiene and allergen training.
Building on best practice identified through the review to increase the role of nurses, dietitians, caterers and staff wellbeing leads in overseeing food services so nutritious meals are part of a patient's recovery plan.
Implementing innovative technology solutions, such as a digital menu and food ordering system which can factor in a patient's dietary and cultural requirements and nutritional needs. This can improve communication streams between dietitians and caterers, reduce food waste and provide patients with the right food for recovery.
Phil Shelley, our deputy head of facilities, who is also chair of the national hospital food review, said: "Being asked to lead this important review gave both me and Somerset NHS Foundation Trust a great deal of pride. It was a great acknowledgement that nutrition and hydration is such a high priority across our hospitals in Somerset.
"During my visits to hospitals across England I found that the quality of food being produced were generally very high, although there were of course areas that could be improved.
"I found that people I spoke to were open and honest about catering at their hospitals and throughout I noticed a consistent pride and loyalty in production, teamwork, presentation and communication.
"It's widely accepted that if we are to empower recovery through food and drink, we need a whole hospital approach, linking directly with nursing and dietetics. And we must also recognise that it is even more important in recent times that our staff have access to suitable food and drink, rest areas and time to pause. I hope this review helps us all to improve catering, food and nutrition in the NHS both now and for future generations."
Restaurateur, celebrity chef and television presenter Prue Leith CBE, said:  "The review provides best-in-class examples of how hospitals can serve delicious, nutritious and eye-catching meals on a budget.
"Food is not only important to health, but to morale. Hospital mealtimes should be an occasion to eat and a pleasure to serve, and inspire staff, patients and visitors to cook and eat well at home."
Recruitment has now begun for the expert group led by the review's chair, Phil Shelley. Phil continued: "Just as our colleagues need the right tools to do their job, we also need to ensure that they have the nutrition and hydration they require to perform their crucial roles.
"The wellbeing of our NHS colleagues is vital because it affects their mental and physical health as well as the quality of care they deliver for patients. A lack of nutritious food and drink can contribute to feelings of stress and lack of control in the workplace."