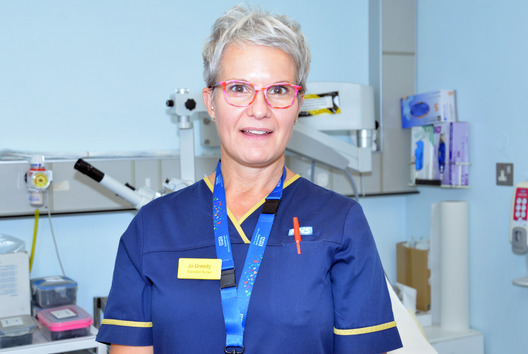 Spotlight
National role for cancer nurse Jo Greedy
A head and neck cancer nurse at our NHS trust is helping to put cancer care in Somerset on the national map.
Jo Greedy, who works at the Beacon Centre at Musgrove Park Hospital, has been appointed to the prestigious chair role at the British Association of Head and Neck Oncology Nurses – more commonly known as BAHNON.
The south west arm of BAHNON is a group of head and neck oncology nurses from Truro right through to Worcester, and over to Poole, who network together, share practice, developments and innovation with each other.
Over the years Jo has developed the head and neck cancer nurse role at Musgrove, which has now grown into a team of three, as well as other cancer care roles that provide support for head and neck cancer patients.
Jo says that joining BAHNON was one of the best things she could have done, not just for her career, but for the benefit of cancer care in Somerset.
"I have no doubt that without the support of the BAHNON group, I don't think I'd have been able to go into a post like this at that time," she said.
"I originally came to Musgrove for a corporate clinical surgical directorate interview and I progressed up to a junior sister role on our ear, nose and throat (ENT) department – I've never left the speciality since.
"My career in cancer care began in 2002 when I took up a newly-developed head and neck clinical nurse specialist role at Musgrove Park Hospital. It really energised me and I wanted to learn as much as possible about my profession so I chose to join the regional BAHNON group.
"As part of this I attended a series of national BAHNON conferences, which I continue to go to every other year to keep up with everything that's happening in head and neck cancer care, as well as learning all about the latest best practice across the country.
"In 2016 a place came up on the national BAHNON committee and I was successful in my application to join. Then two years ago, I was asked to be vice chair alongside another head and neck nurse in Glasgow, and I have now progressed to become the organisation's chair, which is really exciting!
"I've felt so supported by the management at our NHS trust to be able to take some time out to carry out my BAHNON duties, and I've spent a lot of my own time too of course.
"I've been able to share everything I've learned from the national group with colleagues in our department, which has really helped in developing our service for the benefit of everyone.
"I'm really excited to be taking on this role, even if it's a little scary knowing that I'm representing my profession on a national level."
Jo's career at Musgrove Park Hospital began in 1994 – well before the Beacon Centre was built at a time when all head and neck cancer patients in Somerset went to Bristol for their treatment.
"I've seen so much progress in Somerset over the years and it's great that we can now treat most patients here in the county," she said.
"Oncology care has changed dramatically during my time at the hospital. The nature of the head and neck cancers that we see has changed but we offer more services, particularly through our head and neck oncologists, who have helped us to secure a vast number of clinical trials for our patients.
"The pandemic was certainly a challenge for our cancer services, as it was across the trust and society, but we're proud that we've been able to continue the majority of services, particularly for patients who needed to be fast tracked into treatment."