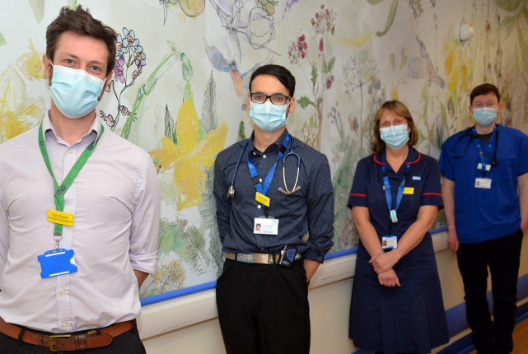 Spotlight
National success for our acute medical unit
Our acute medical unit (AMU) at Musgrove Park Hospital is the best in the country for teamwork, according to a survey of junior doctors.
AMU has also been ranked third best out of 129 similar units for general internal medicine (GIM) training and eighth best for acute internal medicine (AIM) training.
Every year the General Medical Council (GMC) carries out a survey of trainee doctors across England and we've just received our results for 2020 – they were fantastic.
Dr Tom Payne, one of our acute medicine consultants, said:
"In so many ways our excellent junior doctor colleagues are the heartbeat of the medical care we provide at the trust.
"We consistently get positive feedback from junior doctors about the training we provide and the support that we give them.
"With 2020 being the first year of the COVID-19 pandemic, and the inevitably hectic and different schedule that brought our junior doctors, it was particularly pleasing that they gave us such a glowing review. This is also a testament to their own tenacity, enthusiasm, and willingness to support each other and work together.
"We've achieved this in no small part to the culture of outstanding care that we have at the trust. We work together really well within and across departments and this is one of the core values and strengths of our trust.
"A theme that we hear time and time again from trainees is that they want to complete a rotation at Musgrove thanks to the many positive reports from their friends and colleagues who have worked here before.
"Many of our consultants and senior doctors tend to have worked here as a junior doctor and have fond memories and positive experiences during this time so they have wanted to come back.
"I truly believe that the excellent reputation we have at Musgrove is because of the way we treat our junior doctors and other colleagues – and we all work together to provide outstanding care as a result. It means the atmosphere and culture here is really good and that's something we are confident will continue in the future."