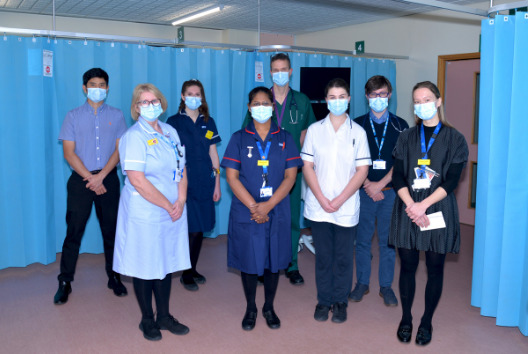 Spotlight
New acute frailty unit opens at Musgrove Park Hospital today
People over 65 are now being assessed for signs of frailty as soon as they arrive at Musgrove Park Hospital's emergency department (ED).
It's all part of a new clinical pathway where if a person is identified as frail, they now get assessed by a specialist team made up of older person's assessment and liaison (OPAL) practitioners, specialist nurses, a joint emergency therapy team (JETT) and, if required, an adult social care worker.
With the hospital seeing increasing numbers of frail patients in Somerset, often with complex conditions, it can be difficult to get all the necessary assessments done in ED within a limited time frame.
Clinicians felt that introducing an acute frailty unit would be the best way to allow a team of specialists, with an understanding of the health needs of frail older people, to provide patients with a comprehensive geriatric assessment.
Vital clinical decisions are made at the new unit by this team of specialists which shapes the future care of patients, including the medical interventions they need, as well as the best place for their ongoing care.
While the main aim of the unit is to identify patients who can return home safely or those who do need a stay in hospital, the team will assess their medical and care needs to ensure they get access to the right level of support when they are ready to leave hospital.
It could be that those patients are admitted to an appropriate ward or unit at Musgrove Park Hospital or a community hospital, where they are cared for by clinicians with the right skills to meet their individual needs.
This new clinical pathway aims to ease the considerable pressure on the hospital's ED, which is particularly important during this time of unprecedented demand on the NHS.
In addition, as part of the new pathway, an area has been created at Musgrove Park Hospital for people who no longer need daily medical care but are instead waiting for a package of care to be put in place once they leave hospital.
This means they will continue to be cared for by a team of nurses and therapists, while freeing up space for patients who are admitted to hospital and need acute medical care.
Dr Vikky Morris, a care of the elderly consultant at Somerset NHS Foundation Trust, said the new acute frailty unit will hugely benefit frail older patients who present to hospital.
"We're confident that by getting treatment in a suitable environment with the right specialist staff, our older frail patients will potentially have a reduced length of stay in hospital and a maintained or improved functional state when they are discharged," she said.
"Beginning a comprehensive geriatric assessment for a frail patient as early as possible after they've arrived in the hospital is so important in their recovery and it often means they spend less time in hospital or not even need to be admitted.
"The joy of the assessment is that it is a team effort and involves colleagues from many disciplines, thereby giving a fantastic holistic overview of their care.
"A good example of this is how our joint emergency therapies team works with the patient to consider what practical steps they can take to be discharged from hospital or remain at home in the first place, such as special equipment or physiotherapy sessions.
"Our OPAL practitioners consider the medical and nursing aspects, such as medicines, continence, falls risk and so much more.
"Alongside our inpatient services, we work closely with health and social care teams across the Somerset community so patients can access the right level of care that meets their needs once they are ready to return home from hospital.
"If our team feels a patient needs longer to get back to their usual self, there are other supportive pathways out of the hospital, such as community hospitals or bedded units for ongoing rehabilitation.
"Our whole team works closely with patients and their families and carers to understand the patient's history and their wishes to best support their needs and look at what can be done to make a patient live as independently as possible for as long as possible in a way that they would wish to.
"When a patient is ready to be discharged from the unit, we encourage family members, carers or friends to collect them as this helps to provide them with that extra confidence and reassurance. In exceptional circumstances the British Red Cross may be able to provide transport."